AvaMark™ Benchmarking Platform: Key Highlights
Most comprehensive benchmarking database.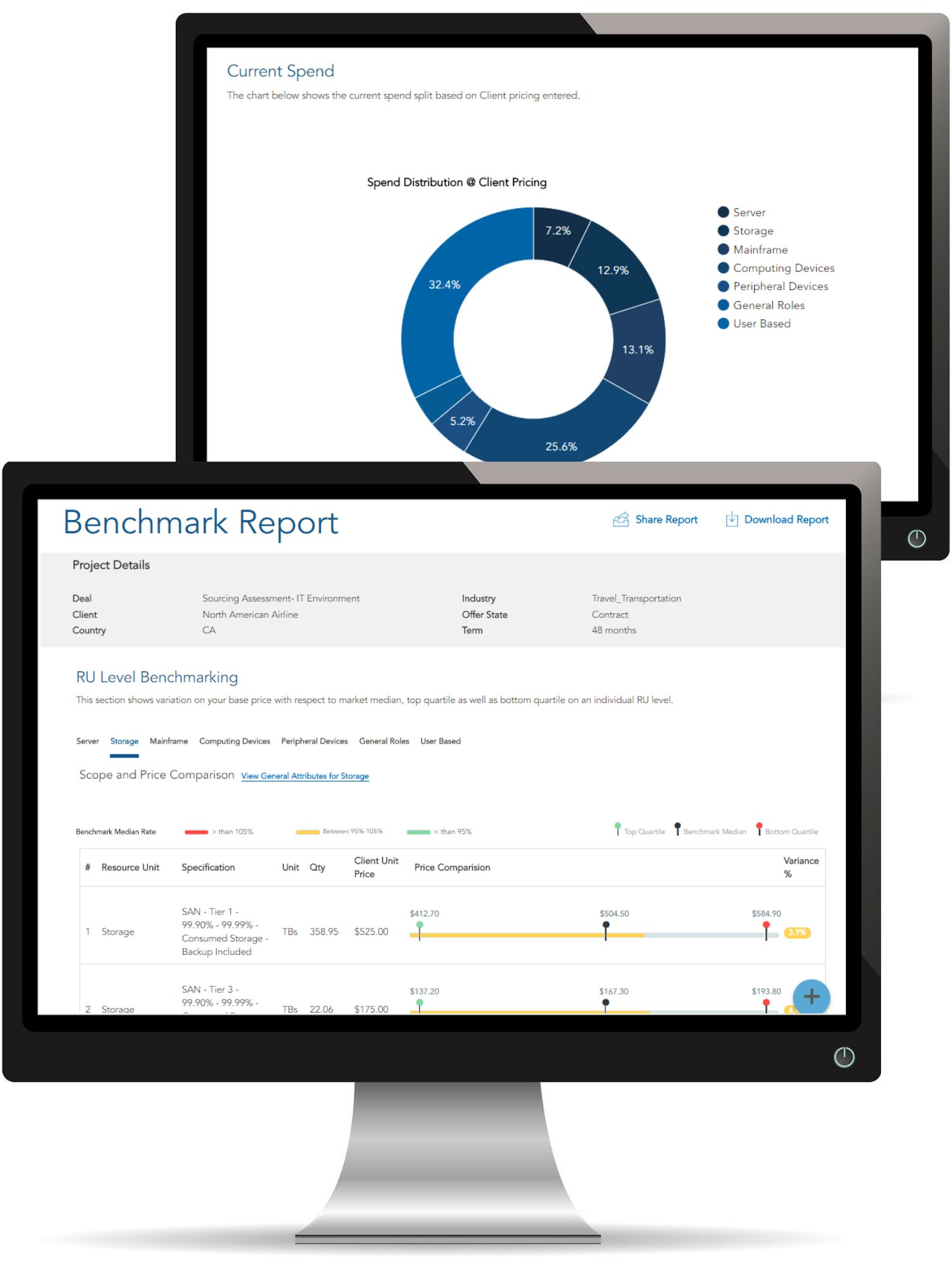 AvaMark™ gives you access to market price comparisons for:
Over 84 resource units across all major IT Managed Services, including:

Server and Storage Management
Database and Middleware Management
End User Device Management
Service Desk, Deskside Services
Network and Security Services

All key business process functions, including:

Finance and Accounting (F&A)
Human Resources (HR)
Customer Services
Supply Chain and Procurement
Industry-specific BPO Functions

Service rates for over 100 job roles covering all key IT and BPO skillsets across 38 geographies.
Salary benchmarks across more than 500 cities in the US.
Cloud enterprise agreements including enterprise discounts and private pricing.
Enterprise software licenses covering all major ISVs.
Unbeatable data quality.
Our data is derived exclusively from negotiated contracts leveraging Avasant's 10+ years of experience in supporting $100 billion+ worth of deals.
No survey data, as compared to other offerings in the market. Actual contract data ensures you get the best data for your analysis.
To maintain currency and accuracy of benchmarks, only the most recent twelve months of contracts are considered.
A rigorous 3-stage process normalizes and cleanses the data. Each price point is anonymized and tagged with over two dozen attributes to comprehensively capture the contextual metadata.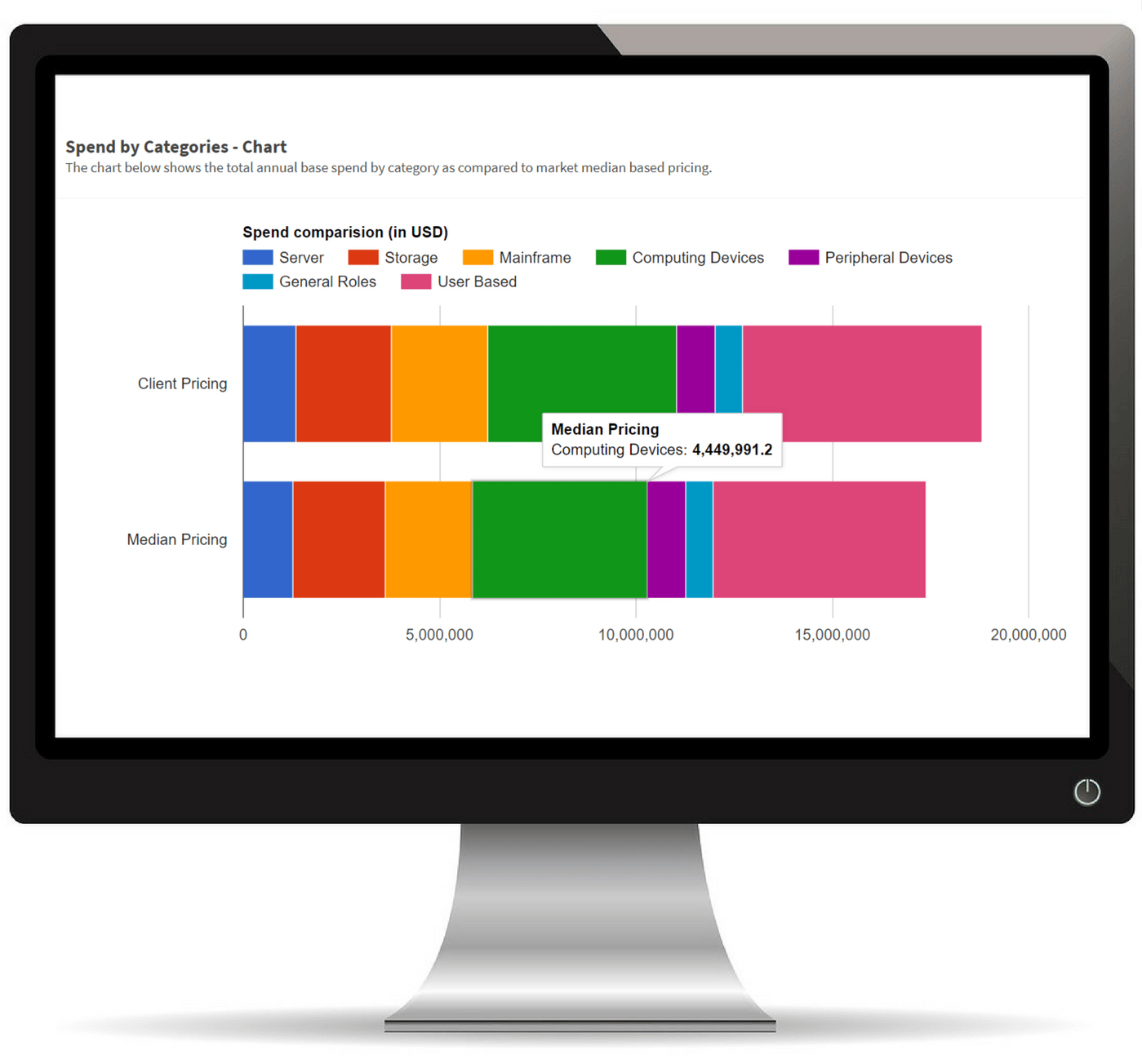 Intelligent insights.
A central Analytics Engine powers AvaMark™ and performs multivariate analysis on the data to determine the impact of key variables in any transaction. The engine empowers you with:
Advanced 'what-if' analysis by running alternate benchmark scenarios.
Predictive Capability to automatically generate insights on a current client environment, and actionable measures to optimize your sourcing.
Self-learning Capability to automatically adapt data engine to market changes, and ensure you get the most up-to-date and market-relevant pricing figures.
Staff Pyramid Analysis.
AvaMark™ provides you with real-time analytics to optimize the staffing mix of your outsourcing projects. This feature enables you to calibrate key sourcing levers, and achieve right-shoring, optimum skill distribution and an industry standard pyramid mix within your project team.
The rich user interface includes:
Single pane view of the blended rate, along with resource distribution in terms of delivery locations, skill set, and experience band.
Over 15 intuitive toggle options to fine-tune your blended rate analysis in real time to arrive at the perfect pyramid composition.
Industry-leading Benchmarking Solution
AvaMark™ is a mature benchmarking solution that is designed to execute benchmarks of enterprise scale and complexity, and includes a host of features:
Cloud-based data management and analytics.
Real-time scenario analysis and interactive reports.
Intuitive workflow-based user interface with explanatory tooltips and online glossary.
Flexibility to use offline inputs (through standardized Excel import).
Downloadable benchmark results and analysis in PDF and MS Excel format.
New intuitive chatbot interface to conduct quick rate card-based queries.