Evolving from Covid-19 with Hybrid Cloud Strategies for Cost Optimization
Presented in Collaboration with Zensar and Microsoft Azure
Evolving from Covid-19 with Hybrid Cloud Strategies for Cost Optimization
Date: June 9, 2020
Time: 9:00 AM PST | 12:00 PM EST
Cloud is no longer optional. Amid the ongoing Covid-19 pandemic enterprises cannot afford to deliberate further on cloud adoption. There is an urgent need among digitally progressive businesses to adopt a hybrid enterprise cloud (HEC) strategy and evaluate every business decision from the lens of HEC for how to operate, grow and expand globally.
The right HEC strategy will help enterprises to achieve scalability, cost savings, end-to-end security, and disaster recovery capabilities. Additionally, it will enable enterprises to be more resilient to business uncertainties.
Join experts from Avasant, Microsoft Azure and Zensar for this live webinar that will delve deeper into key hybrid enterprise cloud trends and will also feature a round table format case study discussion.
Attend this webinar to discover actionable insights including:
Best practices for enterprises to leverage hybrid cloud for agility, flexibility and scalability to ensure operational productivity and cost optimization
How the impact of Covid-19 has pre-empted faster adoption of Digital Foundation Services featuring agility and scalability
How Zensar's Digital Infrastructure and Digital Operations help enable the enrichment of hybrid cloud while making infrastructure invisible
Why hybrid cloud anchors an enterprises' cost takeout strategy and enables the workplace to shift at scale
The measurable benefit of ZenCare (Zensar's remote productivity solution) to ensure business continuity and cost efficiency throughout all timeline phases of Covid-19
Zensar: Practice Maturity
Zensar is focusing extensively on hybrid cloud services, which manifests in the form of 30-40% YoY revenue growth, robust intellectual property (IP), dedicated innovation labs, and a strong practice of 2,500+ cloud associates.
It has taken a platform-centric approach and has a strong focus on in-house IP development. Its autonomics-led cloud management platform, dubbed Vinci, has seen significant traction among customers. Additionally, it has developed a few reusable assets which are sourced through partners, including ZCloudGovern(cloud governance) and ZenCostReduce(cloud workload automation).
It continues to invest in core and industry-specific use cases. For instance, it has designed guidewire-as a-service, powered by AWS, which will help insurance customers with faster time-to-market, pre-built security, and reduced operational costs.
It is expanding beyond its historical strength in insurance, retail and manufacturing domain, and winning some new logos in banking and government verticals. For hybrid cloud engagement, it utilizes a combination of cost-based, value-based, and hybrid pricing models.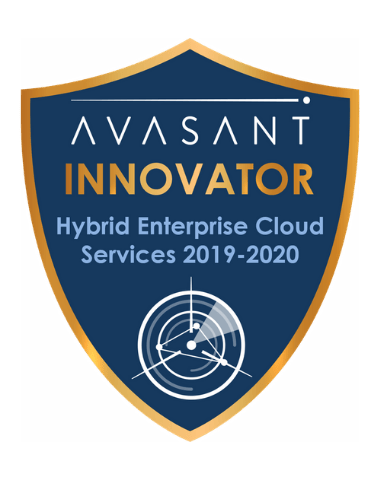 Zensar: Partnership Ecosystem
Zensar is growing its hybrid cloud business through key partnerships with leading hyperscale providers, including AWS, Azure, and Google, where it is running multiple initiatives for training and certifications. Additionally, it has partnered with Nutanix, FlexPod, ServiceNow, etc. in the hybrid space where it has joint GTMs with them, aside from being offered as part of its solutions portfolio.
It has deep ties with Microsoft where it is involved in asset development and joint GTM strategy. For instance, it has co-developed and deployed an Azure-based IoT solution for a leading fleet management company providing real-time data on usage and reporting facilities.
It has established joint labs with Azure and AWS to develops verticalized IoT solutions, AI/ML-based use cases, and DRaaS service-specific solutions
Zensar: Investments and Innovation
Zensar has invested nearly USD 4M to design its start-of-the-art lab in Hyderabad, India, which develops IPs, solution demos, joint-solution delivery artifacts, and provides immersive customer experience.
In 2018, it acquired Cynosure, a US-based firm specializing in Guidewire platform implementation services, catering to property & casualty (P&C) insurance carriers, and strengthening its Return on Digital strategy.
On human capital development, it has partnered with Percipio, an online learning platform from SkillSoft, to cross-skill graduates and cloud associates in third-party and proprietary toolsets
About Avasant
---
Avasant is a leading management consulting firm focused on translating the power of technology into realizable business strategies for the world's largest corporations. Specializing in digital and IT transformation, sourcing advisory, global strategy, and governance services, Avasant prides itself on delivering high-value engagements through industry-focused innovation and flexible client-based solutions.
Our seasoned professionals have an average of 20 years of industry-honed expertise, having conducted 1000+ engagements in over 50 countries. Avasant's next generation consulting and advisory methods have made it the top-ranked firm in its class, with recognition from numerous organizations, including: Vault, NOA, IAOP, and Wall Street Journal.
Avasant's engagement in the global market has inspired a strong commitment to community and purpose. Avasant Foundation supports technology and skill development programs to create employment opportunities for youth across Africa, Asia, the Caribbean and Latin America.
For more information, visit https://www.avasant.com.
Follow news, photos and video on Twitter at http://www.twitter.com/avasant, Facebook at https://www.facebook.com/avasantllc, and LinkedIn at https://www.linkedin.com/company/avasant/.
About Zensar
---
Zensar is a leading digital solutions and technology services company that specializes in partnering with global organizations across industries on their Digital Transformation journey. Zensar's comprehensive range of digital and technology services and solutions enables its customers to achieve new thresholds of business performance. Zensar helps clients deliberate not only on executing Digital initiatives but on realizing the Return on Digital®. For enterprises to be resilient and successful in the long run, they will need to focus on three aspects – Digital Agility, Cross-over IT and fundamentally the Stability of Core Enterprise Systems. We practice Digital internally as we promote externally – Zensar runs on Digital. Through Engaging, Operating, Partnering, and Managing Digital, we believe in Living Digital.
About Microsoft Azure
---
Microsoft Corporation is an American multinational technology company with headquarters in Redmond, Washington. It develops, manufactures, licenses, supports, and sells computer software, consumer electronics, personal computers, and related services.