The Avasant Digital Youth Employment Initiative trains disadvantaged youth in emerging economies in demand-driven technology, customer service, communications and soft skills for succeeding in a corporate work environment.
Over 90% of trainees secure sustainable Level 1 employment with ICT and BPO service providers or other leading companies within two months of graduation. AF partners with local organizations including the University of Technology, Jamaica (UTech, Ja), Harambee in South Africa as well as local ICT employers and industry groups to ensure that instruction is customized to each region's cultural and economic environments.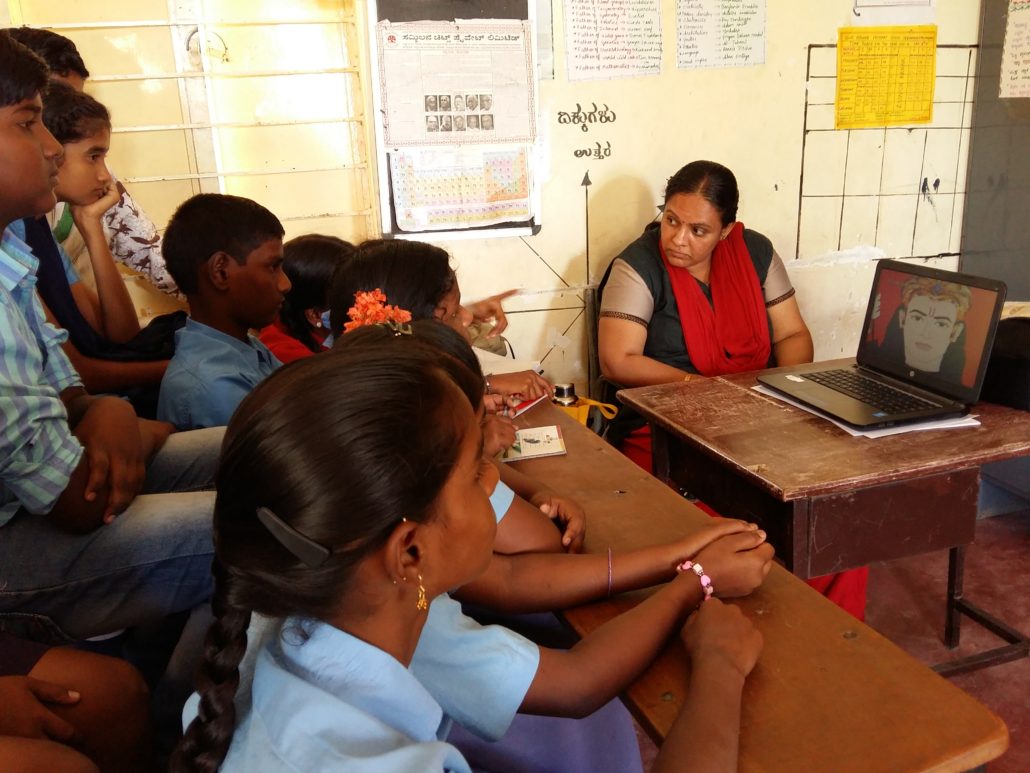 Avasant Foundation also –
offers career mentorship in STEM, digital employment and entrepreneurship skills.
provides free online learning in partnership with tech companies such as Microsoft and Cisco.
supports teacher training in using technology in instruction.
supports American India Foundation's Digital Equalizer program improving instruction impacting 13,148 students and 223 teachers across close to 66 public schools in Bangalore, Odisha, and Dehli.
2017 Digital Youth Employment Graduates Satisfaction Survey
"We ardently support Avasant foundation's mission of empowering the youth across the world. This harmoniously aligns with our focus in Jamaica to transform the tertiary and professional education system by making it more affordable and accessible to the youth. For the past few years, we have collaborated with Chitra and her team who have been relentlessly working with the impoverished communities and enable them to attain economic independence by working for many companies including HGS."
– Anand Birader, Country Director, HGS
Avasant Digital Youth Employment Initiative – Student Testimonies
Ricardo Mclarty
Avasant Digital Youth Employment graduate, Kingston, Jamaica
Avasant
"In June of 2016, I had the privilege of being selected along with a group of young people, to join the 3rd cohort of the Avasant Digital Youth Employment Initiative (ADYEI). Unemployed and frustrated, I was desperate for a lifeline, and I got it. Over the course of three weeks, we were blessed with as much professional knowledge as we could absorb. Civic and social responsibilities, BPO history and operation styles name only a few of the important issues that were covered. The program was aimed at developing our professionalism and employability, but not only did it surpass that, but also resulted in tremendous personal growth. Everyone left the program a changed individual. For myself, I was hell-bent on making the most of the opportunity and that was recognized from the start. I was taught basic leadership techniques to coach and develop not only those around me, but also myself. Issues that have always seemed abstract, were brought to my eyes and laid bare. By the time I graduated as the top performer, I was not only leagues more patriotic, but also exhibited true leadership qualities, exemplary professionalism and an aura of maturity. Though BPO training was the emphasis, we were adequately prepared to succeed in any line of work. I know not where I would be if I were not a part of ADYEI, however I know what I am now, thus I must credit a huge portion of my development to Avasant Foundation. I have changed for the better, taken a different approach at life and become far more aware. I've even identified the same changes in fellow Avasanters as well. Forever indebted to all the stakeholders involved, it is with gratitude and pride that wherever I go, I represent Avasant Foundation."
"I am Jefferson St Surin, I am 21 years old and I was born in Haiti. I like art, music, fashion and everything related to entertainment. After graduating from high school in June 2015, I wanted to take my independence and ease the burden of my aunt because she was the person who paid for my schooling since kindergarten in a country where education is very expensive. In October 2015, I was admitted to the Faculty of Human Sciences of the State University of Haiti to begin my studies in social communication. I was the 56th out of the 3000 enrolled while the faculty retained only 170. During the second session of my first year of college, I had the opportunity to participate in a training program in customer service that AVASANT FOUNDATION was introducing for the first time in Haiti. For four weeks, I learned a lot about the workings of the BPO world and customer service. At the end of this training I received my certificate and I was able to get my first formal job at Natcom SA, one of the biggest telecommunication companies in Haiti. I spent a year in the call center and because of my skills and my performances I could change department. Currently I am responsible for social networks in the marketing department and I realized my short-term dream of working and studying at the same time. AVASANT FOUNDATION has been one of the greatest experiences of my life and my life changed forever since. I am very grateful to have had this opportunity and I encourage young people of my age to take inspiration from my story so as not to lose hope and to look for opportunities and grab them."
Jefferson St Surin
Avasant Digital Youth Employment graduate, Haiti
Avasant
Fabian Wynter
Graduate of the February 2018 Avasant Digital Youth Employment Initiative in Jamaica.
Avasant
"Before taking up the opportunities of Avasant I was at home studying website development and wondering what my next step would be in life. I was of the mindset that the only possible thing that I could ever possible hope to accomplish was tied to website development, but I was searching for something that had longevity and room for growth. Fortunately, this search came to an end when I was introduced to the Avasant Foundation Program by a cousin. Initially I was quite skeptical but then I was strongly encouraged by a friend who did the course and got a good job and his feedback stated that there was also opportunities for growth, so I decided to give it a try and it was one of the best decisions of my life. During the 5 weeks of training, I was transformed into a far better person, which was all made possible with the much appreciated help from our wonderful and helpful trainers who were from Conduent. Mr. Allistair Doughlas made the learning process a very fun experience, Ms. Christina Webley blessed us all with her impartation of valuable knowledge and Ms. Agnus taught and gave us real life encounters about professionalism and last but not the least, Ms. Poyser, my wonderful home room coordinator, who watched over not only me but everyone else like a mother. During the Avasant Foundation's 5 weeks training, I was literally pushed to my limits. I learned how to be outspoken and took part in teamwork which was challenging for me because by nature I am a quiet person. I learned what it meant to put myself out there for the betterment of not just myself but for the persons with whom I interacted as a group on a daily basis. Those 5 weeks have left a lifelong impression on me and has forever favorably molded my character.
Furthermore, Avasant Foundation's training is well recognized in the BPO industry in Jamaica. Almost everyone from my cohort got job placements in about 1-3 weeks after finishing the training. Without a doubt, the training helped me in successfully marketing myself and getting a job at Conduent, one of the most recognized call centers in Jamaica. It brings me great joy to mention that to date I am happily employed still utilizing all that I learnt from Avasant Digital Youth Employment Initiative, to pave my way forward in the BPO world.
I believe it is more than fitting to end this by my giving a heartfelt thank you to the Avasant Foundation and Ms. Chitra Rajeshwari – their executive director; who took it upon herself to visit us in person and to routinely monitor our progress in order to ensure that we were placed in jobs that we so eagerly desired. So, on behalf everyone and myself, thank you Avasant Foundation for continuing your wonderful work of inspiring young hearts and changing lives."
Avasant Foundation will award a small scholarship towards education to deserving youth.
The scholarships will be awarded based upon various criteria and should reflect the values, and must be aligned to the mission of the foundation.