Advancing From Digitization to Data Insights
Los Angeles, October, 2021
The pandemic has accelerated the need for digitization to achieve growth in every market segment. With paper-based workflows reducing overall workforce productivity, enterprises are leveraging cognitive technologies to streamline document processing across various departments. Platform providers are transitioning beyond traditional optical character recognition-based data extraction to generate new insights from complex, unstructured data.
These trends, and others, are covered in our 
Intelligent Document Processing Platforms 2021 RadarView™
. 
The report is a comprehensive study of intelligent document processing platform providers, including the top trends, analysis, and a close look at the market's leaders, innovators, disruptors, and challengers.
We evaluated 27 platform providers across three dimensions: product maturity, enterprise adaptability, and future readiness. Of those 27 providers, we recognized 15 that have brought the most value to the market during the past 12 months.
The report recognizes service providers in four categories:
Figure 1 from the full report illustrates these categories: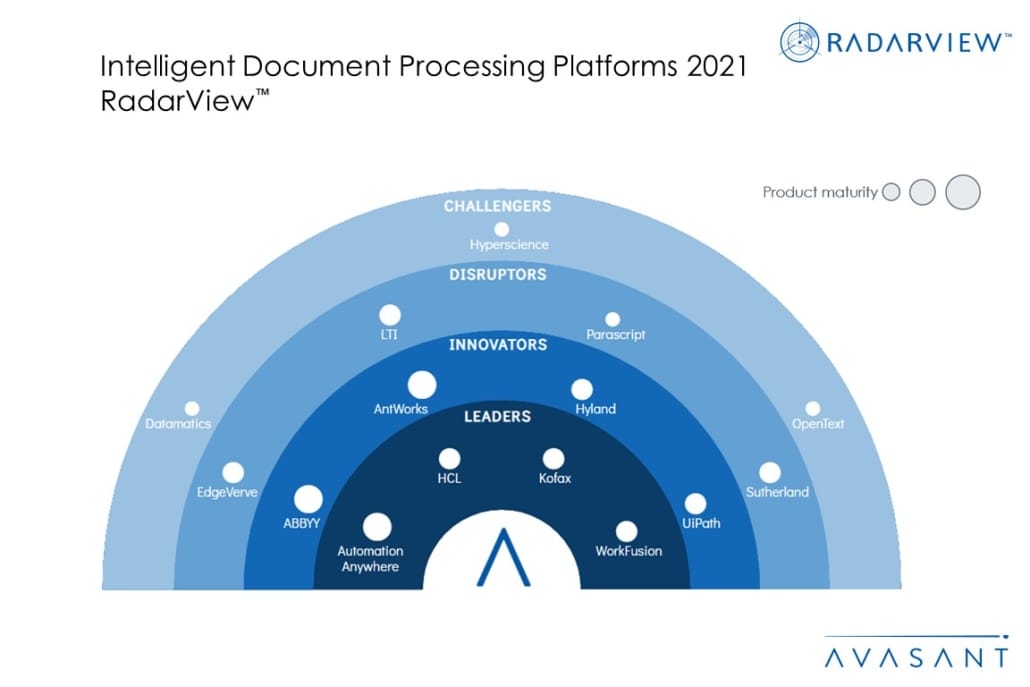 "Today's cloud-based CRM suites are much better integrated between the functions of sales, marketing, customer service, and even commerce," said Frank Scavo, President of Avasant Research. "It is now possible to segment your customers into groups of one and deliver a truly personalized customer experience."
The full report explores a number of other trends in the CRM implementation services market, with a few of them highlighted below. 
The pandemic has accelerated the move to online transactions, further encouraging organizations to increase their investments in CRM to enable remote connectivity and transform front office processes to digital channels.

 

Cloud-based CRM systems have not diminished the role of CRM service providers. Rather, their services are transitioning to include higher level architecture and design services as well as management consulting.

 

Managed services are shifting from people-led to tech-led deals with service providers offering proprietary solutions to streamline application management, testing, training, and support services.

 
CRM remains front and center of the provider investment strategy as they aim to win in a highly competitive market. As the CRM market matures, service providers are finding success by investing in industry-specific CRM solutions and acquiring specialist CRM consulting firms. 

 
"There will always be a need for service providers to be able to deliver CRM implementation, integration, and maintenance services," said Ritika Nijhawan, Analyst at Avasant, and the author of the report. "But the best providers are now going beyond those technical services to provide services at a higher level, to really transform the customer experience." 
The full report also features detailed profiles of the 26 service providers, along with 
their solutions, offerings, and experience in delivering CRM implementation services.
This Research Byte is a brief overview of the 
CRM Implementation Services 2021 RadarView™
report.