Hybrid Cloud: From Optimization to Automation
As organizations increasingly move workloads to the cloud, there has been a gradual shift from merely lifting and shifting systems to cloud to a truly cloud-native architecture for modernization and automation. IT leaders are looking to incorporate intelligent cloud management practices such as artificial intelligence for IT operations (AIOps), DevOps, and financial operations (FinOps) to reduce deployment efforts and optimize cloud spend. To address this shift, traditional service providers are building their own tools and accelerators and acquiring next generation cloud service providers. This is one of the top findings from Avasant's
Hybrid Enterprise Cloud Services 2021-2022 RadarView
™
, a comprehensive study on hybrid enterprise cloud services, taking a close look at the leaders, innovators, disruptors, and challengers in this market. This report also addresses the need for enterprises to accelerate their digital journeys, embrace the cloud, and identify the right hybrid enterprise cloud service providers. It highlights key trends in the hybrid enterprise cloud service market and Avasant's view on the market's direction over the next 12 to 18 months. We evaluated 40 providers using three dimensions: practice maturity, partner ecosystem, and investments and innovation. Of the 40 providers, 28 are recognized as having brought the most value to the market over the past 12 months. The report recognizes service providers in four categories:
Figure 1 from the full report illustrates these categories: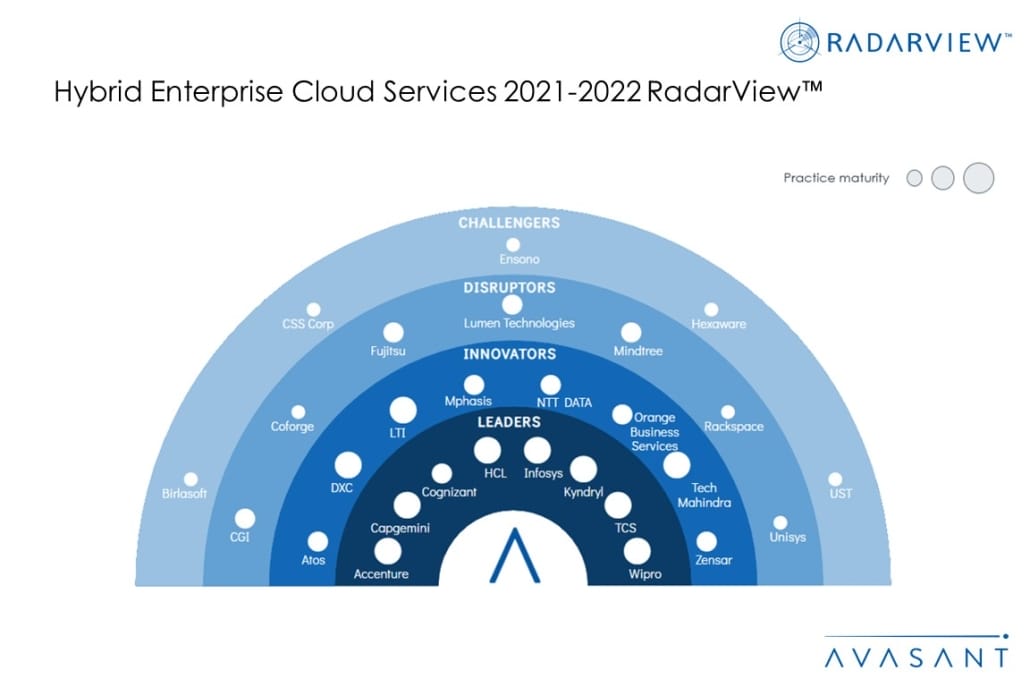 "The increasing complexity of today's cloud environments can catch any enterprise off guard and at great cost," said Anupam Govil, Avasant partner and digital practice lead. "To meet the need, service providers are bringing together their consulting and deep engineering capabilities, along with cloud migration and orchestration platforms, to accelerate cloud adoption." Some of the findings from the full report include the following:
Seventy-nine percent of organizations are increasing their spend in cloud applications. This is shifting the business focus from a "lift and shift" approach to refactoring or re-platforming to utilize cloud-native architectures for improving delivery cycles, increasing scalability, and reducing costs.
Enterprises are increasingly implementing automation methods such as FinOps, AIOps, and DevOps to achieve benefits such as optimized cloud financial management, accelerated intelligent cloud operations by leveraging artificial intelligence/machine learning (AI/ML), and reduced deployment efforts.
Industry-specific cloud services are helping enterprises solve business challenges such as developing human digital bank solutions, optimizing energy consumption, and monitoring maintenance assets for better business outcomes.
Adopting sustainable business practices is improving the overall profitability of organizations. Enterprises are looking for solutions to automate the collection of carbon emission data, develop strategies to reduce their carbon footprint, or identify resources which need immediate attention to attain environmental, social, and governance (ESG) goals.
"Lack of skilled resources is a great barrier to hybrid cloud optimization, and the push for digital transformation has only made things worse" said Gaurav Dewan, associate research director at Avasant. "Smart service providers don't just provide tools—they also help fill the cloud-skills gap for their customers." The
full report
also features detailed RadarView profiles of the 28 service providers, along with their solutions, offerings, and experience in assisting enterprises in digital transformation.
---
This Research Byte is a brief overview of the Hybrid Enterprise Cloud Services 2021-2022 RadarView™ (click for pricing).
---