Pandemic Pushes State, Local Governments to Modernize Systems
LOS ANGELES, DECEMBER 1, 2020
In 2020, t
he global pandemic
 has exposed many governmental organizations in their limited availability of digital communication channels. In fact, prior to March 2020, 43% of UN member states did not have any organized digital media strategy. Many home-bound citizens relied on governments to provide them with relevant information and to deal with pressing issues around healthcare, unemployment, and economic stability. In the face of that, many governments started using a plethora of tools such as online portals, apps, social media platforms, and chatbots to reach out to residents. To support such initiatives, it is crucial that government agencies invest in modernizing their IT infrastructure for migrating workloads, automating processes, and making decisions based on data
. 
These 
emerging trends are covered in 
Avasant's
 new 
State & Local
 Digital Services 2020-2021 
RadarView
report
.
 The report is a comprehensive study of digital services in 
state and local
government
s
, including top trends, analysis, recommendations, and a close look at the leaders, innovators, disruptors, and challengers in this market.  
Avasant evaluated 
3
5
providers using three dimensions: practice maturity, partner ecosystem, and investments and innovation. Of those 3
5
 providers, 
we recognize 
14
 as having brought the most value to the market 
during
 the past 12 months. 
The 
report
 recognizes service providers in four categories: 
Figure 1 from the full report
 illustrates these categories
: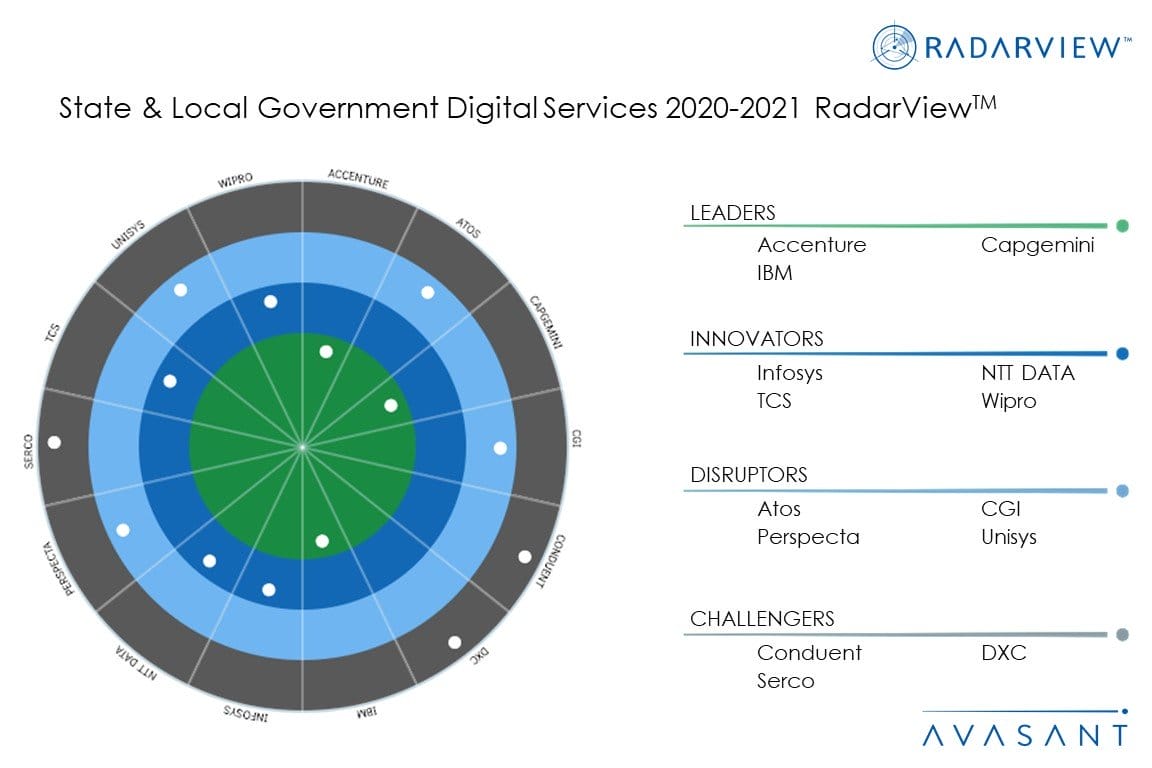 Henry Guapo, a partner with Avasant,
 congratulated the winners noting
, "
The pandemic and growing concerns over the citizens' health and security has motivated the state & local government to expedite the digital transformation journey. The economic instability, rising environmental concerns, and evolving citizens' expectations have compelled government agencies to prioritize cost optimization with improved citizens' services. With this push, the government is increasingly investing in the modernization of their infrastructure, enablement of remote and digital services, and facilitation of smart and connected cities through the digitalization of front-end and core functions
."  
Some of the findings from the 
full 
report include
 the following. 
Governmental organization
 should
Modernize IT infrastructure to transform core operations, reduce cost, and ensure data security
:
Modernize legacy systems by scaling-up cloud adoption to reroute capital to 

more-

productive applications and encourage collaboration in government workplaces.

 

Regularize threat and vulnerabilit

y 

audits for legacy systems

 and applications

 and strengthen endpoint, network and infrastructure, cloud, and transaction security.

 
Leverage and expand COVID-driven digital investments into additional processes and citizen services
:
Deploy automation-based solutions to facilitate telework, streamline financial relief processes (unemployment insurance, child support), and support frontline workers.

 

Ramp-up investments in digital communication channels to monitor and analyze 

residents'

 opinions

 

(through polls, surveys), dis

pel

 rumors, and promote awareness. 

 
Increase investments 
i
n AI and analytics to transform operations and reimagine 
residents'
 experience
:
Invest in analytics-based solutions to develop data-driven economic and social policies, leverage bots for providing continuous support, and counter cyberattacks.

 

Mine data assets 

and leverage predictive analytics/AI to facilitate citizens' safety and security 

by preventing accidents (through alerts) and planning emergency response (floods, fire, etc.). 

 
"
Although many 
state and local governments are undergoing digital transformation, the sector overall has been a laggard in this regard," said 
Avasant's 
Research Leader Pooja Chopra. 
 "There are ongoing concerns around data security, interoperability between government agencies, and an aging workforce
. 
Forging alliances with experienced s
ervice providers can help governments implement a digital transformation plan, which greatly benefits residents."
The 
full 
report also features detailed RadarView profiles of the 
14
 service providers,
 along with 
their solutions, offerings, and experience in assisting 
governments
 in
 digital transformation.
This Research Byte is a brief overview of the 
State & Local Government
 Digital Services 2020-2021
RadarView
TM
report
(
click for pricing
).