Unique Digital Jobs Program in Jamaica Generates High Value Opportunities for Over 120 Deserving Youth
For Immediate Release       Original Source- Avasant Foundation
Los Angeles, CA:
 On Saturday September 3, 2016 Avasant Foundation celebrated the fourth and final graduation of its Digital Youth Employment Initiative that has trained a total of 123 youth in Kingston and Montego Bay, Jamaica. Minister of Education, Youth and Information, the Hon. Minister Ruel Reid, endorsed the program as a Keynote Speaker at the ceremony by saying, "Such initiatives fill the gap and help to get disadvantaged youths into the workforce." Avasant Foundation launched its pilot Digital Youth Employment Initiative in June 2015 and in May 2016 launched the summer series of 4 Cohorts of students in partnership with the University of Technology, Jamaica (UTech, Ja) and its Division of Community Service and Development through the Fi Wi Jamaica project funded by USAID. Since then more than 120 disadvantaged but high potential youth, and especially girls and young women, have been equipped with the professional skills necessary for a thriving career in ICT-enabled work. More than half of the graduates are already employed between our employer and industry partners including iTEL-BPO Solutions, HGS, XEROX, Scotiabank, Tritel, IBEX, 24-7 In Touch, and BPIAJ. The rest are in the interviewing and onboarding process. The Government of Jamaica's JAMPRO Investment Promotion division led by Claude Duncan has helped to get the industry stakeholders together to support the initiative and to promote the concept of "Impact Sourcing" in Jamaica. In 2017, the Foundation will scale its impact under the platform of FUTURE JAMAICA by deepening its partnership with UTech, Ja. It envisions increasing the number of trained young people to between 500 and 800 for the BPO sector and expanding its training to new industries.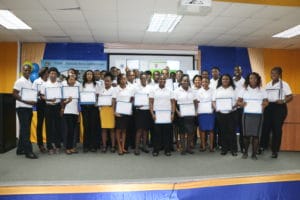 Chitra Rajeshwari, Executive Director of Avasant Foundations, shared, "I am extremely proud of all 123 students who have graduated through our skills training program and are already working or soon to be employed in the contact center industry. Now they can look ahead to a brighter future.  I am very grateful to the BPO industry who believed in our program and our youth." We would like to thank our partners: UTech, Ja., iTEL-BPO Solutions, XEROX, HGS, Tritel, IBEX,  BPIAJ and JAMPRO. Professor Rosalea Hamilton who leads UTech's Community Service and Development Division attests, "This Avasant Foundation initiative addresses the needs of our communities, especially our at-risk young women who need help to pursue opportunities to create income now and into the future." Kevin Parikh, Chairman AF and Global CEO Avasant says, "Success in an outsourcing engagement is defined by the ability to elevate all communities involved. Avasant Foundation was formed with that objective in mind. I am happy to see how we have been able to utilize technology and strong partnerships with employers and other key stake-holders to create opportunities for youth in Jamaica."
About Avasant Foundation
Avasant Foundation (AF) is a 501(c)3 non-for-profit organization based in California that works globally to empower high potential, disadvantaged youth through education, employment and entrepreneurship in the new digital economy.
About Avasant
Avasant
is a leading global strategic management consulting and outsourcing advisory firm specializing in IT & BPO sectors. Avasant's operations are spread across North America, Europe, Africa, Asia and India, and consultants from Avasant have experience of working in over 40 different countries. Over the last seven years Avasant has established itself as a leading consulting firm in the African and Latin American region, actively involved in promoting the BPO industry in these regions and creating job opportunities for local youth. Through the Avasant Foundation, Avasant consultants have the opportunity to give back to society and apply their skills through pro-bono engagements across the globe. Media Contacts: Alison Ascher Webber Associate Director Avasant Foundation
alison.ascherwebber@avasantfoundation.org
Nicole Dulay Digital Marketing Manager Avasant
nicole.dulay@avasant.com