EdgeVerve recognized as an Innovator in Avasant's IA Tools 2019 RadarView™ Report
Among endless service provider options, novel and disruptive mechanics in innovation brings recognition as an Innovator for Intelligent Automation Tools 2019.
Read the Avasant report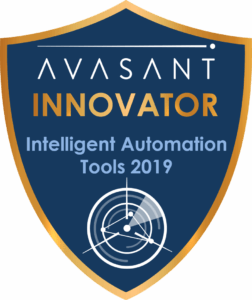 "

Leverages Infosys Nia. Adds functional capabilities through partnerships. Enhanced portfolio to serve entire value chain, and offer customized solutions.

"
Learn More
AVASANT ANALYST INSIGHTS
Product Maturity
EdgeVerve specializes in 3 industries (banking, insurance and telecom) covering such processes as onboarding, reconciliation, trade finance, claim adjustment, assurance, and billing. It recently launched the AssistEdge Engage platform to drive focus on contact centers.
AssistEdge RPA offers an end-to-end automation tool that leverages the intelligent automation capabilities of its parent company, Infosys Nia, and other AI providers including Microsoft and Google. It also supports multiple OCR engines including Microsoft MODI, Google Tesseract, and ABBYY Flexicapture that enable processes to read text from the screen or PDFs.
One process can be subscribed by multiple Robots and automation can be performed based on Robot availability.
In terms of security, it supports AES 256 for data encryption at rest and TLS1.2 per customer policies. It partnered with CyberArk for credential security.
It collaborates with technology partners such as Jaggaer for procurement and Nipendo for invoicing process automation. Also, it is expanding its geo scope by partnering with various regional players for implementation.
Enterprise Adaptability
EdgeVerve's platform's multi-layered architecture provides the upward and downward scalability, which can be assessed with help of a dashboard that provides real-time data, including processes that are queued up, processes completed successfully or with exceptions, etc.
It provides professional services such as online/classroom training, assistance in setting up CoEs, developing POCs, implementation support, architecting and designing solutions, and configuration services. This helps in cutting-down implementation time and ease of setup.
It offers flexible commercial models, including perpetual licensing and subscription-based, plus a few innovative ones such as transaction and outcome-based pricing for particular scenarios.
Innovation Roadmap
EdgeVerve views intelligent automation evolution journey from the Value Discovery phase in pre-2017 (Pilots and POCs) to Value Demonstration in 2017-18 (moving POCs to scale and emergence to front-office use cases) to Value Expansion post 2019 where process discovery will drive automation roadmap. Earlier this year, it introduced AssistEdge Discover to tap into this trend and help reduce the development time.
Its R&D focus is primarily around 3 areas: user experience, software performance and enterprise security.
To drive innovation, it organizes Botathon (The Big Bot league) to encourage students and developers to create a bot for solving simple day to day business scenarios by leveraging AssistEdge Community Edition which provide access to EdgeVerve's in-built bots.
DISCLAIMER:
This graphic was published by Avasant LLC as part of a larger research document and should be evaluated in the context of the entire document. The document is available upon request from Avasant website. Avasant does not endorse any provider, product or service depicted in its research publications, including RadarViewTM, and does not advise users to select only those providers recognized in these publications. Avasant's research publications are based on information from best available sources and Avasant's opinion at the time of publication, and their contents should not be construed as statements of fact. Avasant disclaims all warranties, expressed or implied, with respect to this research, including and warranties of merchantability or fitness for a particular purpose.