IPsoft recognized as an Innovator in Avasant's IA Tools 2019 RadarView™ Report
Among endless service provider options, novel and disruptive mechanics in innovation brings recognition as an Innovator for Intelligent Automation Tools 2019.
Read the Avasant report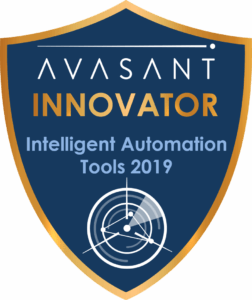 "

Offers RPA solution powered by conversational AI. Specializes in IT and Enterprise automation. Integrated ecosystem approach.

"
Learn More
AVASANT ANALYST INSIGHTS
Product Maturity
IPsoft specializes in IT and enterprise automation, which covers use cases involving service desk, infrastructure management, whisper agent, contact center agent, and shared services (HR, IT and finance).
Introduced last year, 1Desk is an end-to-end integrated automation system that combines the capabilities of its conversational virtual agent (Amelia), IT Process Automation (IPcenter) and Robotic Process Automation (1RPA). It is fully multi-tenant, allowing service providers to manage clients from the same instance.
1Desk can integrate with legacy systems/applications, including ServiceNow, and offers Amelia as the front-end interface to resolve issues via chat/voice. Amelia strengthens the platform through its ability to understand language, to switch and understand the context. As Amelia is trained on the business process, in parallel 1RPA enables the creation of bot thus accelerating creation time.
1Desk architecture is built as micro-services, so it scales horizontally and is preferably deployed using containers (Docker) and scaled via Kubernetes.
nterprise Adaptability
1RPA is available as a yearly, per-bot subscription with no fees for any additional components.
IPsoft's professional services team helps monitor and maintain applications, remediate issues, and upgrade the application. It also offers on-site implementation support through its cognitive and implementation teams and help set up CoEs to train and transfer methodologies.
It also provides flexibility to incorporate 3rd-party automation, such as RPAs from Automation Anywhere, Blue Prism where proper APIs are available.
Recently, it introduced 1Store, an end-to-end store of digital workers that includes back-office automation and allows enterprises to assess and evaluate Amelia to fill various roles across verticals.
Innovation Roadmap
At present, each partner/customer has access to internal resources via Slack and Confluence portals and plans to launch a public forum later in 2019.
IPsoft follows the integrated ecosystem approach, tightly linking automation and cognitive technologies, connecting a variety of enterprise systems (IT, finance, supply chain, etc.). It is bringing in a conversational AI platform as the front-end interface to automated business and customer services.
It is focused on simplifying automation with ready-made virtual agents for specific use cases with roles, abilities, and integration into backend systems. Hence, it plans to further enhance its 1Store offering around agent training and recommendations and packaged vertical solutions.
It is working on intelligent channel optimization as customer and employee expand across modalities and channels, including voice, text, email, apps.
DISCLAIMER:
This graphic was published by Avasant LLC as part of a larger research document and should be evaluated in the context of the entire document. The document is available upon request from Avasant website. Avasant does not endorse any provider, product or service depicted in its research publications, including RadarViewTM, and does not advise users to select only those providers recognized in these publications. Avasant's research publications are based on information from best available sources and Avasant's opinion at the time of publication, and their contents should not be construed as statements of fact. Avasant disclaims all warranties, expressed or implied, with respect to this research, including and warranties of merchantability or fitness for a particular purpose.