AVASANT FOUNDATION'S LEARNING PORTAL
0+ Graduates in Jamaica
0 Graduates in Trinidad and Tobago
0 Graduates in Haiti
0 + On Track to Graduate in Guyana
0 + On Track to Graduate in The Bahamas
Avasant Foundation supports global access to learning. In order to support candidates with remote resources, Avasant Foundation has made an online learning portal available for all candidates, hosted by Google. The learning portal provides access to online learning tools that will greatly benefit candidates in studying and pursuing their training in digital skills, including the Google Classroom. Via this online platform, facilitators and students have the ability to sign in from any computer or mobile device to access class assignments, course materials, and feedback.
Avasant Foundation utilizes Google Classroom in its training programs to help students and teachers communicate, collaborate, organize and manage assignments remotely. Our learning portal provides the following:
FREEDOM TO STUDY AND COMPLETE COURSEWORK 24/7 FROM ANYWHERE AND AT ANY TIME THAT SUITS A CANDIDATE'S SCHEDULE
A WELCOMED ENVIRONMENT FOR WORKING ADULTS WHO NEED TO BALANCE LIFE COMMITMENTS WITH THE DEMANDS OF PARTICIPATING IN A TRAINING PROGRAM
OPPORTUNITIES TO WORK ON GROUP PROJECTS AND COLLABORATE WITH REMOTELY LOCATED CLASSMATES
ABILITY TO TAKE ASSESSMENTS ONLINE AND RECEIVE QUICK FEEDBACK ON PERFORMANCE
CONTINUOUS ABILITY TO LEARN AND STUDY AND BECOME CONFIDENT AND HIGHLY PRODUCTIVE USING INTERACTIVE ONLINE TOOLS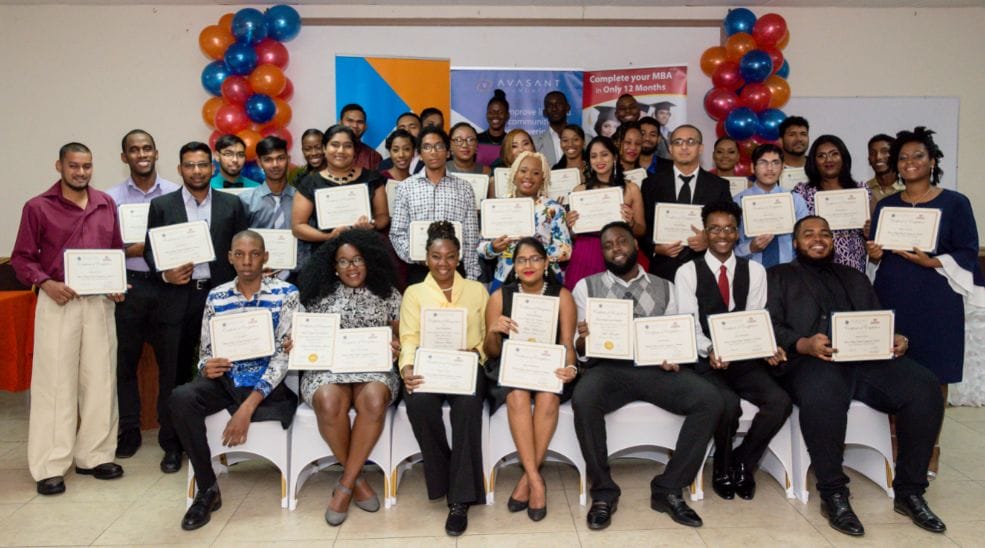 "We ardently support Avasant foundation's mission of empowering the youth across the world. This harmoniously aligns with our focus in Jamaica to transform the tertiary and professional education system by making it more affordable and accessible to the youth. For the past few years, we have collaborated with Chitra and her team who have been relentlessly working with the impoverished communities and enable them to attain economic independence by working for many companies including HGS."
– Anand Birader, Country Director, HGS
About Avasant Foundation
Avasant Foundation (AF) is a private, 501(C)3, not-for-profit organization that empowers youth in emerging economies through education, employment and entrepreneurship. The Foundation collaborates with Avasant LLC and its affiliates, leveraging expertise in globalization, rural economic development, skills development and technology services.
To date, Avasant Foundation has directly impacted the lives of more than 30,000 youth across Asia, Africa, and Latin America. Our efforts have been recognized by the Rockefeller Foundation, Clinton Global Initiative, and more.
To learn more please visit www.avasantfoundation.org.
About Avasant
Avasant is a leading management consulting firm focused on translating the power of technology into realizable business strategies for the world's largest corporations. Specializing in digital and IT transformation, sourcing advisory, global strategy, and governance services, Avasant prides itself on delivering high-value engagements through industry-focused innovation and flexible client–based solutions.
Our seasoned professionals have an average of 20 years of industry-honed expertise, having conducted 1000+ engagements in over 50 countries. Avasant's next generation consulting and advisory methods have made it the top-ranked firm in its class, with recognition from numerous organizations, including: Vault, NOA, IAOP, and Wall Street Journal.
Avasant's engagement in the global market has inspired a strong commitment to community and purpose. Avasant Foundation supports technology and skill development programs to create employment opportunities for youth across Africa, Asia, the Caribbean and Latin America.
For more information, visit https://www.avasant.com.
Follow news, photos and video on Twitter at http://www.twitter.com/avasant, Facebook at https://www.facebook.com/avasantllc, and LinkedIn at https://www.linkedin.com/company/avasant/.