As organizations realize the benefits of cloud computing, an increasing number are committed to moving as many of their applications as possible away from their on-premises infrastructure. Moving the bulk of an organization's systems to the cloud means that ERP – typically the largest single application – also must move to the cloud. Without cloud ERP, an organization will still be running a significant percentage of its application portfolio on-premises.
As a result, ERP selection projects today often include evaluation of cloud ERP providers. Buyers need to realize not all ERP systems that are labeled "cloud" are the same. There are two distinct types of cloud ERP providers, as shown in Figure 2 from our full report, Understanding Cloud ERP Buyers and Providers.
Cloud-Only Providers: These are the "born-in-the-cloud" ERP vendors that do not have an on-premises offering and include such companies as NetSuite, Plex, Workday, Rootstock, Kenandy, FinancialForce, Intacct, and several others. These tend to be newer, smaller vendors (although Workday and NetSuite are each in the range of $500 million in annual revenue). Because cloud-only vendors have a single deployment option, they each can focus their entire business—from product development to sales to implementation and ongoing support—on the cloud. As a result, they make fewer compromises and tend to deliver the maximum benefits of cloud solutions in speed, agility, and scalability.
Traditional ERP Vendors: These are larger, more established providers such as SAP, Oracle, Infor, and Microsoft. They also are growing more slowly than cloud-only providers. They have more complex businesses as they have to support their on-premises customers as well as their hosted or cloud customers. Because they have developed their solutions over many years or even decades, their functional footprint tends to be more complete than those of cloud-only providers.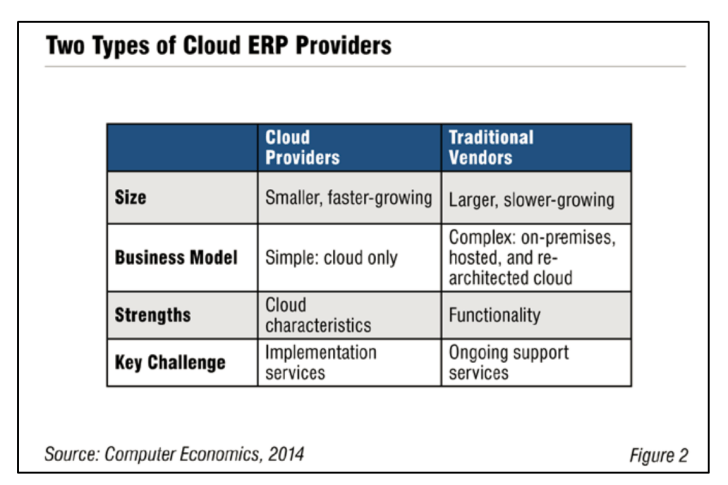 The full report describes these two major categories of cloud ERP providers in more detail. In addition, the report also segments cloud ERP buyers into two categories: first-time buyers looking for their first ERP systems and established companies replacing their legacy systems. We conclude with recommendations for buyers and for providers that seek to serve these markets.
In addition, the full report includes two appendices that provide descriptions of the key ERP vendors providing hosted and cloud solutions today, along with an assessment of their market presence. Cloud-only ERP providers profiled include Acumatica, AscentERP, FinancialForce, Intacct, Kenandy, NetSuite, Plex Systems, Rootstock, and Workday. Traditional ERP providers with cloud/hosted solutions include Epicor, IFS, Infor, Microsoft Dynamics, Oracle, QAD, Sage, SAP, Syspro, and UNIT4.
The report is authored by Frank Scavo, president of Avasant Computer Economics and Strativa Inc., and is based on his years of experience helping organizations select ERP and other enterprise systems.
---
This Research Byte is a brief overview of our report on this subject, Understand Cloud ERP Buyers and Providers. The full report is available at no charge for Avasant Research subscribers, or it may be purchased by non-subscribers directly from our website (click for pricing).
---