Take any IT Vendor Relationship to the Next Level with Sustainable Value and Realized Cost Savings
If not closely monitored, contracts can result in value leakage through several factors including poor reporting and communication breakdowns that hinder effective vendor management and delivery. Avasant's proprietary SaaS platform, AvaSense™, provides best-in-class vendor governance capabilities. With AvaSense, enterprises can realize the full value of their outsourcing agreements with a cloud based tool that grants access to real time data, contract repositories, document management, dashboards, analytical tools, and process flows that enable effective management throughout the entire sourcing contract lifecycle.
Real Time
Access reports and data in real time to make quick and confident decisions
Proactive Management
Automated workflows enable governance maturity
Intelligent
Advanced analytics and predictive capabilities provide insights to optimize contracts
Spend Management
Reduce Value Leakage by 15-30% and governance costs by up to 50%
AvaSense™ Full-Service Contract Governance
REAL TIME CONTRACT MANAGEMENT DASHBOARDS
Contract management dashboards enable clients to review and monitor the crucial components of their contracts. This ensures effective change management and compliance with deliverables, obligations, renewals, terminations and exceptions. Promoting consistency of service outcomes, governance discipline, and compliance at all stages.
DOCUMENT MANAGEMENT
CONTRACT ADMINISTRATION & COMPLIANCE
CONTRACT CHANGE MANAGEMENT
RENEWALS & TERMINATIONS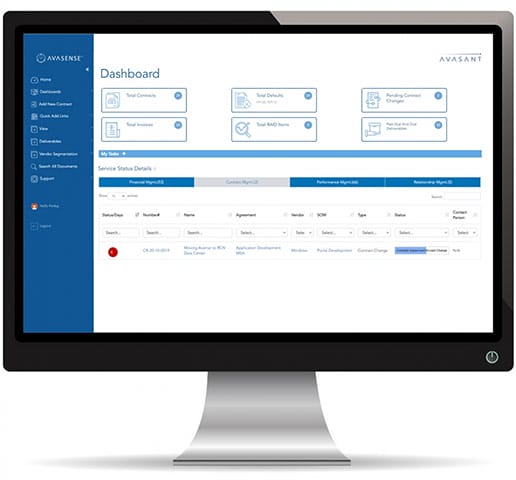 PERFORMANCE VALUATION PROCESS DASHBOARDS
AvaSense's performance management capabilities provide organizations with transparency and helps to align vendor management to business objectives and outcomes. Alert triggers actively alleviate issues or conflicts across service level metrics, thus reducing value leakage and enabling proactive third-party risk management.
SERVICE LEVEL AGREEMENT VALIDATION

SERVICE LEVEL MANAGEMENT

DELIVERABLES & OBLIGATIONS

COMPREHENSIVE PERFORMANCE MANAGEMENT (INVOICE ACCURACY, FINANCIAL PERFORMANCE, ETC.)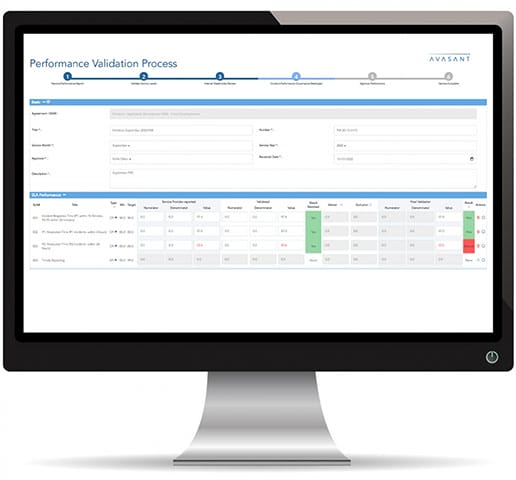 FINANCIAL MANAGEMENT DASHBOARDS
Real-time financial management dashboards give enterprises the ability to reconcile invoices, capture discounts and credits, and gain greater transparency in demand management and total spends across all vendors. This is achieved through a workflow-based approach to financial management and analytics.
INVOICE MANAGEMENT

THIRD PARTY SPEND ANALYSIS

SPEND FORECASTING

FUNDING MANAGEMENT

RISK AND RELATIONSHIP MANAGEMENT DASHBOARDS
Vendor strategy misalignment typically results in about 10% to 20% deterioration of the desired value. AvaSense™ Relationship Management services provide organizations with increased transparency in vendor relationships. By organizing and structuring communications with vendors, the quality of the relationship is greatly improved.
VENDOR COMMUNICATION & GOVERNANCE MANAGEMENT

THIRD PARTY RISK MANAGEMENT

ISSUE AND DISPUTE MANAGEMENT

SERVICE IMPROVEMENT, CONTINUOUS IMPROVEMENT & ROOT CAUSE ANALYSIS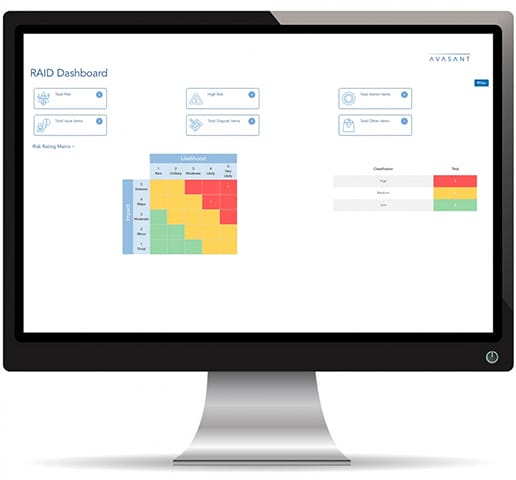 CASE STUDY
One of the largest quasi-governmental bodies experienced a strain in ensuring transparency and alignment with third party vendors. We identified core capabilities missing from their governance methods and partnered with them to establish their internal processes.
AvaSense™ provided the client with access to real-time analytics, dashboards, and live support by a team of experts.
As a result, the client identified savings of up to 25% across their IT services portfolio and achieved 100% compliance with risk controls across all proactively governed contracts.
25% Savings + 100% Compliance
Learn More
WHY AVASENSE™
Realize the Value of Your Outsourcing Contracts with a Digital Software Solution for Contract Governance.
AUTOMATED

Automated vendor management and governance process workflows, alerts and notifications
MULTI-CHANNEL

Designed to deliver the best user experience across differing device formats
SCALABLE

Dynamically scale application resources based on the number of internal users of the services
RESILIENT

Built to be extremely resilient to outages, and security threats to the core platform and support services