Why Choose Avasant for Software Selection Consulting?
ENTERPRISE RESOURCE PLANNING (ERP) PLATFORMS
CUSTOMER RELATIONSHIP MANAGEMENT (CRM) PLATFORMS
FINANCE AND ACCOUNTING PLATFORMS
INDUSTRY-SPECIFIC SOLUTIONS
SUPPLY CHAIN MANAGEMENT (SCM) SYSTEMS
HUMAN CAPITAL MANAGEMENT (HCM) SYSTEMS
SOFTWARE AS A SERVICE
PROCUREMENT SYSTEMS
Few organizations today can remain competitive without implementing enterprise software. Enterprise resource planning (ERP), customer relationship management (CRM), supply chain management (SCM), and HR/human capital management (HCM) systems promise great benefits.
Commercial off-the-shelf (COTS) software is now available for horizontal applications, such as accounting systems, ERP systems, CRM systems, and also for industry-specific systems. When unique systems of competitive advantage are needed, they can often be built as extensions to commercial enterprise software.
Contact us to learn more about our software selection and vendor evaluation services.
CHALLENGES IN SOFTWARE SELECTION
Choosing the right enterprise system requires an organized approach: assessing business processes, building the business case, analyzing key requirements, screening vendors, and organizing demonstrations. But who has the experience, time, resources, and tools to do it right?
Nevertheless, evaluating, selecting, and implementing enterprise systems is becoming more and more difficult. The underlying technologies are changing. Some systems look good on the surface but may not be the best fit. Others may not provide flexibility for the future. Vendor viability, software reliability, and ease of implementation must also be included in ERP software selection criteria as well as for other types of enterprise systems.
In addition, over the years, there have been many mergers and acquisitions among software vendors, and it is not always clear whether a particular system is really part of the vendor's road map. This is especially the case when evaluating solutions from vendors that have done major acquisitions, such as Oracle, SAP, Infor, Microsoft Dynamics, Sage, and others.
Cloud-based systems add another level of complexity. Is the vendor's cloud ERP offering really software as a service (SaaS)? Or is it merely a traditional on-premises ERP now offered in a hosted data center as a managed service? And, does it matter? How do cloud solutions, such as Salesforce.com, Workday, Oracle NetSuite, Plex, FinancialForce, Sage Intacct, Acumatica, compare with traditional vendor offerings?
SYSTEM SELECTION APPROACH
Avasant provides independent consulting in enterprise software selection and vendor evaluation. Our methodology has two main phases as shown in the Figure below.
Phase 1: The systems strategy and roadmap. Here we conduct a current state assessment, which at a minimum includes stakeholder interviews. Optionally, we may also conduct a more detailed assessment of the applications portfolio and current business processes.
Next, we develop alternative scenarios for future systems. Scenarios may include upgrading or replacing current systems, or we may consider best of breed solutions versus integrated suites. Here, we can also develop financial models to evaluate the costs and benefits of each scenario.
Next, we conduct a market scan of potential vendor solutions, based on key qualification criteria. Here we leverage the wealth of data on vendors and service providers that we maintain in our Strativa Analytics platform. This step includes interviews with potential solution providers to narrow the short list to the best 2-3 vendors for future, more detailed, consideration.
Finally, we bring all the deliverables together into a strategic roadmap to carry out the vision for future systems. Optionally, this can include a change management plan to deal with the people-side of change.
Phase 2: The vendor selection and procurement transaction. This will be based on the strategy and roadmap defined in Phase 1. Here we prepare a formal request for proposal (RFP) and facilitate vendor demonstrations. We typically include systems integrators in this process so that we are evaluating implementation partners and software vendors as a team.
Next, we analyze bidder responses to the RFP and facilitate additional due diligence on the vendors and system implementation partners, leading to a best-and-final offer. Finally, with assistance from Avasant Law, we can support clients through the contract negotiation stage to ensure that the best deal is realized in terms of cost as well as protecting the client's interest through the life of the relationship.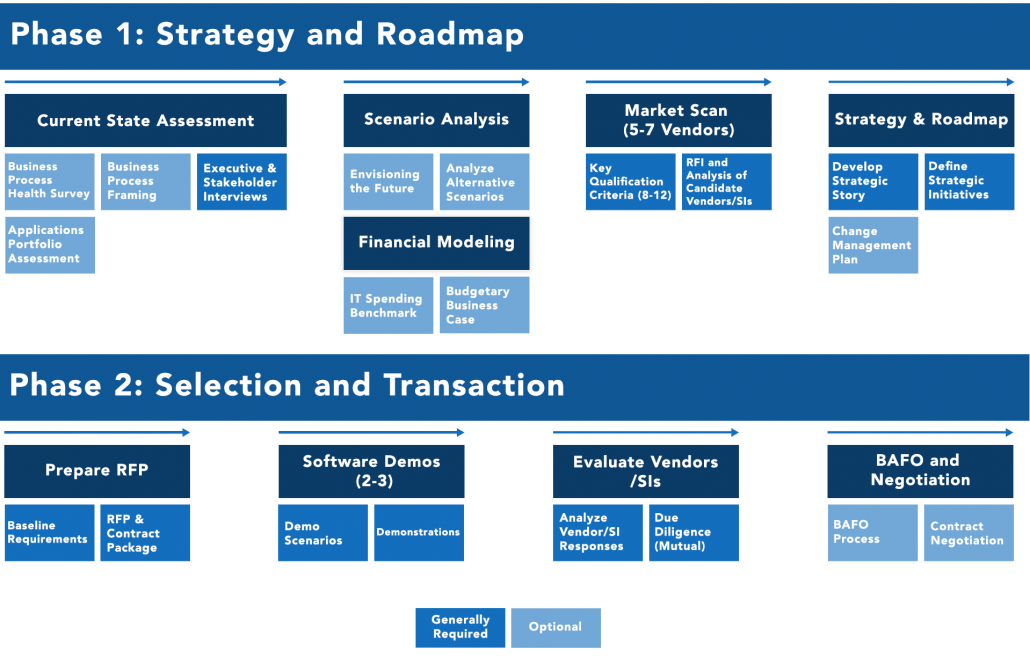 Contact us to learn more about our software selection and vendor evaluation services.

OUR DIFFERENTIATORS
Avasant offers a unique approach backed by experience and data
Our approach is unique in the following ways.
Leveraging online surveys.

The traditional approach is to conduct weeks of interviews with stakeholders to understand the business. Our approach is to supplement our interviews with online surveys to collect feedback from a larger number of users to

identify

their unmet needs.

Analyzing business processes.

Rather than conducing an exhaustive exercise in business process mapping, o

ur

current state assessment

begins with

business process framing

to evaluate current processes, comparing them to better business practices, and understanding

what the new system must do to support the future business.

Focusing on key issues.

In understanding business

requirements

, our software selection consultants focus on

differentiators

: things that make your organization different from others and things that make software vendors different from one another. We

use these key requirements to drive the Market Scan to identify those vendors who are the best fit.

Considering alternatives.

Sometimes, the best way forward is not clear. Should an entire legacy system be

replaced, or

should parts of it be upgraded and extended. Is an integrated suite the best choice, or is a best-of-breed strategy recommended? Our IT strategy consultants consider multiple alternatives in Phase 1 before going on to the sourcing transaction in Phase 2.
Getting to a short list efficiently.Many buyers make the mistake of starting their software selection projects by talking to vendors. Our software selection consultants, on the other hand, use formal proposal evaluation and vendor selection criteria, together with software selection process best practices to shorten the list of candidate vendors in a three-step qualification funnel that gets you to the right solution quickly and efficiently.
Evaluating implementation consultants as well as software vendors.

Too many software projects fail, not because the customer chooses the wrong system but because the implementation consulting firm is not qualified. Our

process places as much weight on selecting the right service provider as choosing the right software vendor.

Absolute and total independence. Because we do not sell software or partner with technology vendors for implementation services, our software selection consultants have the independence and objectivity necessary to give unbiased advice. We sit on your side of the table only.
Our software consulting services do not end with vendor selection. With our implementation project management, organizational change management, project management governance, and process improvement services, we can continue our engagement through implementation of the chosen system employing our outsourcing governance framework.
BACKED BY DATA AND INSIGHTS
Leveraging our Strativa Analytics
platform
Strativa® is Avasant's analytics platform to support the selection, price comparison, and procurement of the best-fit technology solutions. From enterprise software vendors to implementation service providers to cloud platforms, we provide data-driven insights to help buyers make the right technology choices.
Avasant management consultants utilize the Strativa platform to provide independent and unbiased advice for organizations to make data driven business and technology decisions, along with practical assistance to carry out those decisions for bottom line results.
DEEP INTELLIGENCE ON OVER 2000+ VENDORS
BACKED BY CUSTOMER INSIGHTS
OVER 10,000 BUSINESS PROCESSES COMPARED
COMPARE AND EVALUATE VENDORS
Frank Scavo
PARTNER