Scope of the Report
The report covers global airlines and airports industry, the ecosystem participants and their interplay, key challenges, technology landscape with special emphasis on digital levers, regulatory developments, customer-related trends, M&A and partnerships, key case studies, and outsourcing engagements.
It also provides fact-based detailed assessment of leading 22 service providers enabling digital transformation for airlines and airports. The profiles for each of these 22 providers capture their practice (or business unit) overview, industry-specific solutions and offerings, key clients, partnerships, capabilities across value chain, case studies, and analyst insights on their practice maturity, investments & innovations, and partner ecosystem, thus providing a 360-degree view of service providers.
Why read this RadarView™ ?
Airlines and Airports are in the midst of several fundamental changes. Traditional markets are plateauing and there is an urgent need to identify new growth avenues. At the same time, there is increased awareness about sustainability and the threat of cybersecurity. Thus, it has become imperative for stakeholders to quickly evolve their business and operating models to align with new customer expectations and to be future-ready. Avasant's ongoing interactions with industry leaders indicate that there is awareness about digital transformation being the key lever ahead. However, the key challenge is to rapidly digitize the foundational elements of their technology environment, while at the same time implement cutting edge technologies across the value chain.
The Airlines and Airports Digital Services 2019-2020 RadarView Report highlights the key trends in the market and Avasant's view on the road ahead for Airlines and Airports over the next 18-24 months. It addresses the need of enterprises to understand the right action points to navigate through the headwinds and gain competitive advantage. It also identifies the key global service providers and system integrators that can help enterprises in business transformation.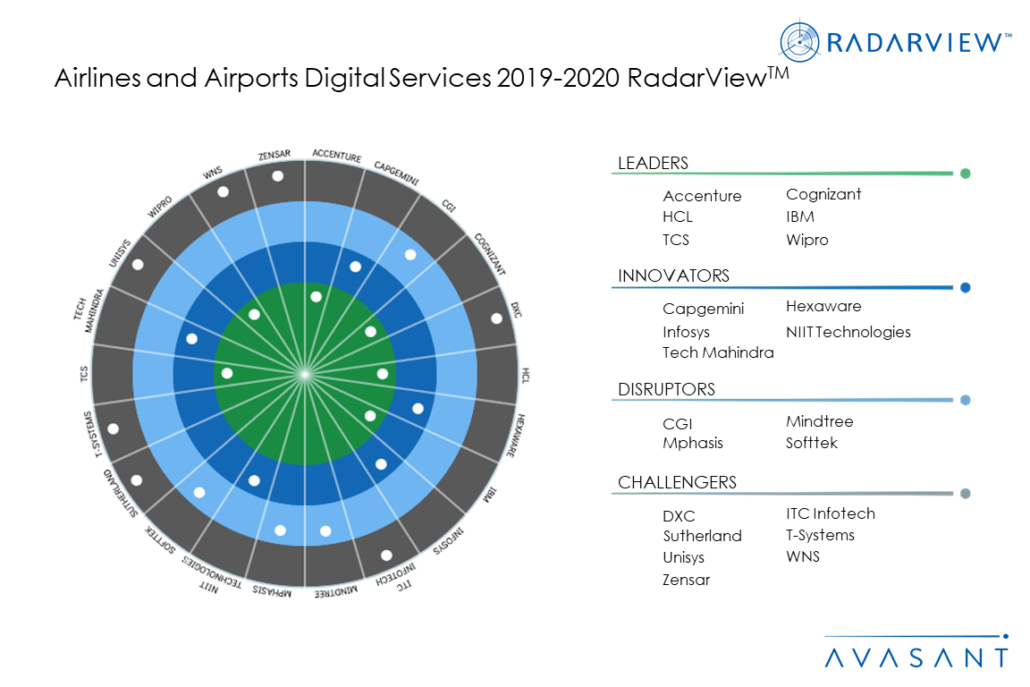 Featured Providers
Accenture, Capgemini, CGI, Cognizant, DXC, HCL, Hexaware, IBM, Infosys, ITC Infotech, Mindtree, Mphasis, NIIT Technologies, Softtek, Sutherland, TCS, Tech Mahindra, T-Systems, Unisys, Wipro, WNS, and Zensar.
Methodology
The industry insights and recommendations are based on Avasant's ongoing interactions with enterprise CXOs and other key executives, targeted discussions with service providers' practice leads, subject matter experts and fellows within Avasant, learnings from consulting engagements, and round the year tracking of this space by Avasant analysts.
Evaluation of service providers is based on primary inputs from providers, focussed briefings, their public disclosures, Avasant's ongoing market interactions, and validations from enterprises (clients). The assessment is carried through a rigorous methodology across key dimensions of Practice Maturity, Partner Ecosystem, and Investments and Innovation to finally recognize the service providers that brought the most value to the market over the last 12 months.