Given the current climate of restrained economic optimism, IT organizations are beginning to let out the reins on spending. One budget line item for which Computer Economics projects growth over the next few years is the deployment of small servers. According to Computer Economics' Information System Spending & Technology Trends 2004/2005 study released in June, small servers are being added by over 65% of all organizations, as shown in Figure 1. That figure is expected to grow at a brisk pace over the next few years.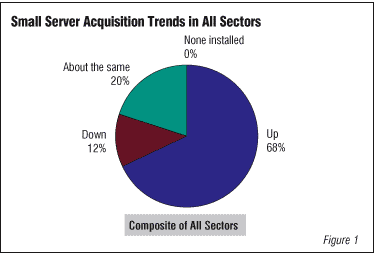 Blade Servers – A Hot Technology
One of the hottest growth areas within the small server market is the technology known as blade servers. The term blade server refers to a chassis or rack that can hold a number of hot-swappable processors called blades. Blades are the thin, modular processing units that fit bookshelf-style into the blade server chassis. A blade server is an independent system comprised of electronic circuit boards containing one or more processors and associated memory, disk storage, and network controllers; as well as running its own operating system and applications. A fully configured blade server chassis may contain several hundred individual blades. The blades within a blade server chassis interconnect via a common high-speed bus and share resources such as power supplies, fans, CD-ROM and floppy drives, Ethernet and Fibre Channel switches, and system ports.
While blade computing has been available for several years from early adopters such as RLX Technologies, blade servers have only recently arrived on the scene from "IT approved and short-list vendors" such as Dell, IBM, HP, Sun, etc, and now offer a viable new approach to building or replacing computing power. However, as with any new architecture trying to gain a foothold in the market, there is potential that vendors will rush technology to market that lacks key capabilities and that could lock customers into a long-term relationship via proprietary implementation. As a result, there has already been a good deal of fallout in the second-tier vendor arena, and more changes are anticipated over the next two to three years.
The business case for switching to blade server technology centers around lowering the total cost of ownership (TCO) compared to traditional box or rack server technology. This TCO business case is founded primarily on the high-density blade server design that saves space via the reduced floor space requirements of the blade server chassis. Typically you can fit 10 times the number of CPUs into the same space as traditional rack technology. The blade server design is very granular, permitting an enterprise to buy what is needed immediately and plug in more processing power as required. With traditional server technology, you may need to purchase excess capacity initially and allow your application to grow into the server capacity. The blade server architecture is touted as well to be more flexible, enabling computing power to be dynamically shifted among applications as required. This "pay as you grow" concept is one of the key attractions to this technology.
The Future of Blade Servers
Vendors are quickly realizing today's limitations of blade computing in view that enterprises are looking to push blade technology further into the enterprise computing infrastructure. As a result, they are enhancing their offerings to better address the application and TCO requirements of IT organizations. For example, IBM is making a concerted effort to support standard networking and storage facilities in its BladeCenter systems. IBM has just recently integrated Ethernet networking switch modules from Nortel Networks and Cisco Systems. This eliminates the requirement to run Ethernet cables from each blade to an external switch. IBM is also planning to introduce Fibre Channel switching modules from Brocade Communications Systems as well as the Entry SAN (storage area network) Switch Module to support large SAN deployments. These examples of integrating blade technology into the existing infrastructure will allow smoother transition from traditional server environments to blade computing.
While the worldwide server market share currently "owned" by blade server technology is best described as modest, the anticipated growth over the next five years will be very strong. It is projected that blade servers will account for approximately 3% of the total worldwide server market in 2004, which translates into approximately $1.2 billion in annual sales. However, Computer Economics projects that by 2009 blade servers will comprise approximately 33% of the total worldwide server market, rising to over $10 billion in annual sales, as shown in Figure 2.
Figure 2
Blade Server Market Growth Through 2009 – Worldwide
Blade Server Growth

2004

2005

2006

2007

2008

2009

Market Share
(By Percent)

3.0%

8.5%

15.0%

23.5%

28.0%

32.5%

Annual Sales
($ billions)

$1.2

$3.0

$5.5

$8.5

$9.5

$10.5
October 2004
---
Computer Economics provides ongoing research on many facets of the server market, as well as many other technology markets via our subscription-based website. This information is also available in our special reports which can be purchased online or by calling one of our customer support representatives. If you would like more information on purchasing any of our important reports and annual studies or to learn more about becoming a Computer Economics subscriber, please contact us at 1-800-326-8100 ext. 51