As mobile smartphones and tablet computers proliferate in the enterprise, a rising number of organizations are adopting policies for BYOD use.
Figure 2 from our study, Bring-Your-Own Device and Adoption and Best Practices, shows 44% of enterprises have such a policy today. This is up from the 37% that had adopted such policies in 2013. We expect the percentage to continue to grow as smart devices become even more prevalent.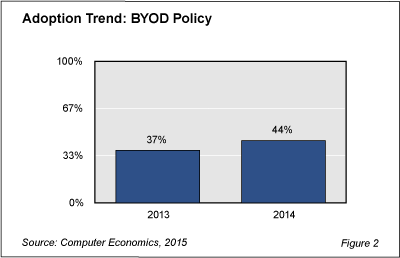 The adoption of mobile devices, mobile enterprise applications and, more recently, desktop virtualization is spawning much discussion about bring-your-own-device, or BYOD, policies. The discussion is driven by the desire of employees to avoid having to carry two smartphones, one for business and another for personal use, and to be able to access business systems with any number of devices.
Now BYOD has other drivers. There are growing instances where users are accessing virtual desktops with their personal laptops, tablets, and smartphones. The situation is likely to become even more complex with the emergence of smart wearable devices such as the Apple Watch.
Like it or not, many IT organizations are having to confront BYOD as an emerging practice and adopt policies and procedures to deal with the security, legal, and support issues surrounding it. To date, our research shows adoption of policies that enable employees to use their own smartphones, tablets, and laptops remains immature, but is growing quickly.
In the full study, we first take a look at adoption trends for BYOD by organization size and sector. We also discuss the elements that every BYOD policy should contain, steps IT organizations should take before enabling users to access corporate networks with their personal devices, and solutions available to help manage the security of mobile devices and applications.
---
This Research Byte is a brief overview of our report on this subject, Bring-Your-Own-Device Adoption and Best Practices. The full report is available at no charge for Computer Economics clients, or it may be purchased by non-clients directly from our website (click for pricing).