The percentage of business analysts as a percentage of the IT staff has risen for the third year in a row after this position suffered a retreat during the early part of the recovery period.
We anticipate that the business analyst role will continue in importance. As cloud computing and virtualization lessen the need for data center staff, a greater percentage of the IT staff is shifting to the business side of the IT organization. Business analysts have an important role in this shift.
As shown in Figure 1 from our study, Business Analyst Staffing Ratios, business analysts as a percentage of the IT staff is continuing to gain momentum, climbing to 7.3% of the IT staff at the median.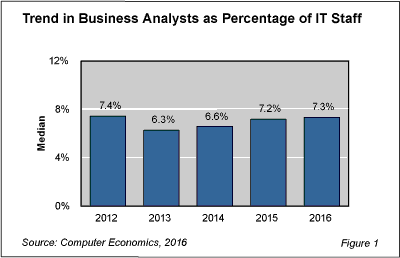 The business analyst function appears to have been in retreat during the economic recovery period, declining from 7.4% in 2012 to a low of 6.3% in 2013. But the decline may have been deceptive. It is likely other functions were regaining lost ground as opposed to there being a reduction in business analyst headcount.
Job titles within companies may vary, but we would include any of the following, or similar job titles, in the business analyst category: business systems analyst, business process analyst, enterprise system analyst, or MIS analyst. The most important attribute is that these professionals are business-oriented first, and technology-focused secondarily.
The question of how many business analysts an organization needs is a difficult one, as the practice of using business analysts can vary widely. In the full study, we assess typical staffing levels using four metrics: business analysts as a percentage of the IT staff, business analysts as a percentage of the application group, applications per business analyst, and users per business analyst. We also assess differences by organization size and sector.
---
This Research Byte is a brief overview of our report on this subject, Business Analyst Staffing Ratios. The full report is available at no charge for Computer Economics clients, or it may be purchased by non-clients directly from our website (click for pricing).
Do you also need staffing ratios for other IT job functions? Consider this collection of all of our staffing ratio reports, which bundles them all into a single report at a significant discount: IT Staffing Ratios–Special Report Bundle.