There is no doubt that the role of the business analyst has grown in importance over the past decade as IT organizations increased their focus on delivering business value. Since the beginning of the recovery, however, their numbers appear to have declined—at least, as a percentage of the IT staff––in the reversal of the trend that prevailed prior to the downturn.
Figure 1 from our study, Business Analyst Staffing Ratios, shows that business analysts accounted for 6.6% of the IT staff at the median in 2014, about the same as the 6.5% level in 2013. However, this is down significantly from a peak of 8.4% in 2010, which was followed by two years of steady decline in the ratio.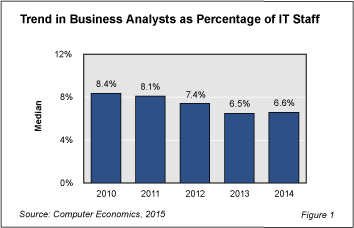 As a percentage of the IT staff, the business analyst function appears to have undergone a retreat during the recovery period. This may be deceptive. Prior to the recession, the position had been making steady gains as IT organizations placed greater emphasis on IT service. The decline during the recovery period is actually a return to pre-recession levels. Valued business analysts suffered fewer layoffs during the recession and now other functions are making faster gains.
Still, there appears to be some reversal of fortune for this position. One possibility is that IT organizations are doing less custom development work today as they move off legacy systems and toward cloud resources, reducing requirements for business analysts. Some business analyst positions may be moving into user groups as their role becomes less technical. Whatever the cause, we can conclude that while business analysts have become a larger portion of the IT staff over the past decade, that trend appears to be changing.
The question of how many business analysts an organization needs is a difficult one as the practice of using business analysts can vary widely. In the full study, we assess typical staffing levels by organization size, using four metrics: business analysts as a percentage of the IT staff, business analysts as a percentage of the application group, applications per business analyst, and users per business analyst.
We use a broad definition for our business analyst staffing that embraces IT staff members who have a liaison role between the IT organization and users of business applications. Typical roles include:
Business analysts, who gather user requirements, define business processes, and help design, document, and deploy solutions using information systems.

Any staff member who regardless of title serves as a primary liaison between users and IT, represents the user community to the IT group, and ensures that IT systems are used effectively by the organization.
Job titles within companies may vary, but we would include any of the following, or similar job titles, in the business analyst category: business systems analyst, business process analyst, enterprise system analyst, or MIS analyst. Business analysts sometimes also play roles in project management. However, we place dedicated project managers in a separate staffing category.
---
This Research Byte is a brief overview of our report on this subject, Business Analyst Staffing Ratios. The full report is available at no charge for Computer Economics clients, or it may be purchased by non-clients directly from our website (click for pricing).
Do you also need staffing ratios for other IT job functions? Consider this collection of all of our staffing ratio reports, which bundles them all into a single report at a significant discount: IT Staffing Ratios–Special Report Bundle.