Personnel management represents one of the toughest challenges facing IT executives and senior managers today. Despite the fact that many IT managers consider themselves to be first and foremost technologists, the success of their organizations depends more on the people that manage and support the technology than on the technology itself. Although technology is important, all levels of management must embrace the concept that IT is a people business. Recruiting and retaining IT talent, therefore, is a key success factor for any IT organization.
This Research Byte is a summary of our full report, Managing Challenges in IT Staffing: 2007 Survey Results.
IT staffing issues will continue to grow in complexity over the next several years and will impact the very structure of many IT organizations. Several factors are driving the challenges in IT staffing and recruiting including:
A growing shortage of experienced IT professionals
The pending retirement of the baby-boomers
Declining student enrollments in computer science curriculums
Evolving recruitment strategies
Increasing use of outsourcing for selected IT functions
As shown in Figure 1, over 50% of all companies will increase their IT staff headcount by 5% or more in 2007. The data also shows that 25% of all companies will increase their headcount by at least 15%. This growth, coupled with the fact that less than one-fourth of all companies are projecting an IT staff decrease in 2007, will likely translate into an even greater shortage of IT personnel to fill the anticipated growth in hiring requirements.
As analyzed in the full report, companies will need to increase both their use of IT contractors in staff augmentation roles and their use of selective outsourcing of IT functions to help offset the expected shortage of qualified and experienced IT talent over the next few years.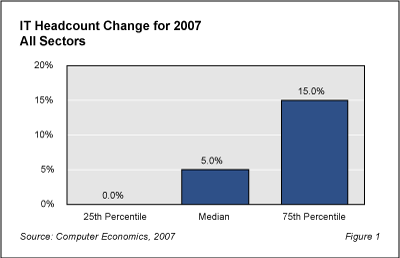 The full version of this report investigates current trends and challenges that IT managers are facing in hiring and staffing their organizations. The study is based on a survey of approximately 160 hiring managers in various industries and government sectors. The full report analyzes the details behind these trends as well as the factors that, according to our survey, are most important to consider in developing an overall hiring strategy in 2007.
Additional statistics and metrics provided in the full report include the following:
Use of contractors and temporary employees by organization size
Growth of outsourcing by organization size
Growth of offshore outsourcing by organization size
Median IT employee turnover rate by organization size
Trends in recruiting difficulty by organization size
Adequacy of the candidate supply by organization size
Adequacy of compensation offers by organization size
Attractiveness of geographic regions, by U.S. major region
Attractiveness of 14 industry sectors to IT candidates
Satisfaction with recruiting methods by organization size
Use of outside recruiters, by organization size
Relative difficulty of recruiting for eight IT positions
In summary, our survey finds that IT organizations are still hiring strongly in 2007. At the same time, the supply of skilled IT professionals is tightening, with well over half of respondents across the board signaling that there is an inadequate supply of qualified candidates. Not surprisingly, many IT executives feel that hiring is more difficult this year than last year.
In response to these pressures, the use of contractors and temporary staff is increasing, and contracting with outsourcing firms (including offshore providers) is growing. For hiring in-house staff, the use of outside recruiters continues to be an attractive approach to finding the best candidates.
The full report reveals one additional interesting trend: big companies are back in style for IT professionals. During the Internet boom of the late 1990s, many large companies found it hard to compete for the best technical talent, who were drawn to small firms and Internet startups with the promise of stock options and get-rich-quick tales. But now, well after the technology bust in the first part of this decade, our survey shows signs that large companies are generally more attractive to candidates than smaller firms. The turnover rate among large firms is lower than at small firms, and hiring managers in large firms are much less pessimistic about the difficulties of IT recruiting. The difficulties in hiring technical talent are still there for large firms, but they seem to be better able, in current market conditions, to manage these challenges.
March 2007
---
This Research Byte is a brief overview of our report on this subject, Managing Challenges in IT Staffing: 2007 Survey Results. The full report is available at no charge for Computer Economics clients, or it may be purchased by non-clients directly from our website at https://avasant.com/report/managing-challenges-in-it-staffing-2007-survey-results/ (click for pricing).