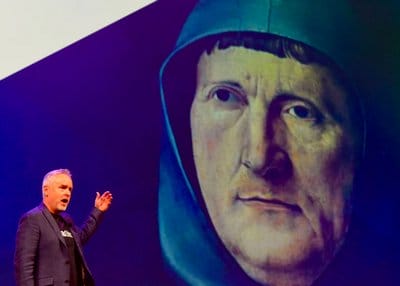 What happens over the long term to a cloud ERP company such as Intacct when a veteran software firm gobbles it up? That was the subject of much speculation and reassurances at the recent Sage Intacct customer conference in Las Vegas, the first such conference since the acquisition.
Intacct executives said there is ample support and innovation coming from Sage, a few months removed from the acquisition. In July, Sage paid about $850 million for Intacct, which at the time was considering an initial public offering.
"Sage Intacct is going to operate as a separate entity, entirely within the Sage organization," said EVP and Managing Director (formerly Intacct CEO) Robert Reid said. "The management team at Sage Intacct is here, and we're going to be here for years."
"Intacct's strength with high-growth organizations is complementary to our other solutions," Sage President Blair Crump said. "And we can fast-track product development with access to Sage's cloud expertise."
But industry watchers are taking a cautious view. Can Sage, a company headquartered in England that has struggled for years with a cloud strategy, keep the culture intact at the much-smaller Intacct? The San Jose, Calif.-based company competes with Oracle NetSuite, FinancialForce, Acumatica, VersAccounts, and a number of other cloud financial system providers. Sage, meanwhile, has been on a buying spree for many years. Most recently, in addition to Intacct, it has snapped up Fairsail (for human capital management, renamed Sage People) and Compass (for analytics and benchmarking).
Some Intacct Customers Concerned
In a session with analysts, Reid was asked if customers were worried about Intacct losing its culture with the acquisition.
"There were some customers who were very concerned about it," he said. "There were some customers who knew the old Sage, not the new Sage. And they were very fearful that this unique culture that we have built was going to get destroyed."
Reid compared the situation to what he called the "old" Intacct, which he said existed from 1999 to 2005, as opposed to the "new" Intacct. The old version was totally focused on accounting firms, and those firms had difficulty transitioning to the cloud. "We almost went out of business," he said. The current management team came in and went after small and medium-sized businesses, augmenting the accounting-firm strategy, and the company has been flourishing the past eight to 10 years. And Sage has gone through this same sort of change, he said.
The Silicon Valley veteran brings a unique perspective on the acquisition. This is Reid's fifth in his 30-year career in software. Three of those acquisitions went great (including Sage buying Intacct), he said, but two did not go as well. He in particular praised the Documentum deal he was involved in. Reid also revealed that the negotiations with Sage went on for more than a year.
NetSuite, which Oracle acquired about a year ago, has been telling a similar story of a hands-off approach from its new parent company. NetSuite executives say Oracle has been extremely accommodating since the acquisition.
Competition is fierce in the mid-market ERP world, and, as expected from a competitor, some Intacct executives cast aspersions on the Oracle-NetSuite arrangement. They say that Oracle has a less-than-stellar track record with blending in the companies it has acquired, and NetSuite has joined Oracle's crowded ERP field. One Intacct executive went so far as to speculate that Oracle will eventually "suffocate NetSuite."
Sage's Varying Degree of Cloud Success
So how will Sage treat its new acquisition over the long haul? As a traditional provider of ERP systems, Sage has made several attempts to transition to the cloud, with mixed results against cloud-only providers, such as Intacct.
Before the sale, Intacct had reached the point where an initial public offering was a possibility, "and Sage knew that," Reid said. Intacct had raised more than $130 million in funding since 2000. Sage apparently thought it would be better served by scooping up Intacct before it could go public and becoming an even greater threat.
Although it also sells into midsize organizations, Intacct has been one of the stronger players in the small-business market. For organizations outgrowing QuickBooks or perhaps looking at their first real ERP system, Intacct has been a good alternative. Traditionally, Sage has done the majority of its deals in this same space, albeit without strong cloud offerings beyond Sage One and Sage Live, which serve the low end of the market. Intacct, therefore, provides an upgrade path for customers as they grow out of those products.
Regarding Sage's other offerings and where Intacct fits in, Reid said:
"Going into (the deal), we were concerned," Reid said. "Is Sage Live going to be right on top of us? Was Sage X3 going to be right on top of us? And so we dove into it. This was joint participation, with Sage people and Intacct people. We found there was hardly any overlap. If you looked at the type of business processes that these organizations were trying to automate, the type of buyer, the type of vertical, and the complexity, there was hardly any overlap."
Incumbent Providers Evolving
As much as Sage executives disparage Oracle, there are more similarities than differences between the two providers. Through years of acquisition, both have built large portfolios of disparate products but still found themselves behind the curve as newer cloud providers achieved large, double-digit growth. Both responded by buying one of those high-growth cloud providers, Oracle with NetSuite and Sage with Intacct.
Looking to the future, we see the two providers with similar strategies for their new acquisitions. Just as Oracle is expanding NetSuite's product footprint and international expansion, in the coming years we expect to see Sage doing the same thing with Intacct. At the same time, the cloud ERP market is further expanding with new entrants, such as Acumatica, VersAccounts, and others. For buyers, this is welcome news as their choices increase and become more mature.

---
Photo: Sage Intacct SVP and Head of Engineering and Technology Aaron Harris introduces Pacioli, a new AI and digital assistant, named after the friar shown behind him. Photo Credit: Robert Scott.