Managing a contract workforce is an important task for IT organizations. Staffing agencies, the Internet, and vendor management systems are making the job easier, but IT managers still need to determine the proper balance between full-time employees and temporary help.
Today, a few organizations are making aggressive use of contractors, relying on independent contractors for more than half of the workforce. Other organizations make little or no use of contractors and temporary employees. In the typical IT shop today, though, about 5% of the IT staff is composed of temporary contract workers.
As shown in Figure 1, the typical IT organization estimates that on an annualized, full-time-equivalent basis, 5% of its workforce is composed of contract or temporary workers, according to our annual survey of approximately 200 IT executives and managers. These estimates range from 0% at the 25th percentile to 13.1% at the 75th percentile. This data is in line with the observation that a small percentage of companies are making aggressive use of contractors, as evidenced by the large increase at the 75th percentile level.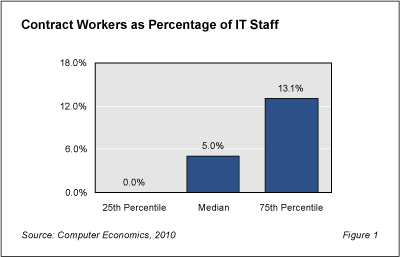 This Research Byte is from our study, Current Trends in Use of IT Contract Workers. The study examines the use of contract workers as a percentage of the IT staff by organization size and sector. It also examines the four-year trend between 2006 and 2009 to discover how the use of contract labor has changed over time, particularly in light of the economic downturn. Further, we examine how the aggressive use of temporary employees relates to staff growth and turnover rates. The report concludes with our view on current and future trends in contract labor use.
In short, this study finds that the use of contract workers varies predictably by organization size, with large organizations making more use of contract workers than smaller organizations. The recession caused many organizations to scale back use of contract labor, at least initially, halting an upward trend among large organizations and organizations that make aggressive use of contractors. Overall, however, the balance between contract labor and full-time employees has remained relatively stable for the majority of organizations, even through the recession. We anticipate recovery will cause a slight rebound in deployments.
---
This Research Byte is a brief overview of our report on this subject, Current Trends in Use of IT Contract Workers. The full report is available at no charge for Computer Economics clients, or it may be purchased by non-clients directly from our website (click for pricing).