Today's desktop and laptop computers are not the hot commodity they were 30 years ago, but they still require a great deal of support. However, when viewed as a percentage of the total IT staff, the percentage of desktop support personnel has now reached a three-year low.
As shown in Figure 1 from the full report, Desktop Support Staffing Ratios, desktop support staffing was down to 9.1% at the median in 2019, when viewed as a percentage of the total IT staff. That's down from 9.3% in 2018 and 9.4% in 2017. However, the 9.1% is still much higher than the 7.5% in 2016.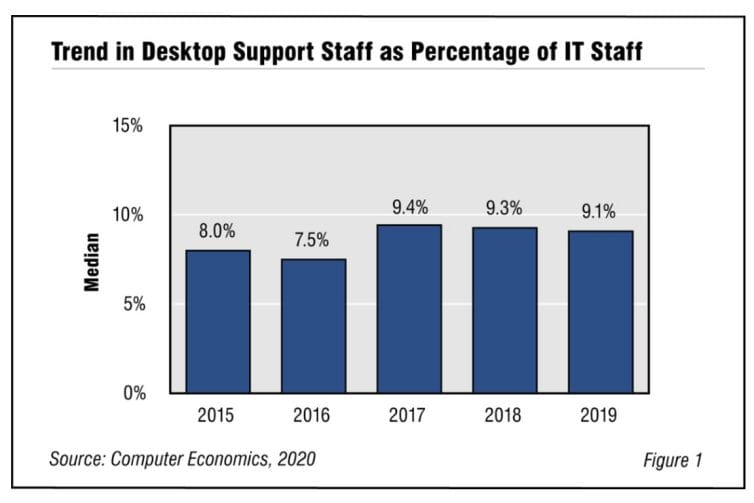 There are indications that this staffing ratio could decline further. For starters, desktop support technicians are now handling many PC issues remotely, reducing the need for on-site staff at every remote office. Software-as-a-service (SaaS) applications shift some of the support burden to the software vendor. Finally, the latest version of Microsoft Windows, which still runs on the majority of desktop and laptops, is more reliable and easier to maintain than previous versions.
"While cloud computing moves servers out of your data center, you're still going to have users with desktop and laptop computers," said Tom Dunlap, director of research for Computer Economics, an IT research firm based in Irvine, Calif. "And, as long as you have those machines, you are going to need desktop support personnel. You can make them more productive, as we point out in the full report, but you're still going to need them to keep those users productive."
The term "desktop support" requires definition. In some organizations, desktop support refers to personnel who are present on-site to help users with PCs, laptops, network connectivity, telephones, and often other equipment. Other organizations consider desktop support as a Level II help desk function. Still other organizations have distinct help desk and desktop support groups, each with multiple tiers.
Desktop support refers to all technical support activities related to user systems, including desktop computers, laptops, mobile devices, and workstations of all types. In most companies, these include activities such as building or setting up new machines, initial installation of operating systems and standard application software, applying periodic updates and security patches, replacing and disposing of obsolete equipment, monitoring usage, and responding to user-reported incidents. In many cases, desktop support personnel also may support printers, LANs, digital whiteboards, telephones, conference room projectors/displays, point-of-sale systems, or other end-user equipment. We include all of these functions within the scope of desktop support—an antiquated term that nevertheless is still widely used.
The full report provides benchmarks on typical desktop support staffing. We use four metrics to benchmark desktop support staffing: desktop support staff as a percentage of the IT staff, PCs per desktop support staff member, applications per desktop support staff member, and users per desktop support staff member. We also assess these ratios by organization size and sector. In addition, we provide benchmarks for organizations with combined desktop support, help desk, and IT training/documentation functions. We conclude with strategies for improving the efficiency of desktop support staff.
---
This Research Byte is a brief overview of our report on this subject, Desktop Support Staffing Ratios. The full report is available at no charge for Avasant Research subsribers, or it may be purchased by non-subscribers directly from our website (click for pricing).
---