Although adoption of desktop virtualization (VDI) is relatively low compared to other technologies, those organizations that have adopted it are very happy with their choice. The ROI may be difficult to calculate for desktop virtualization, but those that do make the investment find that it can reduce desktop support burdens, improve security, and provide better end-user service.
Figure 2 from the full report, Desktop Virtualization Adoption Trends and Customer Experience, shows that the current adoption and investment rates are relatively low, although the satisfaction rate is high.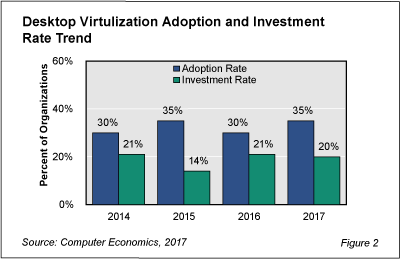 One possible reason for the low adoption is that software as a service (SaaS) and the cloud are changing the game. Desktop virtualization involves hosting the desktop experience in a central computing environment. Essentially, SasS does the same thing, except that, rather than hosting the entire desktop experience, the application is hosted.
"Despite the high satisfaction rate, investment and adoption in desktop virtualization is low," said Tom Dunlap, director of research at Irvine, Calif.-based Computer Economics. "SaaS is one of the fastest-growing technologies in our survey, and it appears that rapid uptake of SaaS may be taking some of the steam out of VDI adoption."
Desktop virtualization allows IT organizations to host and centrally manage desktop environments, allowing users to access those desktops via a network, combining the functionality of a PC with the manageability of a laptop or even a tablet or smartphone. Organizations can establish their own desktop virtualization infrastructure, or they can outsource it to a service provider that hosts virtual desktops in a desktop-as-a-service (DaaS) model.
On the downside, users are dependent on the network and may face network performance issues or downtime. Virtual desktops can face challenges with running multimedia applications and managing client-attached printers and other peripherals. Managing virtual desktops can be complicated, and VDI infrastructure can be expensive.
The desktop virtualization profile ratings are based on comparisons with 11 other technologies in our Technology Trends 2017 study. The comparisons are on a relative scale, and each technology is categorized as having low, moderate, or high rates relative to other technologies in the study.
The full report provides an overview of the key desktop virtualization concepts, identifies the top vendors, and presents data on adoption and investment trends. We show how many organizations have the technology in place, how many are in the process of implementing it, and how many are expanding implementations. We present overall adoption and investment rates and adoption and investment rates by organization size. We also look at the return on investment (ROI) experience, total cost of ownership (TCO) experience of adopters, and which solutions are the most popular. We conclude with recommendations.
---
This Research Byte is a brief overview of our management advisory on this subject, Desktop Virtualization Adoption Trends and Customer Experience. The full report is available at no charge for Computer Economics clients, or it may be purchased by non-clients directly from our website (click for pricing).