Desktop virtualization solutions are maturing and investment in the technology has recovered after a momentary pause. Early adopters continue to report highly positive experiences, and today more than half of all IT organizations are at least considering adoption.
Figure 2 from our study, Desktop Virtualization Adoption Trends and Customer Experience, shows that in 2014, 21% of IT organizations in North America were budgeting funds for desktop virtualization projects, for both new implementations and ongoing deployments. That is up from 11% in 2013, but about even with the 22% investment rate in 2012. The volatility in the investment rate reflects the immaturity of the technology.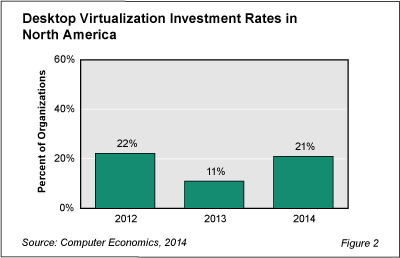 The full-solution market leaders, including Citrix Systems, Microsoft, and VMware are now touting the ability to deliver virtualized applications and desktops to mobile devices and PCs. Ultimately, the evolving cloud and mobile application infrastructure will drive desktop virtualization and its increasingly important companion, application virtualization.
Adopters are seeing mobility, security, flexibility, and manageability as key factors driving implementations. Hospitals can use virtual desktops to ensure patient information remains confidential, professional service organizations can deliver robust environments to at-home or mobile knowledge workers, and schools can deploy low-cost, session-based desktop solutions for student labs.
New and disruptive technologies often undergo a pause after the initial period of experimentation. Renewed investment indicates this technology has proven itself and organizations are moving forward. With the growing acceptance of cloud computing coupled with positive reports in this study from early adopters, we continue to recommend that IT executives closely track developments in this area.
The full study provides an overview of the key desktop virtualization concepts, identifies the top vendors, and presents data on adoption and investment trends. Our study shows how many organizations have the technology in place, how many are in the process of implementing it, and how many are expanding implementations. We present worldwide adoption and investment rates, adoption by organization size, and adoption in North America over time. We also look at the return on investment (ROI) experience and total cost of ownership (TCO) experience of adopters, and report on how much adopters are budgeting per user for new and follow-on investments in virtual desktop solutions.
---
This Research Byte is a brief overview of our report on this subject, Desktop Virtualization Adoption Trends and Customer Experience. The full report is available at no charge for Computer Economics clients, or it may be purchased by non-clients directly from our website (click for pricing).