Enterprises are revamping their CX strategies by eliminating data silos between multiple customer touchpoints and different business functions to create a single view of customers and deliver unified CX. Companies across sectors are pivoting toward a business outcome-driven approach to CX transformation that measures and drives key business outcomes such as increasing customer conversion, sales, customer engagement, and cost and inventory optimization. The focus has shifted toward leading with an integrated CX. As a result, the providers focus on a broader spectrum of digital CX services.
These trends, among others, are covered in our Digital CX Services 2023 RadarView™ and Digital CX Services 2023 Market Insights™. The reports offer a comprehensive study of digital CX services providers, including top trends, analysis, and recommendations. We also take a close look at the market leaders, innovators, disruptors, and challengers in this space.
We evaluated over 46 service providers across three dimensions: practice maturity, partner ecosystem, and investments and innovation. Of the over 46 providers, we recognized 26 that brought the most value to the market during the past 12 months.
The reports recognize service providers in four categories:
Leaders: Accenture, Capgemini, HCLTech, IBM, Infosys, and Wipro
Innovators: Cognizant, Deloitte, EY, LTIMindtree, NTT DATA, TCS, and Tech Mahindra
Disruptors: Atos, Birlasoft, DXC, ITC Infotech, Mphasis, Virtusa, and Zensar
Challengers: Coforge, Happiest Minds, Jade Global, Persistent Systems, Stefanini, and UST
Figure 1 from the full report illustrates these categories: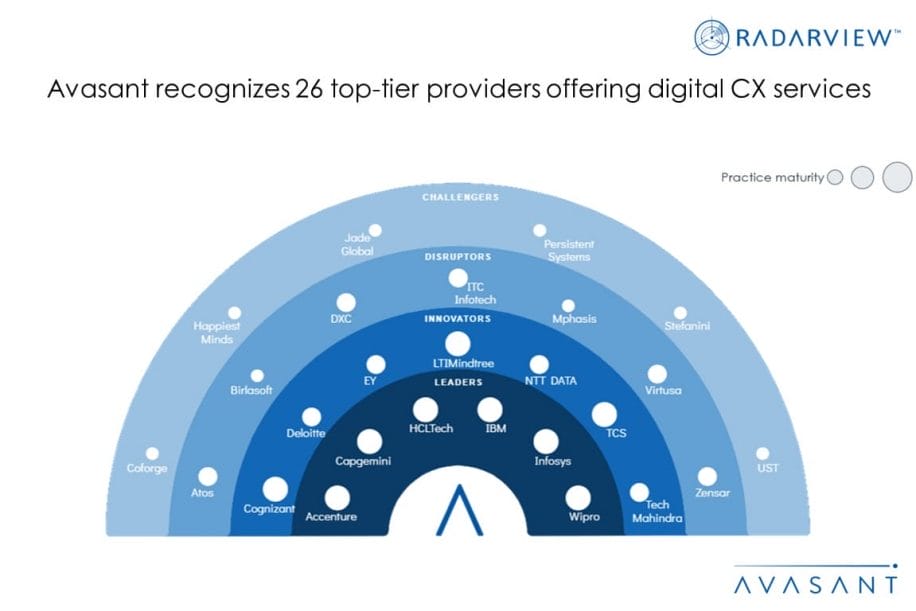 "To usher in the new era of CX, organizations need to take a step back and revamp their CX strategies by relooking at processes, enabling personalization, and modernizing the core," said Anupam Govil, partner at Avasant. "They must focus on offering connected and intelligent CX and tap into newer opportunities."
The reports provide several findings, including the following:
There was a 33% increase in outsourced digital CX revenue for service providers in FY 2022–2023, with the majority of the revenue coming from the customer service segment (about 28%).
BFSI (23%), high-tech (23%), and healthcare and life sciences (12%) sectors are among the highest adopters of digital CX services and continue to experience growth in outsourced digital CX services.
Enterprises are increasingly making use of industry-specific cloud CRM solutions from technology vendors that help them to adhere to industry-specific nuances, reduce customization requirements, and lead to driving faster CX transformation.
Companies are investing in real-time customer data technology to improve hyper-personalization and leveraging customer data platforms to enhance customer data integration, segmentation, and analytics and enable data security and transparency.
"With the rapid growth in digital channels, driving personalization and delivering a consistent and unified CX remains one of the major concerns for enterprises," said Shwetank Saini, associate research director at Avasant. "To address this, organizations must leverage industry-specific CX solutions and real-time data and insights to improve customer journeys."
The RadarView also features detailed profiles of the 26 service providers, along with their solutions, offerings, and experience in enabling digital CX transformation.
---
This Research Byte is a brief overview of the Digital CX Services 2023 RadarView™ and Digital CX Services 2023 Market Insights™ (click for pricing).
---