Scope of the Report
The report is the culmination of a rigorous year-long research initiative which assessed 16 providers across three key dimensions: Current capabilities in six technology prerequisite areas (Applied AI, Intelligent Automation, Blockchain, Cybersecurity, Hybrid enterprise cloud and Internet of Things), the ability to hyper-converge multiple technologies for business benefits, and the future centricity of the provider's business and technology vision.
Why read this RadarView™ ?
Global enterprises are facing unprecedented challenges posed by market disruption from digital native firms as well as unparalleled opportunities unleashed by the convergence of emerging technologies and innovative business models. Navigating through this vortex requires significant innovation and re-invention of the enterprise. Organizations need the support of an ecosystem of partners – technology vendors, service providers, and advisors to execute upon digital transformation successfully. Assessing and selecting the right partners to work with has become a complex exercise, and Digital Masters RadarView provides a holistic approach to address that need.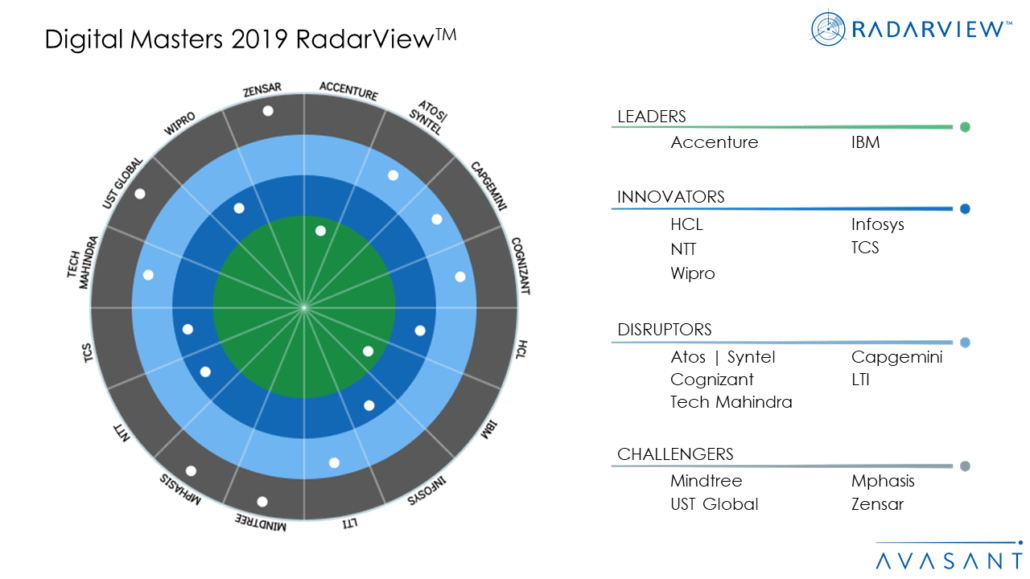 Featured Providers
Accenture, Atos | Syntel, Capgemini, Cognizant, HCL, IBM, Infosys, LTI, Mindtree, Mphasis, NTT, TCS, Tech Mahindra, UST Global, Wipro, Zensar.
Methodology
The industry insights and recommendations are based on Avasant's ongoing interactions with enterprise CXOs and other key executives, targeted discussions with service providers' practice leads, subject matter experts and fellows within Avasant, learnings from consulting engagements, and round the year tracking of digital space by Avasant analysts.
Evaluation of service providers is based on primary inputs from providers, focused briefings, their public disclosures, Avasant's ongoing market interactions, and validations from enterprises (clients). The assessment is carried through a rigorous methodology across key dimensions of Digital Prerequisites, Digital Convergence, and Future Centricity to finally recognize the service providers that brought the most value to the market.