Right-sizing the support staff for an ERP system can be complicated, because one important metric —users per ERP support staff member—varies widely due to multiple factors. Choosing the right system and how to maintain it can go a long way toward correctly staffing ERP support.
Figure 1 from our full report, ERP Support Staffing Ratios, shows the typical range of ERP support staffing ratios for installations of all sizes and types. At the median, there are 50 users per ERP support specialist, rising to 100 users per ERP specialist at the 75th percentile and falling to 21 users at the 25th percentile.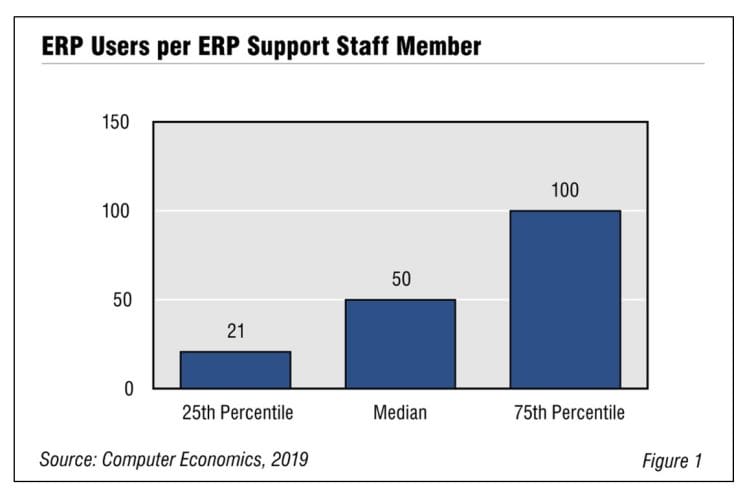 But the composite number is not the whole story, far from it. Factors such as the age of the ERP system, where it is hosted, the type of system, the extent of modifications, and company size and sector also affect the support staff size. Our full report covers these additional metrics in detail.
"Often IT leaders are told by eager sales folks that certain vendors require more support or that cloud is a panacea. It doesn't work like that," said Tom Dunlap, director of research for Irvine, Calif.-based Computer Economics. "A unified look at all the factors that drive the need for support is required when making crucial purchase or staffing decisions."
In addition, the influence of the cloud cannot be overstated. Over the past decade, business leaders have been increasingly choosing to move their IT systems and infrastructure to the cloud. But until recently, ERP has been something of a last stand for on-premises systems. That is now changing. Established ERP vendors now try to get nearly all new customers to use their cloud ERP systems. The vendors also are trying to get more of their legacy customers to "lift and shift" to their cloud versions. This has implications in terms of the number and type of support personnel required.
ERP systems typically integrate operations, accounting and finance, human resources, customer service, procurement, and other major business functions into a single system. Our definition of ERP support staff includes programmers, business analysts, project managers, database administrators, help desk personnel, systems programmers, ERP end-user reporting specialists, and training and documentation personnel—all of whom support ERP systems.
In our full report, we analyze ERP support requirements in several ways. First, we look at the ERP support staffing ratio, which is the number of ERP users divided by the number of ERP support personnel. We then assess this ratio by the size of the ERP installation. We also examine the data to determine the ratios by vendor: SAP, Oracle E-Business Suite, Oracle JD Edwards, Microsoft, Infor, and "all other" ERP systems. We examine the ratio by sector, age of installation, years since last upgrade, extent of modification, and type of deployment (on-premises, cloud, or hosted) as well. Finally, we provide recommendations on optimizing ERP staffing levels.
---
This Research Byte is a brief overview of our management advisory on this subject, ERP Support Staffing Ratios. The full report is available at no charge for Avasant Research subscribers, or it may be purchased by non-subscribers directly from our website (click for pricing).
---