The decision to turn over an organization's IT help desk function to a third-party service provider has a long and varied history. It is one of the services that helped establish the contemporary IT outsourcing industry. Even so, our research shows that help desk outsourcing is not as common as one might think: just slightly more than one-third of IT organizations currently rely on service providers to perform the help desk function.
Help desk outsourcing can help organizations handle growing workload or around-the-clock demands from a mobile and far-flung workforce, especially when IT budgets are tight or trained personnel in short supply. However, help desk outsourcing is not a widely embraced strategy as shown in Figure 1 from our study, Help Desk Outsourcing Adoption and Customer Experience.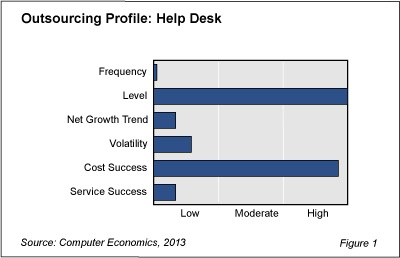 The outsourcing profile shows how help desk outsourcing compares with the outsourcing of 11 functions. The ratings are based on a relative scale. The first two ratings, frequency and level, rate the popularity of help desk outsourcing.
Help desk outsourcing frequency scores on the very low level, meaning the percentage of organizations availing themselves of these services is very low when compared with other services in the study. In fact, this function ranks 10th or second to the lowest, in our survey, slightly ahead of only the outsourcing of data center operations.

The outsourcing level, however, is very high, the highest of any function included in the study. That means that among organizations that outsource the help desk function, the percentage of the total workload being outsourced is very high on our relative scale.
The next two profile items, net growth trend and volatility, highlight the current trend among organizations that are outsourcing the function.
The net growth trend ranks low. The net growth trend is the number of customers that plan to increase the amount of help desk work given to outside service providers, minus the percentage that plan to decrease the amount of work outsourced. In relative terms, the outsourcing of this function is growing slower than the outsourcing of most other IT functions. Help desk outsourcing ranks ninth in our study, just behind network operations and just ahead of database administration and desktop support.

The volatility is a measure of the percentage of organizations changing the amount of help desk work they outsource, regardless of whether the change is up or down. Again, there appears to be little change in outsourcing this function. Most customers are maintaining help desk outsourcing at current levels. If they are not increasing their outsourcing, they also do not appear to be cutting back.
The final two profile items, cost success and service success, describe the experience customers have with outsourcing this function relative to other IT functions.
We find IT organizations experience a high level of success in lowering costs when outsourcing help desk services. Help desk is the third-highest-ranked function in cost experience in our study.

At the same time, the percentage of organizations that find outsourcing improves service is very low, the second lowest ahead of application development.
Overall the profile suggests that, from a customer experience perspective, help desk service providers deliver value but are nevertheless failing to gain new customers or penetrate deeper into accounts—at least when compared with providers of other IT services. There is a high level of concern about the level of service received from service providers. Many organizations, in fact, have adopted a strategy of keeping all help desk functions in-house to ensure the quality of end-user support. IT organizations also seek to leverage the help desk as a primary point of contact between users and the IT organization. The help desk can perform related functions such as asset management, training, monitoring user satisfaction, and monitoring the organization's IT systems.
Yet cost pressures and, perhaps, service improvements have caused a rise in help desk outsourcing over the past few years. Our study finds that while the frequency of help desk outsourcing remains low, the number of organizations that outsource help desk is up substantially from three years ago. Organizations realize a strong cost-success experience with outsourcing. Another development is that as more organizations put their applications and infrastructure in the cloud, support services are liable to follow.
IT executives need to consider their help desk strategies in light of current trends. The full study measures help desk outsourcing activity through outsourcing frequency, outsourcing amount, overall volatility, net growth, outsourcing cost experience, and outsourcing service experience. It also compares help desk outsourcing frequency and level by organization size. Finally, the report examines the sectors that are most likely to outsource the help desk function.
---
This Research Byte is a brief overview of our report on this subject, Help Desk Outsourcing Adoption and Customer Experience. The full report is available at no charge for Computer Economics clients, or it may be purchased by non-clients directly from our website (click for pricing).