The IT help desk, after suffering a steady decline during the recession, now appears to be regaining its former stature within the IT organization.
Over a five-year period, help desk staffing levels have remained relatively constant for our composite sample when viewed as an average percentage of the IT staff, according to our study, Help Desk Staffing Ratios. In Figure 1, we see that the help desk staff across all sizes of organizations rose from an average 8.5% in 2007, prior to the recession, to an average 9.0% in 2011.
However, in the detail, we see that the help desk suffered cutbacks during the recession, declining from a high of 9.9% in 2008 to a low of 7.9% in 2010, only to bounce back as the economy stabilized.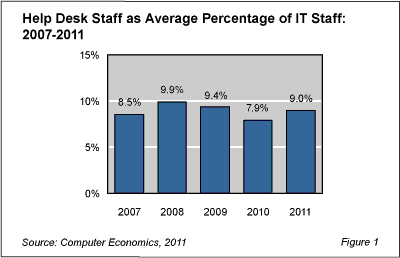 Note that the annual fluctuation in average help desk staffing reflects relative changes in staffing mix. Other positions could be growing and shrinking, making the help desk staff appear larger or smaller as a percentage of the total. However, as most IT organizations were not increasing headcount during this period, it is apparent the help desk suffered a disproportionate amount of the cost-cutting. IT organizations now appear to be augmenting this function.
In our study, we define help desk staff as personnel who provide first-contact support to end users, typically by phone, email, or other forms of remote communication. For the purposes of this study, it does not include desktop support personnel or subject-area experts such as network management, system management, or application programmers who reside in other functional groups but may respond to escalations from the help desk. Nor does the help desk staff headcount include managers or trainers. They are counted in separate categories.
A number of factors are influencing the size and role of the help desk, among them outsourcing, smartphone adoption, ITIL, help desk automation, application reliability, and tech-savvy users. Some of these trends are working to diminish the size and function of the help desk, while others are putting more pressure on help desk staff. Help desk managers say that while better systems may be improving efficiency, the demands of new technologies and devices are increasing the need for more specialists and higher-level technicians on their support staffs. A desire to improve first-call resolution rates is also prompting a push to improve the skills of help desk personnel.
As such, help desk staffing levels require ongoing assessment. The full study provides guidelines for help desk staffing. A key metric is the number of users per help desk staff member. We provide this metric for the composite sample and by organization size and sector. We also examine help desk staff as a percentage of the IT staff and the trend in help desk personnel over time. Because organizations vary in how they define the role of help desk staff and desktop support staff, we provide the same metrics for the combined help desk/desktop support function. We conclude with recommendations on optimizing help desk staffing levels.
---
This Research Byte is a brief overview of our report on this subject, Help Desk Staffing Ratios. The full report is available at no charge for Computer Economics clients, or it may be purchased by non-clients directly from our website (click for pricing).
Do you also need staffing ratios for other IT job functions? Consider this collection of all of our staffing ratio reports, which bundles them all into a single report at a significant discount: IT Staffing Ratios–Special Report Bundle.