Scope of the Report
The report covers the comprehensive intelligent automation (IA) tools market and showcase as how IA tools have evolved over a while to automate business-critical, cognitive, and industry-specific functions. This also explores various features and capabilities that tool vendors are adding to cover comprehensive automation and how they are primarily pulling on following three key levers to accelerate new customer acquisitions: commercial constructs, bot marketplaces, and partner ecosystem.
The report features highly detailed, comprehensive RadarView Profiles of the top 14 tool vendors and their assets and experience in developing bots and seamless integration to drive enterprise scalability and digital transformation. This is also a good reflection of how tool vendors are expanding their market influence and making their portfolio robust by collaborating with various SIs and technology providers, respectively.
Why read this RadarView™ ?
Avasant's ongoing interactions with enterprise digital leaders reveal that organizations are working to find the right business case to scale intelligent automation adoption. They are looking to identify tool vendors that provide a progressive, business-centric approach to support their digital transformation journey.
This report is designed to help enterprise leaders draw out their automation strategy and adopt best practices while shortlisting the right tool for their enterprise needs. Also, tool vendors can use the report to re-align their product and partner strategy, their go-to-market approach, and have an update on the competitor's organization.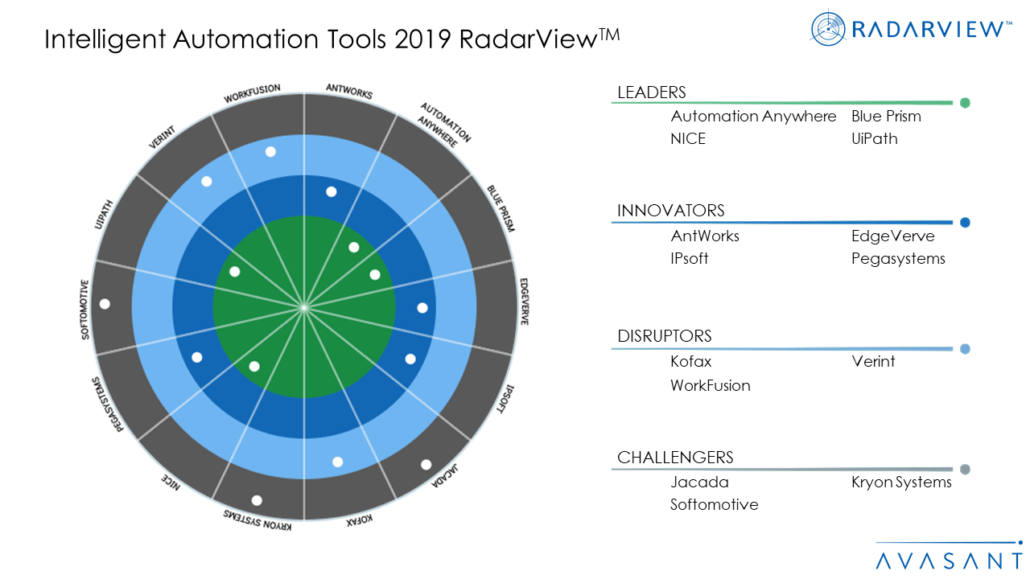 Featured Providers
Antworks, Automation Anywhere, Blueprism, EdgeVerve, IPsoft, Jacada, Kofax, Kryon, Nice, Pega, Softomotive, UiPath, Verint and Workfusion.
Methodology
Avasant follows a multi-pronged approach to gather practitioners' insights. This includes extensive and ongoing interviews and discussions with subject matter experts, Avasant Distinguished Fellows, and advisors involved with ongoing intelligent automation strategy development. This is augmented with online questionnaires and structured briefings with leading intelligent automation tool vendors.
Avasant evaluated 25 vendors using a rigorous methodology across three key dimensions: product maturity, enterprise adaptability, and innovation roadmap. Of the 25, 14 are recognized as having brought the most value to the market over the last 12 months and are categorized as Leaders, Innovators, Disruptors, and Challengers.