Business leaders in North America are positive about the economic outlook for the coming year but not optimistic enough to open their wallets for the IT organization. For the second straight year, IT organizations in North America plan to increase IT operational budgets by just 2.0% at the median as they continue to shift operations into the cloud, according to the Computer Economics IT Spending and Staffing Outlook for 2017.
The IT operational budget growth rate, while remaining positive, indicates a desire to prioritize efficiency in IT organizations, as shown in Figure 4 from the study, IT Spending and Staffing Outlook for 2017: Efficiency Over Exuberance.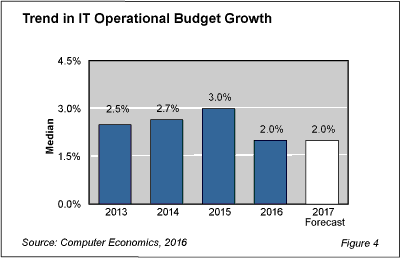 "For the most part, our respondents had a very positive outlook about the economy, but even the most positive weren't necessarily increasing budgets," said David Wagner, vice president of research for the Irvine, Calif.-based research firm. "Cloud offerings, software-as-a-service, and other technologies and best practices are allowing IT organizations to do more with less, and the business is asking them to do it."
While there are moderate increases in operational budgets, IT capital budgets are flat for the fourth year running. Respondents are expecting no capital budget growth at the median regardless of organization size. Again, this seems to be an indication of organizations moving toward the cloud.
A look at where organizations plan to spend their new dollars provides more insight into current trends. A net 35% of IT organizations plan to increase spending on business applications, while a net 15% are increasing spending on network infrastructure.
Meanwhile, a net 2% of organizations plan on increasing spending on data center infrastructure. A net trend of negative 3% expect to spend more on end user devices such as PCs and mobile devices. The net trend is the percentage planning to increase spending minus the percentage planning to decrease spending in an area.
Meanwhile, the study finds only mild growth in the use of traditional outsourcing services and little to no growth in IT headcount. At the median, headcount growth will only increase 0.1% across organizations of all sizes.
By sector, professional/technical services anticipate a 2.5% growth in IT operational spending, while budgets for public/nonprofit agencies will rise 2.0%. Companies in the financial sector anticipate zero growth in IT operational spending.
In the full report we provide guidance for IT executives as they firm up their plans for the coming year. This year, our report assesses IT operational and capital spending plans for 2017, priorities for IT spending and investment, and plans for hiring, outsourcing, and pay raises for IT organizations in the U.S. and Canada. It also provides a brief look at the outlook for the budget plans for IT organizations in the rest of the world.
---
This Research Byte is a brief overview of our study, IT Spending and Staffing Outlook for 2017: Efficiency Over Exuberance. The full report is available at no charge for Computer Economics clients or may be purchased directly from our website (click for pricing).