While IT executives consistently cite disaster recovery as a rising priority, overall spending has remained relatively flat over the past four years.
Our study, Disaster Recovery Spending Benchmarks, shows IT organizations spent an average 1.3% of their operational budgets on disaster recovery in 2010 (Figure 1). That is roughly the same level as in 2007, when organizations spent an average 1.2% of their budget on disaster recovery. As a percentage of the IT budget, at least, spending remained on a level footing with other IT expenditures over the period.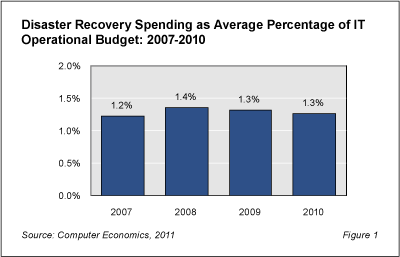 Over the same period, spending on data center software rose as a percentage of the IT budget. As such, the rising investments in data center software, which includes storage management software, may be enhancing disaster recovery capabilities without showing up as a disaster recovery expense. In our study, disaster recovery spending is defined as spending on offsite data storage, secondary data centers, backup and recovery facilities, testing, and related business continuance and disaster recovery services.
Another factor restraining disaster recovery spending, despite its rising importance, may be the declining cost of backup storage and outsourcing services, as vendors came under pricing pressure and IT organizations were able to negotiate better terms for these services. Our companion study on Disaster Recovery Outsourcing Trends shows the amount of work being outsourced also rose over the period.
Overall, disaster recovery spending as a percentage of the IT operational budget has remained level during the past four years, which is no easy achievement in the current economic environment. However, IT executives consider disaster recovery a rising priority. The growing dependence on cloud computing, virtualization, and replication technologies is causing organizations to re-examine and redefine current disaster recovery plans, and the testing and backup of systems and data in such a complex environment is an emerging issue, made all the more difficult by budgetary constraints.
To help IT executives assess the adequacy of their disaster recovery programs, the full study provides guidance on how much their peers are spending on disaster recovery efforts. We provide metrics for disaster recovery spending per user, per server, and as a percentage of the IT operational budget. We also examine differences in disaster recovery spending by organizational size and sector. In addition, we provide data on how many organizations are periodically testing their disaster recovery plans, a best practice that is all too often ignored. The metrics provided in this report, based on our annual IT spending and staffing survey of 200 IT organizations, can be used to benchmark an organization's disaster recovery spending and practices against industry standards.
---
This Research Byte is a brief overview of our report on this subject, Disaster Recovery Spending Benchmarks. The full report is available at no charge for Computer Economics clients, or it may be purchased by non-clients directly from our website (click for pricing).