Heading into 2017, IT training budgets have still not returned to pre-recession levels when many organizations cut their training budgets amid layoffs and capital spending cuts. Rather, training expenditures appear to have stabilized at a new, lower level.
As seen in Figure 1 from the full report, Benchmarks for IT Training Budgets, the typical IT organization at the median spends about $1,500 per IT staff member on training, a decline from about $2,000 prior to the recession.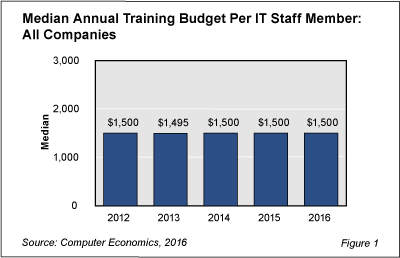 Some of this reduction may be the result of a long-term shift from instructor-led classroom training to learning management systems that incorporate web-based training and distance learning. But, unfortunately, we believe some of it also reflects a general and continued focus on cost-cutting in many IT organizations.
At some point, best-in-class IT organizations find it necessary to increase funding for training. Job candidates with the new skills may be scarce, making it necessary to train existing IT personnel. Moreover, training fulfills many functions in modern corporations and provides returns to the company and its employees. The ever-changing nature of IT equipment and applications requires that all involved commit to a lifelong process of professional development.
The full study provides IT organizations with benchmarks for setting competitive IT training budgets in the wake of these changes. We provide benchmarks for spending on IT training per IT staff member and as a percentage of the IT budget. We also assess variation in training budgets by organization size and sector, and we look at the change in training expenditures over time.
---
This Research Byte is based on our report on this subject, Benchmarks for IT Training Budgets. The full report is available at no charge for Computer Economics clients, or it may be purchased by non-clients directly from our website (click for pricing).