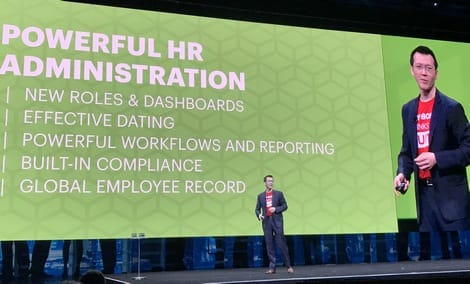 NetSuite has unveiled what it calls the missing piece of its cloud ERP suite with a new human capital management (HCM) system natively built as part of NetSuite's core service.
SuitePeople, announced at NetSuite's April user conference in Las Vegas, weaves personnel data throughout the suite, giving businesses control over their core HR processes. It allows employees to request time off, access employee directories and organizational charts, monitor upcoming vacation schedules and new hires, or publicly recognize good work with a tool called Kudos. HR managers get another set of tools and dashboards.
A big theme at the conference was how SuitePeople embeds core HCM functionality in other NetSuite products such as CRM, financials, and omnichannel commerce. It's so integrated "you cannot buy SuitePeople without buying the rest of the NetSuite," NetSuite EVP Jim McGeever said. "That's how unified it is."
Tribal Roots
Joseph Fung, vice president of product development at NetSuite, seen in the above photo from SuiteWorld, is the driving force behind SuitePeople. In 2013, NetSuite bought Fung's startup TribeHR, and SuitePeople incorporates much of TribeHR's technology and design. (NetSuite will continue to support and develop TribeHR.)
SuiteWorld was probably the biggest stage yet for Fung, 36. Although he works mostly at TribeHR's headquarters in Waterloo, Canada, he spends about one week a month at NetSuite's San Mateo headquarters. The young entrepreneur graduated from the University of Waterloo and launched several startups before founding TribeHR in 2011, which, interestingly, was his first experience developing HR systems.
SuitePeople will be generally available June 1 and is in the midst of a "carefully managed rollout," with about 15 early-adopter customers so far, Fung said. They are taking this cautious approach so that they can listen to and incorporate customer feedback, he added.
With the first version of the product, NetSuite is taking a "verticalized approach," Fung said:
"We've spent a lot of time with our 'people industries' with this first version of the product—software, services, creative industries, blue collar, insurance, financials, groups like that. And we spent so much time on the features that they're using, for example time sheets, and integration there, because they run projects every day. We haven't yet had the opportunity to bring that same level of care and attention and craftsmanship to our other verticals and industries. So we'll be spending a lot of time on that as well."
Going deep into a vertical has its advantages, Fung said:
"So many HR solutions are designed just for the HR department and are treated very horizontally. And that's at all levels. We even here at NetSuite and our colleagues at Oracle—HR is very horizontally applicable. And the reality is that means your people-management, your most important practices, are getting diluted to the lowest-common denominator. So we're really trying to think how industries work."
Partnering for Global Payroll
Fung fielded many questions regarding international payroll issues—SuitePeople will use Celergo for global payroll management in many cases. He also discussed established HR providers, such as ADP, that many NetSuite customers use.
"We have a lot of customers that use ADP. We have a lot who ask if we're going to be doing an ADP integration. I think a lot of people may read into the fact that we launched with Celergo, does that mean we're betting everything on Celergo. And no, that's not the intent. We highlighted key partners that we brought into the fold, to help design our solutions. We're going to be working with a huge ecosystem of partners and making all of our APIs available. The reason why we highlighted those partners is that we relied on them to get feedback on how we can be a good partner. And we wanted to make sure out of the gate that we had some of those gaps filled."
For now, NetSuite will continue to enhance its integration with Celergo, he said. Fung also highlighted the advantages of tight integration with the rest of NetSuite:
"One of the key things that's really unique is, because we're so integrated in the suite, we're able to leverage and make payroll more effective in ways that you can't in other areas. … We have huge amounts of interest in our payroll product. The reality is that we've spent the past couple of years entirely revamping the UI, baking it in even closer to the suite, and this is really a relaunch of the payroll offering."
Tools for HR Managers
From what we saw of SuitePeople at the conference, HR managers have access to a robust set of tools regarding employee information, new hires, employee onboarding, and promotions and compensation changes.
The headcount analysis tool appeared particularly impressive, including data such as hires and turnover count, overall headcount distribution, and turnover analysis. The simplified organizational chart (or "org browser") also looked intuitive and reminded us of TribeHR's interface.
Regarding HR analytics, SuitePeople features pre-built reports and customizable dashboards focused on key people metrics and compliance, including a new dashboard for the Chief People Officer and a revamped employee center.
Targeting the NetSuite Customer Base
SuitePeople is aimed solidly at the midmarket of companies with 1,000 employees or fewer, although there's no hard limit on the number of employees. EVP McGeever explained it like this to a group of analysts: NetSuite is not competing with Workday with this product. If NetSuite finds itself in a deal against Workday HCM, NetSuite will point that customer toward Oracle Cloud HCM, rather than SuitePeople.
The benefits of having SuitePeople as a core part of NetSuite are clear. The two share a common object model, which is what makes it possible to embed HR processes in ERP processes.
But the downside, as NetSuite readily admits, is that SuitePeople can never be implemented as a standalone HCM solution, such as Oracle Cloud HCM, Workday, or SAP's SuccessFactors. SuitePeople's target market is, by design, limited to the NetSuite customer base. With more than 40,000 customers and subsidiaries, it's a substantial market, but much smaller than that of best-of-breed HCM providers.
Moreover, SuitePeople faces challenges in expanding internationally. Oracle's plans for NetSuite include accelerated expansion in international markets. How quickly can SuitePeople keep pace? Its partnership with Celergo will go a long way on the payroll side. But what about other HCM processes and regulatory requirements outside of payroll? It is likely that, for some time, customers outside of the U.S. and a few major geographies will still be looking at best-of-breed HCM providers.
Industry specialization is also a limitation. SuitePeople is initially targeting "people-intensive sectors" such as professional services. NetSuite customers in other industries, such as manufacturing and wholesale distribution—a large percentage of NetSuite's base—may find SuitePeople inadequate for their current needs. How quickly will SuitePeople be able to broaden its industry footprint?
Despite these limitations, the launch of SuitePeople is welcome news. NetSuite has taken a major step to expand its core offering to include HCM. NetSuite can now be considered, even more so than in the past, as a complete ERP system, built natively in the cloud.
(Photo credit: Computer Economics)