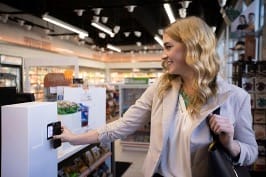 By Tom Dunlap, Avasant Director of Research
Autonomous, grab-and-go shopping is on the rise worldwide, with retailers searching for solutions to speed up store visits, increase customer satisfaction, boost sales, optimize store layouts, and deal with labor shortages.
After some misstarts and privacy issues, mostly concerning the market leader Amazon, technology for autonomous shopping has matured, spurred by the pandemic and the preference for contactless shopping. Rising labor costs and low margins in the grocery sector continue to drive interest in the autonomous shopping store model.
Autonomous shopping is a win-win for stores and consumers. It reduces lines and increases convenience for shoppers. And stores with autonomous shopping see less inventory shrinkage and increases to the size of the typical shopping cart. They also get rich data in terms of heat maps and shopper behavior. Finally, autonomous shopping lets stores reduce or redistribute staff to more value-added roles.
Right now, there are at least two technologies to support autonomous shopping—computer vision only and a hybrid of computer vision and shelf sensors. Both have advantages and disadvantages worth considering. Two leaders in the space, AiFi and Trigo, are representative of the two paths.
Computer Vision
Both systems use ceiling-mounted, AI-powered cameras—a technology known as "computer vision"—to track customers as they move through the store, automatically detecting which products they pick up and put back down. They all use mobile apps or allow use of credit/debit cards, and they all feature frictionless checkout, optimized store layouts, improved inventory control, and receipts sent electronically.
But after that, different methods are used, and it's a weighty issue: The biggest divergence concerns the product on shelves and hooks, and whether it is better to use a smart-sensor approach in conjunction with the cameras. The shelves take note of the weight of the product removed, which assists the computer vision in accurately determining what item or items were removed.
The advantage to both of these methods is privacy. Amazon's "Just Walk Out" technology uses biometric data such as palm-scanning technology, which has rankled privacy advocates. Computer vision allows for the creation of an avatar (think of a stick figure version of the customer) that allows the computer to track the shopper without facial recognition or biometrics.
"If you were to go into a Trigo-powered store, exit, and go back five minutes later, we wouldn't know you were the same person," Yonatan Deutsch, business analyst at Trigo, told us in a briefing. Both AiFi and Trigo work with store APIs to handle payments, and no personal data is held, meaning both versions are compliant with most privacy regulations.
While both approaches have been shown to be effective in real-world settings, there are potential differences in scalability, accuracy, maintenance needs, and other factors.
AiFi: Camera-Only Approach
As mentioned, AiFi uses computer vision to track customers and detect which products they put in their baskets—no shelf sensors for AiFi. Neither does it use biometrics, which manycustomers find intrusive. Customers don't need to deal with a clerk (unless they are buying booze or other age-restricted products, where a clerk or "brand ambassador" checks IDs) and can depart checkout-free.
Here's how it works:
Easy entry: Shoppers can enter a store with their credit card or the AiFi app that they've already installed and configured on their mobile device. AiFi includes many payment integrations. AiFi can also integrate with a client's apps or provide its white-label app which the client can customize to suit its branding needs.
Anonymous avatar: The system then creates a unique, anonymous avatar of each shopper, which is a digital representation of their body and movements. This is used to track their progress through the store and identify the products they touch. This information can be used to provide shoppers with personalized recommendations, provide information about possible sales, or give product information. While the store can push this information to the shopper, no personal information is stored by AiFi so privacy is maintained.
Seamless shopping: The cameras use key-point tracking technology to recognize the products taken and added to a virtual shopping cart. AiFi says this technology is highly accurate and obviates the need for sensors. Amazon and Trigo use cameras and weighted sensors, but AiFi goes with a camera-only approach. "We have found that cameras by themselves do the job just as efficiently—if not more so—than in tandem with sensors," said AiFi CEO Steve Carlin.
Frictionless checkout: Unlike traditional retailers with barcode scanners, shoppers can depart the store without standing in a checkout line and dealing with a human. Payment cards are automatically charged when a customer checks out. Receipts are sent electronically, usually within 10 to 15 minutes of customers leaving the store, AiFi Head of Marketing Natasha Thakkar said.
By using off-the-shelf hardware and open-source software, AiFi is able to offer a system that requires minimal maintenance. Moreover, AiFi has developed advanced machine learning algorithms that can accurately track customers even in crowded environments. The camera-only technology scales from about 200 to 7,000 square feet and is not difficult to install, according to AiFi.
Ease of installation is a strong point in AiFi's favor. It offers AiFi To-Go, which is essentially a "store-in-a-box" solution, as well as services to quickly refresh existing stores. AiFi can also be easily integrated into new store construction.
The company's AI solutions enable better inventory management, streamlined planograms, and fast transaction processing. Retailers gain in several ways, including more repeat visits, larger basket sizes, and improved customer throughput, Thakkar said.
AiFi is growing quickly, with more than 100 stores worldwide. It has inked many licensing agreements and partnerships and is automating scores of new or retrofitted stores and stadiums around the globe. Customers include sports teams such as the LA Clippers and Golden State Warriors and retailers such as Dollar General, Choice Market, Carrefour, and Żabka in Poland.
Trigo: Cameras Plus Shelf Sensors
Tel Aviv-based Trigo also uses AI-powered computer vision, heat maps, frictionless checkout, optimized inventory management, and receipts
sent electronically. Trigo is also rapidly growing and has raised over $200 million in funding, led by Temasek and SAP. Trigo counts many top-tier retailers as customers, including Tesco, the number one grocery retailer in the UK, along with some of the largest retailers in France and Germany.
But Trigo uses shelf sensors in combination with computer vision, which it says is a superior approach to grab-and-go shopping for a variety of reasons:
Accuracy: Cameras plus shelf sensors is a "double verification," Trigo's Deutsch said. "It's really what enables what we call our automatic accuracy, which we think is the way forward. The combination is what really provides us with gold-standard results."
Scalability: By combining sensors and cameras, Trigo's approach allows it to quickly scale to larger store footprints, Deutsch said. Trigo works with the existing shelving in the store, simply by adding sensors to shelves, hooks, and baskets. This allows for a minimum of store re-design.
Optimized inventory management and procurement: Trigo's platform places an emphasis on real-time inventory data, which can reduce stock outs and improve reordering, Deutsch said. It automates daily tasks to reduce labor hours in replenishment, stocktaking, and low-product investigations. This also optimizes procurement.
We asked Deutsch about the additional cost of installing a Trigo system, compared to AiFi. Deutsch said that, when it comes to a store in a box or so-called nano stores, AiFi and Zippin had found a niche. He added:
"As a sports fan, I can definitely appreciate going to a sports venue and not needing to stand in line and miss the game. However, retrofitting a real-size supermarket is an all-new ballgame. We're working with retailers and digitizing their existing stores. The added value is not only the frictionless checkout but also inventory management, planogram optimization, and more. Trigo's platform provides its full value when you're in a real-size supermarket and not in a small format."
(Of course, AiFi is not only in sports stadiums. It does have many of those accounts but is also in many small to midsize grocery stores, convenience stores, and entertainment venues.)
There is a potential downside to the sensors-plus-camera approach. Adding sensors adds maintenance and points of failure. While the sensors require little maintenance (according to Trigo) and have a lifetime of at least five years, this approach does involve a larger array of potential problems. Devices or sensors going down could lead to blind spots. Of course, the same can be said of cameras in a computer-vision-only set up. A malfunctioning camera could lead to the same problem without the backup of a weighted sensor. Still, this should be considered as part of an autonomous shopping deployment.
Cutting to the Front of the Line?
Grab-and-go stores are proving to be a great fit for convenience stores, small and midsize grocery stores, food outlets at sports stadiums, airport kiosks, gas stations, and other locations where shoppers value time and convenience. Furthermore, traditional, barcode-based self-checkout systems are rather inaccurate and prone to fraud. Some shoppers cheat by item swapping or under scanning, and self-checkout still requires in-store personnel for manual overrides and theft prevention. Autonomous shopping systems solve those problems while also making smaller stores more viable.
There are some limits to grab-and-go shopping, however, when it comes to moving beyond grocery stores to other types of retail. Deutsch pointed out that teaching a computer to recognize a large T-shirt from an extra-large is going to be more difficult than teaching it to distinguish between two grocery items. But autonomous shopping will become increasingly common. The advantages to security, analytics, and profits are too large to ignore.
AiFi and Trigo are not the only companies in this space. As previously mentioned, Amazon has invested significantly in autonomous shopping. Other large retailers such as Walmart and Alibaba have made investments in autonomous or streamlined shopping. Other computer-vision-based companies including Sensei and Grabango are also making strides.
So while the competition is only heating up, retailers seem to be lining up between these two distinct paths—computer vision only or a hybrid of computer vision and shelf sensors. This decision will depend on the retailer and its particular needs. But understanding the choice is crucial to successfully get into autonomous shopping.
---
Avasant's Tech Innovators program is aimed at finding and highlighting firms that use emerging digital technologies to build products and services of the future. These emerging players are pushing the boundaries for innovation by disrupting traditional business models. They bring together new technologies within their industries and markets to enable business transformation.
Disclaimer: In this Tech Innovators series, Avasant relies on information provided by the companies covered and is not equipped to independently verify representations made or to conduct technical due diligence.
Photo credits: AiFi, Trigo