While open source software has established a place for itself in the IT infrastructure, many organizations have shied away from deploying open source at the applications layer, preferring to stay with vendor-supported commercial software packages. But interest in open source business applications is on the rise among small organizations that perceive potential cost savings and among large organizations that appreciate the flexibility and extensibility of open source. For some IT managers, the time may be right to give open source serious consideration for business systems.
This Research Byte is a summary of our full report, Open Source Business Applications: Adoption and Participation Trends.
Open source software refers to software that is distributed under a license that guarantees the buyer the right to read, redistribute, modify, and use the software freely. The opposite of open source software is proprietary software, which is distributed under a license that restricts to a much greater extent what the buyer can do with it. Open source development efforts are referred to as "projects" and developers, who may be volunteers or paid employees, generally support continued development.
Open source software is not necessarily free of charge. An open source distributor may charge for services related to distributing, implementing, or otherwise supporting the software, or there may be charges for proprietary extensions built on top of the open source software. A more complete definition of open source can be found on the Open Source Initiative's website at www.opensource.org.
In this article, we address not only open source in general, but also open source applications. Throughout this report, when we refer to "open source applications," we are referring to business applications–not open source operating systems such as Linux, open source web server software such as Apache, open source databases such as MySQL, or open source tools and utilities, such as BIND, which are ubiquitous. Open source business applications are alternatives to commercial CRM, ERP, or other applications that general business users interact with directly to get their work done. Among the many open source ERP and CRM applications are opentaps, Compiere, Xtuple, and SugarCRM.
Adoption and Investment
Although open source business applications may be an attractive alternative, adoption is generally low, according to our annual survey of 200 IT organizations. As shown in Figure 1, there is a steep decline in the number of organizations at each adoption level, from those reporting no activity to those planning to increase their open source deployments, which is typical of the early adoption phase.
Six percent of our respondents have deployed open source applications but have no further plans to expand them. Another 7% are expanding their use of open source applications, while almost 10% are in the process of deploying open source applications for the first time. About 21% are researching or piloting such projects, while 56% have no activity underway.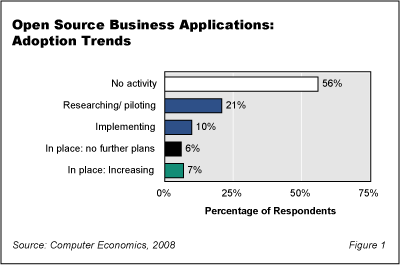 While the adoption of open source business applications remains low, the number of first-time implementers compared to the small base of early adopters indicates that the growth rate is relatively high. Open source advocates can also take some comfort in that 44% of organizations are at least researching or piloting open source applications.
In the full version of this report, we examine adoption trends the economic experiences of organizations that have deployed open source business applications. The analysis addresses current adoption levels, current investment activity, return on investment experience, and total cost of ownership experience. We also examine variations in adoption trends and investment activity by organization size and industry sector. Finally, we look at a related issue: the number or organizations actively contributing to open source development projects. We conclude with key considerations for IT managers who are assessing the suitability of open source business applications.
Computer Economics Viewpoint
The theory behind open source software is easy to grasp, and the debate is familiar to IT managers today. A community of users working together to develop and share code can potentially lower development costs and spur innovation. Open source also reduces risks associated with rising licensing and maintenance fees. As major software vendors, such as SAP, raise their annual maintenance fees, the open source alternative becomes more and more attractive.
On the other hand, proprietary software vendors have their advantages. Many IT managers like the idea of having a single vendor responsible for developing, supporting, maintaining, and improving its products. Furthermore, at this time, proprietary software applications are generally more mature, requiring less development resources than open source applications, which often require customization, tweaking, or bug fixing by either in-house staff or open source business partners.
The largest consideration in the minds of many IT managers, though, is risk. The full version of this report compares the risks on the side of open source applications and on the side of proprietary software. Strategies for managing costs and optimizing success of open source applications are also covered.
The bottom line: Organizations should give careful consideration to open source alternatives, but take care in selecting applications and partners that offer the lowest risk. It is still too early to tell whether open source business applications will remain in niche areas or present real threats to the traditional software vendors. As the market matures, though, open source development could have great potential for IT organizations to lower costs and improve competitiveness. Enterprises that begin to test the waters today will be the first to reap those advantages in the future.
---
This Research Byte is a brief overview of our report on this subject, Open Source Business Applications: Adoption and Participation Trends. The full report is available at no charge for Computer Economics clients, or it may be purchased by non-clients directly from our website at https://avasant.com/report/open-source-business-applications-adoption-and-participation-trends-2008/ (click for pricing).