If there were ever any questions about the need for disaster recovery planning, those doubts were dispelled over the past few years. A worldwide pandemic, power outages, wars, and cyberattacks exposed those organizations that were not fully prepared to respond to those disruptions. But what if the IT organization does not have the resources or the capability to do it all in-house? A successful in-house disaster recovery plan is severely dependent upon the expertise of organizations' dedicated IT teams and costly hardware infrastructure. Because of that reality, many organizations find value in disaster recovery outsourcing, where a service provider is responsible for off-site data storage, recovery data centers, or redundant systems.
After remaining relatively flat over the past few years, outsourcing of this function significantly increased. As shown in Figure 2 from our full report, Disaster Recovery Outsourcing Trends and Customer Experience, the percentage of organizations outsourcing this function has spiked to 46% in 2021. It appears that the pandemic has shown us that not all disaster recovery scenarios involve major natural events or malicious attacks. With the implementation of hybrid and remote worker models, as well as cloud computing, several organizations have opted to reduce internal workloads to an external service provider with the significant experience, specialized skills, and appropriate facilities to reduce disruption risks.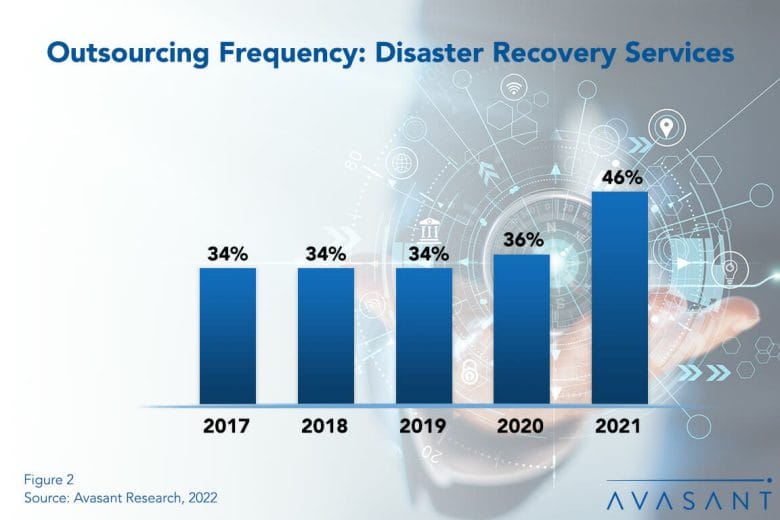 Although outsourcing of this particular function has significantly increased, it is surprising that more organizations have yet to adopt this strategy. Some CIOs may have decided that disaster recovery is too important to outsource despite the high service and cost success. Others have invested in cloud in hopes that many of their disaster recovery responsibilities have shifted to their provider.
Emerging out of a global pandemic and the new economic factors that are taking place, disaster recovery continues to be important whether responsibility remains in-house or delegated to a service provider. The amount of business transacted online continues to expand, even for traditional brick-and-mortar organizations, making the cost of downtime more expensive. Factories and distribution centers are increasingly automated, and operations can grind to a halt if a disaster strikes. A network outage can be disastrous for healthcare providers that increasingly rely on digital images and electronic medical records for patient care. Moreover, in some industries, such as banking, disaster recovery capabilities are mandated by law.
"Disaster recovery is an important tool for companies that want to stay in business," said Reneece Sterling, a research analyst for Computer Economics, a service of Avasant Research based in Los Angeles. "But many companies have found that they just don't have the resources to do it alone. Outsourcing some or all of the DR program can be a smart way to ensure business continuity."
As we've learned, not all disaster recovery scenarios involve calamities such as hurricanes, floods, earthquakes, or terrorist attacks. Disruptions are more likely to involve public-grid power outages, network outages, transit failures, simple human errors, or system failures. In these cases, organizations simply want employees to communicate effectively during temporary work disruptions. It is important that IT managers not lose sight of the more mundane incidents that can disrupt business operations.
To help IT executives understand their options, the full report analyzes the percentage of organizations outsourcing disaster recovery capabilities (frequency), the scope of work outsourced (level), and the change in the amount of work being outsourced (trend). We also present success rates for the cost and service experiences and show how these trends differ by organization size and sector. We also discuss the elements that every disaster recovery plan should contain.
---
This Research Byte is based on our report on this subject, Disaster Recovery Outsourcing Trends and Customer Experience. The full report is available at no charge for subscribers, or it may be purchased by non-clients directly from our website (click for pricing).