While database administration (DBA) staffing remains steady in most sectors, the retail/wholesale sector has increased staffing in this area. The post-pandemic digital economy has made e-commerce and data analytics a renewed priority for retailers and wholesalers. Retail is the natural leader in this area, but as other sectors look toward digital, omnichannel strategies, this may be the start of a new round of hiring for DBAs.
As shown in Figure 7 from our full report, Database Administration Staffing Ratios, DBAs account for 6.0% of the IT staff in the retail/wholesale sector. This is a significant increase compared to 2019, when the percentage stood at 2.7%.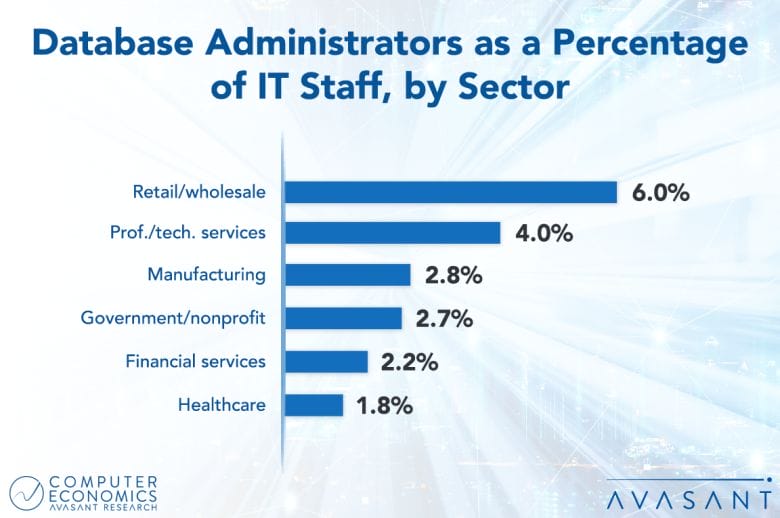 Despite this uptick in the retail/wholesale sector, overall, the use of DBAs may have plateaued. There are some factors that appear to be replacing or reducing the functions of database administrators, including software as a service (SaaS), outsourcing, job segmentation, and newer, easier-to-maintain databases. Nevertheless, the importance of database administration is not diminishing. Enterprises seeking to compete in the digital age must increasingly capture and analyze a torrent of data. As such, the tasks of DBAs may shift to encapsulate cloud processes, data-centric solution designs, and data analytics.
Organizations will continue to obtain and analyze greater amounts of data, especially unstructured data and data that is external to the organization. In some cases, unstructured data—such as emails and other free-form text—can be mined for hidden trends and for deeper examination such as sentiment analysis. The use of social media often generates more such data that can be attained and mined for intelligence.
"We are definitely seeing an uptick in demand for DBA skills in some sectors," said Tracell Frederick, research analyst/editor for Computer Economics, a service of Avasant Research, based in Los Angeles. "Companies looking hard at digital transformation should plan ahead or face a DBA shortage when they are most needed."
The full report helps executives determine whether they are keeping pace with industry standards by providing four benchmarks: DBAs as a percentage of the IT staff, DBAs as a percentage of the Data Center Group, users per DBA, and business applications per DBA. We present benchmarks for small, midsize, and large organizations and examine the influence by sector on these benchmarks. We conclude with best practices for optimizing DBA staffing.
---
This Research Byte is a brief overview of our management advisory on this subject, Database Administration Staffing Ratios. The full report is available at no charge for Subscribers, or it may be purchased by non-clients directly from our website (click for pricing).
---