Since the emergence of organized call centers, experts have attempted to measure the efficiency and productivity of call center operations and their workers. Indeed, there are formulas for handling phone-call volumes dating back to the days of switchboard operators, known as the Erlang formulas, which are still in use today.
IT managers continue to struggle with rising salaries and costs for their service desk operations. The help desk is the front line of the IT department — the face, voice, and personality of IT operations at most organizations. As such, it plays a critical role in a company's effective use of IT. At the same time, help desk staff members comprise a substantial portion of the IT staff. As such, it is a key target for efficiency gains. Figure 1 shows that help-desk staff members comprise 8% of the typical IT staff at the median.
This Research Byte is a summary of our full report, Measuring Help-Desk Efficiency .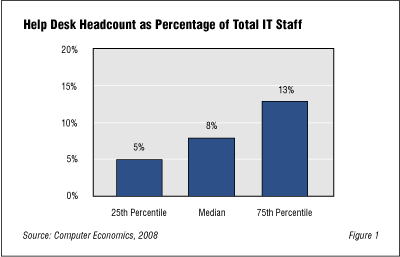 Despite all the effort at quantifying performance, measuring the total return on investment in the help-desk function is still something of a subjective exercise. It is contextual: How important is technology to the organization? Does the IT service desk support outside customers, making it critical to the company's marketplace success? The IT help desk can have a direct impact on business operations by its efficient (or not-so-efficient) support of sales staff, and it can be used to measure the effectiveness of a newly installed IT system.
The full version of this report examines the most common metrics used for tracking help-desk efficiency, costs, and productivity. It also assesses the role of technology, service-level agreements, outsourcing, and IT service management best practices in improving the return on investment for the service desk.
IT organizations today are struggling with containing technical support costs. As new technology is deployed, service-desk personnel require a wider array of expertise and competition for experienced staff is rising. Yet organizations fail to adequately plan for, fund, and staff the help-desk function. IT service-desk managers need to demonstrate their value to the business and how they impact efficiency. Measuring these on a continuing basis is a basic starting point for managing help-desk operations.
---
This Research Byte is a brief overview of our report on this subject, Measuring Help-Desk Efficiency. The full report is available at no charge for Computer Economics clients, or it may be purchased by non-clients directly from our website. (Click for pricing.)
Attention Help Desk Managers: this report is included in our special publication, Read more and download the first few pages of the report, free.