IT help desk operations may be taking on more responsibilities than ever before, but enterprises nevertheless vary widely in their support of this vital function.
The typical IT organization spends about $478 per year on help desk operations for every personal computer supported by the organization. As shown in Figure 1, this metric about doubles at every quartile, ranging from $269 at 25th percentile to $1,054 at the 75th percentile.
The metrics are from our study, Help Desk Benchmarks 2011, which provides 17 key spending, staffing, and operational benchmarks for the composite sample and by organization size and geography.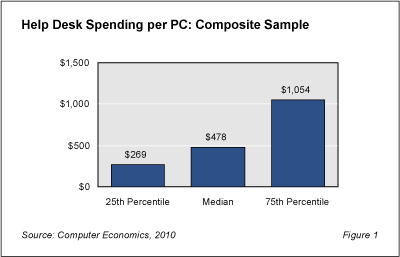 Spending includes operational expenses for personnel, technology, outsourcing, telecom/datacom service, facilities, and training. Organizations are clearly placing different emphasis on this function, despite the help desk's importance in maintaining user satisfaction and productivity.
Differences in technology investments, managerial philosophy, and organizational size account for some of the discrepancy. The study finds, however, that differences in spending by geography are relatively minor. North American organizations spend somewhat less than the composite sample at US $429 per PC at the median, while IT organizations in Australia and New Zealand spend only US $374 per PC.
The full study is designed to help technical service managers benchmark their organization's help desk spending, staffing, operational, and cost metrics against those of other IT organizations to ensure they are keeping pace with industry norms and best practices.
The study includes metrics for the composite sample, for organizations with fewer than 10 help desk staff members, and for organizations with more than 10 help desk staff members. Depending on the edition, an additional chapter provides benchmarks or organizations based in the U.S. and Canada or for organizations based in Australia and New Zealand.
---
This Research Byte is a brief overview of our report on this subject, Help Desk Benchmarks 2011. The full report is available in both a US/Canada Edition, as well as an Australia/NZ Edition. They are available at no charge for Computer Economics clients, or it may be purchased by non-clients directly from our website.