The rise of global supply chains, competitive pressures, and warehouse management needs are providing renewed impetus for adoption of supply chain management (SCM) systems. At the same time, the benefits of supply chain management are making SCM systems popular in industries outside of their traditional home in manufacturing, distribution, and retail organizations.
The percentage of IT organizations adopting SCM is rising in 2019, as shown in the blue bars in Figure 2 from our full study, Supply Chain Management Adoption Trends and Customer Experience. The 44% adoption rate is an increase from the 35% in 2018, and a quite a jump from 27% in 2017. The adoption rate is only moderate compared with the other technologies in our annual Technology Trends survey. Neverthless, both SCM adoption and investment have risen due to the increased capabilities of SCM offerings as well as the application of supply chain systems to a broader set of industries.. The investment rate shows similarly strong increases, rising from 16% in 2016 to 33% this year.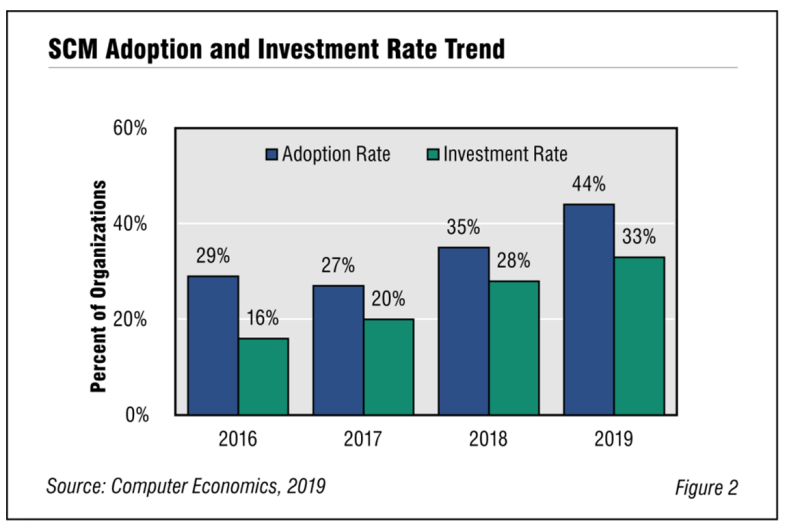 "Although SCM systems are traditionally considered relevant only to product-based businesses, pure services businesses are increasingly using the term 'supply chain management' to refer to systems that are used to formally manage suppliers or vendor agreements," said David Wagner, vice president of research for Computer Economics, based in Irvine, Calif. "You now see SCM systems used to manage medical supplies and pharmaceutical inventory levels in hospitals, for example, and it's hard to find an industry where there is not a need for supplier contract management. These broader applications of supply chain management should continue to encourage widespread adoption of SCM systems. "
SCM systems manage the planning, movement, and storing of materials from the earliest stages of procurement through intermediate stages of production to final distribution to the end customer. Whereas enterprise resource planning (ERP) systems focus primarily on the internal operations of the business, SCM looks outward to encompass the activities of suppliers, customers, and partners, as well as internally to the movement and storing of materials within the organization's operations.
Although SCM adoption is greatest in the retail/wholesale distribution, manufacturing, and utilities sectors, SCM is expanding to less traditional companies because of the use of planning software, artificial intelligence, and machine learning. For example, healthcare providers often have complex logistics requirements in their shared services organizations, where shelf-life considerations play an important part in managing and replenishing stocks of pharmaceuticals and medical supplies. Transportation companies, of course, have complex logistics requirements, which is a bread-and-butter issue for SCM systems. Government agencies often have significant inventories of equipment as well as maintenance and repair parts that can benefit from sophisticated warehouse management and logistics systems.
The full report quantifies the current adoption and investment trends for SCM technology, as well as the benefits driving companies to expand their implementations. We assess these trends by organization size and sector and look at the ROI and TCO experiences of organizations that have adopted SCM. We conclude with practical advice for those planning new investments in SCM.
---
This Research Byte is a brief overview of our report on this subject, Supply Chain Management Adoption Trends and Customer Experience. The full report is available at no charge for Avasant Research subscribers, or it may be purchased by non-subscribers directly from our website (click for pricing).
---