In many markets, customers prefer buying from value-added resellers over purchasing directly from OEMs. VARs are closer to the customer, offer local support, and are in a better position to develop long-term relationships. They often speak the language of the customer in industry-specific applications. In many cases, they may represent multiple OEMs and can provide insights into the strengths and weaknesses of each. They also may recommend implementation approaches that are better than what OEMs are promoting.
The VAR business model is attractive as long as there is money to be made reselling OEM products. Over the past decade, however, product margins have been shrinking as the result of several long-term trends.
Falling costs of hardware. Computer hardware and networking equipment continue to fall in price and increase in performance year after year. For example, the computing power of a 1980s multimillion-dollar mainframe can now be purchased for the cost of a low-end commodity server.

Increased competition from OEMs. The direct sales model pioneered by Dell gives OEMs the opportunity to cut out VARs as middlemen in deals. Making the situation worse, OEMs are increasingly treating hardware as a loss leader in order to capture the more lucrative services business for their own support organizations.

Pricing transparency. VARs can no longer count on an information gap to fatten margins. E-commerce sites such as Amazon and eBay allow buyers to quickly compare prices from multiple resellers. If a VAR's business model is focused on resale of OEM products, it will be forced to compete on price.

Open source. In many product categories formerly dominated by proprietary hardware, such as VoIP systems, there are now open-source solutions built on commodity hardware available for a fraction of the price.

Cloud computing. The rising popularity of cloud infrastructure and software as a service (SaaS) is shifting IT spending from data centers to business software. Our research at Computer Economics shows that organizations that have moved largely to cloud infrastructure spend only 7% of their IT budgets on data centers, as opposed to 17% for traditional IT organizations. This changes the mix of IT spending much more toward application software.
In light of these trends, VARs who prosper will be those who do not rely primarily on OEM product margins. In other words, their emphasis is less on the "R" (reseller) and more on the "VA" (their value-add). In fact, those who transform their business models in this way should no longer be referred to as VARs: a more appropriate term is "solution providers," as shown in Figure 2 from our report, From VAR to Solution Provider: Five Strategies for Business Transformation.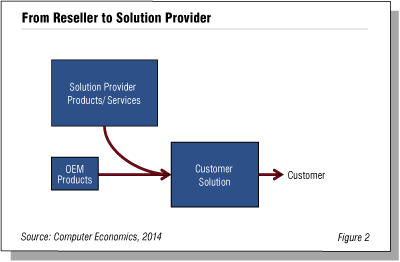 The pressure on product margins is not something new. The most successful VARs already have transitioned their business models. From their experiences, we can understand the keys to success. In the full report, we outline five strategies for migrating from VAR to solution provider.
---
This Research Byte is a brief overview of our report on this subject, From VAR to Solution Provider: Five Strategies for Business Transformation. The full report is available at no charge for Computer Economics clients, or it may be purchased by non-clients directly from our website (click for pricing).