Service Providers Helping More Firms Cash In On Digital Finance Transformation
Los Angeles, December, 2020
COVID-19 has revealed that many enterprises need to shift from in-house finance and accounting (F&A) process management to outsourcing it to F&A service providers. Technology is less and less being treated in a siloed manner, and instead it has now become an integral part of operations. As a result, F&A service providers are leveraging their existing technological capabilities and addressing enterprises' demands, minimizing the siloes between technology and process management. Additionally, enterprises are striving for coverage of related functions, such as supply chain management, procurement, and order management, leading to a surge in multi-tower deals. To cater to diverse and emerging business needs, service providers' offerings are playing a pivotal role in the business process transformation space. These emerging trends are covered in Avasant's new 
F&A Business Process Transformation 2020 RadarView™
 report. The report is a comprehensive study of F&A service providers, including top trends, analysis, recommendations, and a close look at the leaders, innovators, disruptors, and challengers in this market. Avasant evaluated 30+ service providers using three dimensions: practice maturity, domain ecosystem, and investments and innovation. Of those 30+ providers, we recognize 18 as having brought the most value to the market during the past 12 months. The report recognizes service providers in four categories:
Figure 1 from the full report illustrates these categories: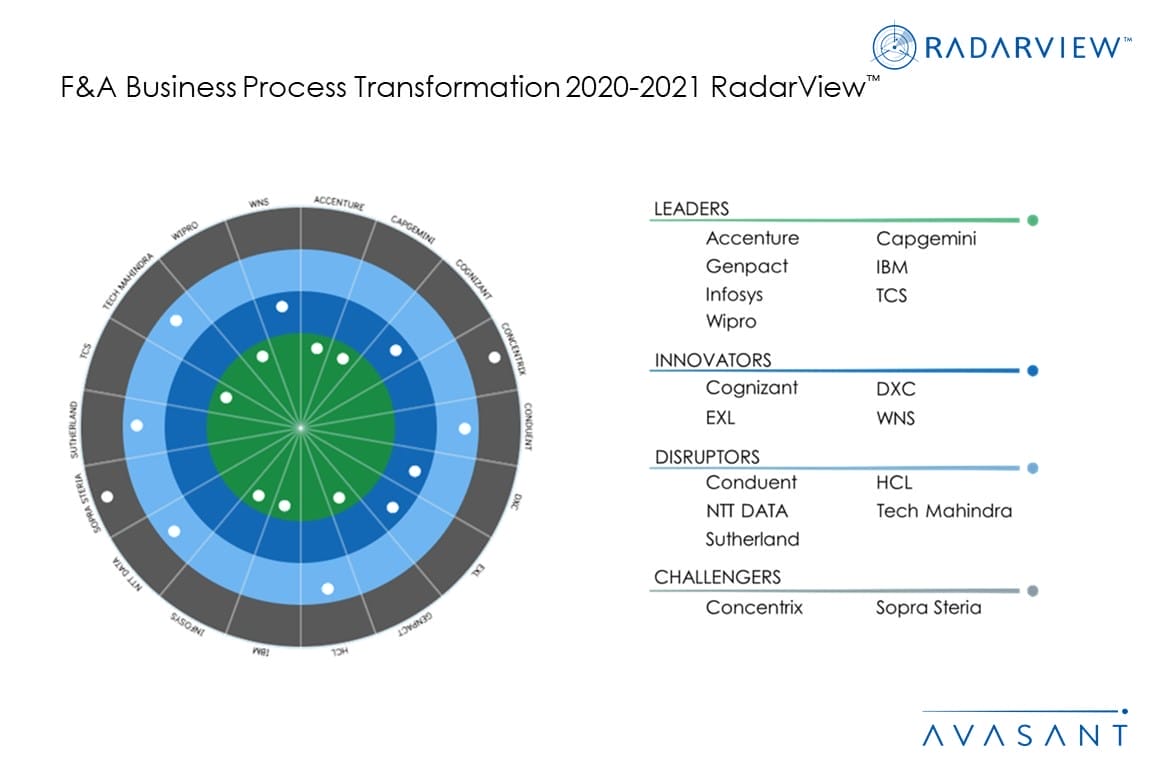 Avasant Partner Srinivas Krishna congratulated the winners. "As enterprises sustain the impact of the pandemic, business viability concerns emerge for many of them," he said. "This has necessitated the need for transformation of busines processes, especially the finance and accounting function. The role of disruptive technological capabilities and domain expertise has gained more significance than ever before. This will reshape the traditional enterprise-to-vendor relationships to long-term strategic partnerships." Some of the findings from the full report include the following:
To ensure business viability amidst and after COVID-19, many enterprises are shifting from in-house process management of finance operations to outsourcing them to service providers.
A diverse partnership ecosystem is enabling service providers to enhance their integrated IT-business process capabilities.
Traditionally, enterprises have been outsourcing transaction-intensive finance and accounting processes, but of late, they have started seeking service providers' support for judgement-intensive finance processes as well.
Emerging business technologies offer intelligent processing and automation to drive digital transformation across the F&A value chain.
F&A service providers are investing in off-the-shelf, vertical-specific solutions, tailored for diverse industrial challenges.
Industry-agnostic F&A product portfolios, investments in acquisitions, research and development, and talent will help service providers better cater to evolving business needs.
"F&A outsourcing is undergoing a mega-shift," said Avasant's Research Leader Saurabh Verma. "Enterprises are now taking a holistic approach for F&A transformation, eliminating the siloed role that IT and business units played in the past. They are more confident in outsourcing core and judgment-intensive processes as well. Further, the traditional proposition of labor-arbitrage is losing prominence, and comprehensive business metrics are transforming the engagement constructs. With so much dynamism in this space, service providers that can differentiate themselves will make the most of these opportunities."
The full report also features detailed RadarView profiles of 18 service providers, along with their solutions, offerings, and experience in assisting enterprises in digital finance transformation.
This Research Byte is a brief overview of the F&A Business Process Transformation 2020 RadarView™
report
(
click for pricing
).