Outsourcing application maintenance to a third party can be one way to lower, or at least stabilize, the cost of maintaining a portfolio of applications. Despite its general acceptance and relative popularity, however, application maintenance outsourcing saw a significant retreat amid the downturn in IT spending last year.
According to our study, Application Maintenance Outsourcing Trends, 27% of IT organizations outsourced all or part of their application maintenance functions in 2009. Figure 1 shows that was down from 2007 and 2008 when the percentage of companies outsourcing this function was stable, at 40% and 41%, respectively.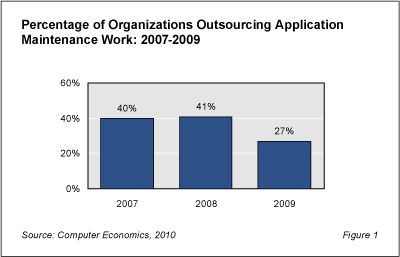 This downward trend closely tracked a downturn in the frequency of application development outsourcing as well. One possible explanation is that as organizations reduced development work, they diverted internal staff resources toward maintaining existing systems, thus displacing the services of the outsourcing application maintenance service provider.
As the recovery matures, there are signs that more IT organizations will examine outsourcing as an alternative to using internal resources to meet routine maintenance needs. Late last year, for instance, telecom giant Nokia Siemens Networks signed a three-year application management services agreement with Accenture. Also of note, major offshore IT service providers are reporting improved outlooks. Confirming this trend, our survey involving more than 200 IT organizations found that while fewer companies are currently outsourcing application maintenance work than in past years, the percentage of maintenance work being outsourced is on average higher today. Application maintenance is an area where IT organizations will continue to explore alternatives.
To help IT executives weigh their options, the full study examines application maintenance outsourcing adoption trends. We report on the percentage of organizations outsourcing application maintenance (frequency), the average amount of work outsourced (level), and the change in the amount of work being outsourced (trend). We also present the cost experience, which provides insight into the risk IT organizations take in turning to outside service providers. This statistic measures the percentage of organizations that find outsourcing costs more, the same, or less than expected. We also show how these trends differ by organization size and sector and examine the substantial role that offshore outsourcing plays in this market.
---
This Research Byte is a brief overview of our report on this subject, Application Maintenance Outsourcing Trends. The full report is available at no charge for Computer Economics clients, or it may be purchased by non-clients directly from our website (click for pricing).