Rapidly changing requirements in the face of the COVID-19 pandemic have further accelerated adoption of cloud platforms. To address this rising demand and to better serve customers, cloud platform providers need to emphasize three key areas: collaboration, security, and automation.
That is one of the top findings of Avasant's new Cloud Platforms 2020 RadarView™ report, a comprehensive study on the cloud platform marketplace, with a close look at the leaders, disruptors, innovators, and challengers in this market.  
This report addresses the need for enterprises to leverage cloud platforms to accelerate their digital journeys, embrace the cloud, and identify the right cloud platform providers. It highlights the key trends in the cloud platform market and our viewpoint on the direction of the market over the next 12 to 18 months.
Avasant evaluated 16 providers using three dimensions: product maturity, enterprise adaptability, and innovation roadmap. Of the 16 providers, nine are recognized as having brought the most value to the market over the past 12 months.
The RadarView recognizes platform providers in four categories:
The leaders' circle

:

AWS

and

Microsoft

.

The innovators' circle

:

Alibaba Cloud

and

Google

.

The disruptors' circle

:

IBM

and

Oracle

.

The challengers'

circle

:

CenturyLink

,

DigitalOcean

, and

Rackspace Technology

.
These four categories are illustrated in Figure 1 from the full report: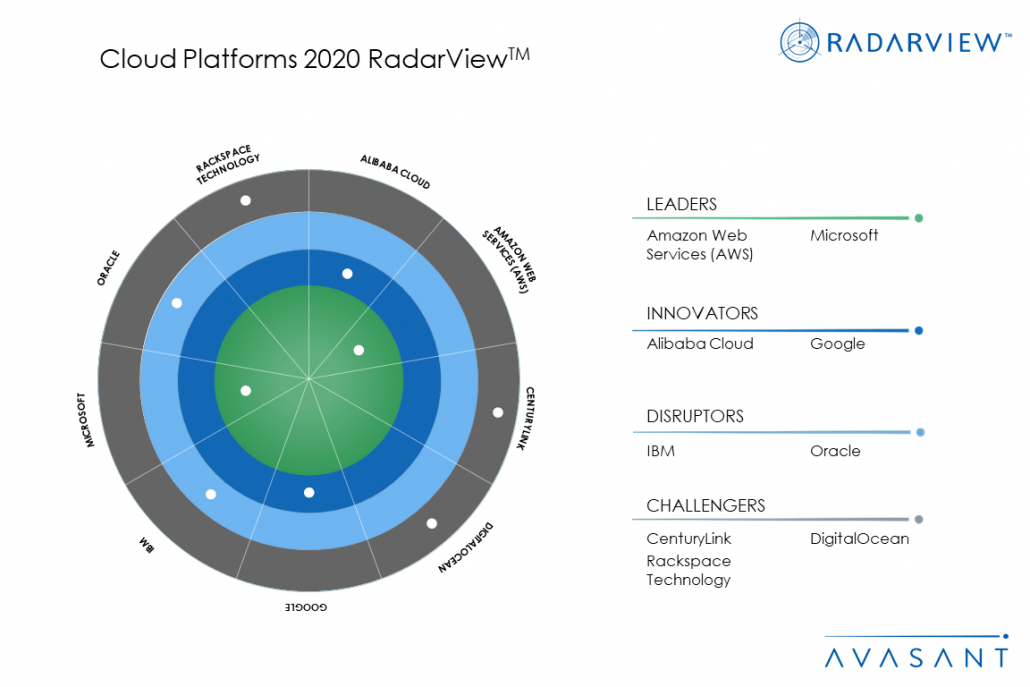 "As enterprise demand for collaboration, security, and automation rises under the current pandemic, cloud platform providers continue to enhance their product features to prepare for the new normal," said Naresh Lachmandas, Principal and Senior Fellow with Avasant. "Additionally, with customer demand increasing, cloud platform providers are becoming more flexible in their commercial terms and conditions."
The report highlights several trends that are shaping the market:
Hybrid cloud and multi-cloud IT environments have become the norm in most enterprises.

In fact,

80

%

-90% of Global 2000 enterprises already have a hybrid IT environment, while more than 60% manage more than one cloud.

COVID-19 has acted as a catalyst for cloud adoption as remote work and collaboration intensifies

,

with enterprises seeking creative financing and outright discounts, along with expedited

cloud

migrations to enable business continuity.

To address this rising demand and to

better serve customers,

cloud platform providers need

to

emphasize

three

key

areas

:

collaboration, security, and automation.

With the continued rise in multi-cloud and hybrid

–

cloud environments, containerization has become the preferred mode of deployment

.

P

latform providers

are

also

increasing their use of

containers and 5G networks for emerging use cases around ultra-low latency and edge computing.
The full report also features RadarView profiles of the top nine platform providers, including their solutions, offerings, and experience in assisting enterprises in digital transformation. This report analyzes how the platform provider landscape has evolved, not only in terms of categorization but also in the way providers are investing in their solution portfolios, improving user experience, and expanding their geographic focus. Accordingly, the cloud platform providers are judged on their product maturity, enterprise adaptability, and innovation roadmap.
---
This Research Byte is a brief overview of the full Cloud Platform 2020 RadarView™report. The full report is available at no charge for Avasant Research subscribers, or it may be purchased by non-susbscribers directly from our website (click for pricing).
---