Scope of the
R
eport
The report addresses the need for enterprises to leverage cloud platforms to accelerate their digital journey, embrace a cloud approach, and identify the right cloud platform providers. It covers the key trends shaping the market, the recent impact of COVID-19, and the top bets made by the cloud platform providers.
The report also features RadarView profiles of the top nine platform providers, including their solutions, offerings, and experience in assisting enterprises in digital transformation. This is also a good reflection of how the platform provider landscape has evolved as they increasingly use containers and 5G networks for emerging use cases around ultra-low latency and edge computing.
Why read this RadarView?
The adoption of cloud platforms across Global 2000 organizations has received a significant boost as a result of rapidly changing requirements in the face of the COVID-19 pandemic. Remote work, budget constraints, and a realization that digital is critical to sustaining business have further accelerated adoption of cloud platforms.
This report is designed to help enterprises define their approach for cloud adoption and to identify the right platform to support them in this journey. It assesses cloud platform providers across key dimensions of product maturity, enterprise adaptability, and innovation roadmap.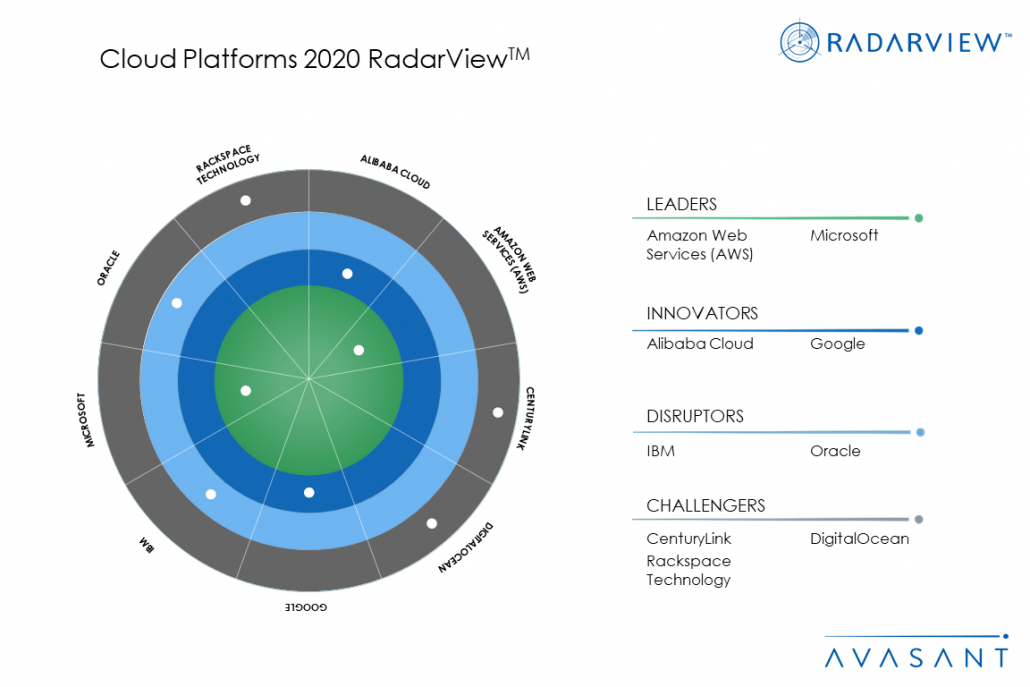 Featured Providers
Alibaba Cloud, Amazon Web Services (AWS), CenturyLink, DigitalOcean, Google, IBM, Microsoft, Oracle, and Rackspace Technology
Methodology
Avasant follows a multi-pronged approach to gather the practitioner's insights. This includes extensive and ongoing interviews and discussions with subject matter experts, Avasant distinguished fellows, and advisors involved with ongoing strategy development for the cloud. This is augmented with online questionnaires and structured briefings with leading cloud platform providers.
Avasant evaluated 16 cloud platform providers through a rigorous methodology across key dimensions of product maturity, enterprise adaptability, and innovation roadmap to recognize nine vendors that have brought the most value to the market over the last 12 months.
---
Click here to access the Research Byte based on this report.
---