The staffing level of database administrators (DBAs) has been essentially flat for two years after a small decline. This is despite the fact that organizations are using increasing amounts of data in their business operations.
As shown in Figure 1 from our full report, Database Administration Staffing Ratios, DBAs as a percentage of the IT staff was 3.0% at the median in 2016, a very slight rise from 2015.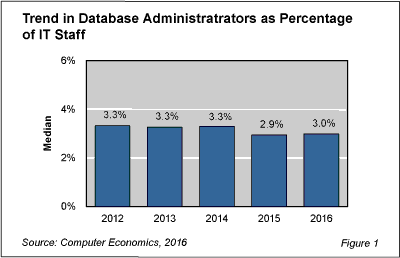 Although staffing of the DBA function has been flat, organizations are relying on data more than ever. Real-time access to data for business intelligence and decision making is becoming a must for most enterprises, and other business functions are increasing their data usage as well. In addition to unstructured data—such as emails and other free-form text—the increasing use of social media offers huge amounts of data that can be captured and mined for intelligence. And the explosion in smart devices, which throw off terabytes of data, is another trend that leads to greater need for data analysis.
On the other hand, other factors are diminishing the need for in-house DBAs. The rising use of cloud computing, outsourcing trends, better database tools, automation, more reliable systems, and the growth in the number of other data management specialists are working to restrain the growth of DBA head count.
"Businesses are not even close to being done with increases in data, so there will always be a place for DBAs," said Tom Dunlap, director of research of Computer Economics, an IT research firm based in Irvine, Calif. "I would be surprised if we didn't see the DBA staffing ratio rise slightly in coming years. There is simply too much data coming in, or about to come in, from big data and the Internet of Things, for instance. Getting accurate data fast is critical to organizations in this economy."
IT executives have an ongoing need to evaluate the adequacy of their database administration staffing in the face of demands for more accessible, more flexible, and more secure data. The full report helps executives determine whether they are keeping pace with industry standards by providing four benchmarks: DBAs as a percentage of the IT staff, DBAs as a percentage of the Data Center Group, users per DBA, and business applications per DBA. We present benchmarks for small, midsize, and large organizations. We also examine the influence of sector on these benchmarks as well as the multiyear trend in DBA staffing. The data in this report is derived from Computer Economics' annual major study, IT Spending and Staffing Benchmarks.
---
This Research Byte is based on our report on this subject, Database Administration Staffing Ratios. The full report is available at no charge for Computer Economics clients, or it may be purchased by non-clients directly from our website (click for pricing).