The report is a comprehensive study of enterprise digital adoption during COVID-19. It describes top technology trends, best practices, and forecasts across key technologies prerequisites, including hybrid cloud, intelligent automation, artificial intelligence (AI) and analytics, cybersecurity, the Internet of Things (IoT), and blockchain.
We continue with a fact-based, detailed assessment of 18 Digital Masters enabling enterprise digital transformation. Each profile provides a 360-degree view of their capabilities and market standings in individual technology prerequisites, hyperconvergence, and readiness for the future, along with a list of representative clients and brief client case studies.
Why read this RadarView?
With the pandemic disrupting businesses across the globe and changing consumer habits, companies are pivoting to new business models and hybrid working. The way enterprises look at technology and outsourcing is sharply changing, driven by a focus on cost efficiencies and business resiliency. Organizations are working toward enabling digital business strategy, scaling up digital initiatives, and doing vendor consolidation. Consequently, the role of Digital Masters is evolving rapidly from an enabler to a transformation change agent.
The 83-page report is the culmination of Avasant's RadarView research program in 2020–2021. It addresses the need of enterprises to understand the larger, tech-enabled transformation imperative and to identify implementation services providers that are best-suited for complex transformation initiatives, supplying granular insights for each provider.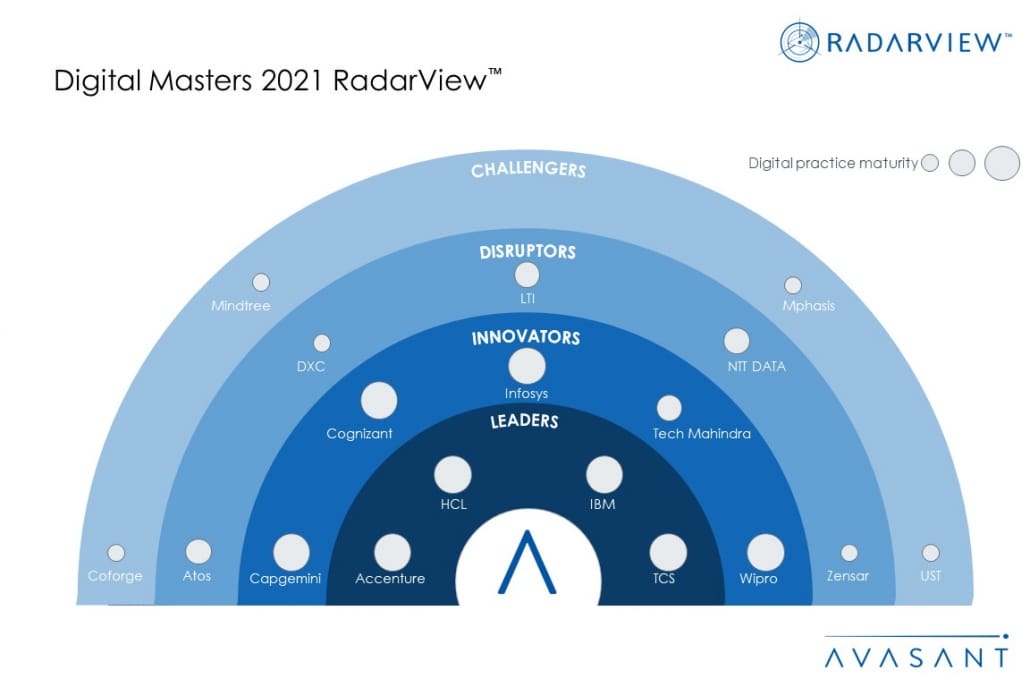 Featured providers
This RadarView includes an analysis of the following digital service providers: Accenture, Atos, Capgemini, Coforge, Cognizant, DXC, HCL, IBM, Infosys, LTI, Mindtree, Mphasis, NTT DATA, TCS, Tech Mahindra, UST, Wipro, and Zensar.
Methodology
The industry insights and recommendations presented are based on our ongoing interactions with senior executives, vendors, subject matter experts, and Avasant Fellows, along with lessons learned from consulting engagements.
Our evaluation of service providers is based on primary input from the providers, focused briefings, public disclosures, and our ongoing market interactions. The assessment is across the three dimensions of digital practice maturity, digital execution, and future centricity, leading to our recognition of those service providers that have brought the most value to the market over the last 12 months.
Table of Contents
About the report (Page 3)
Entering the post-pandemic world (pages 4-15)
Vaccination drives economic recovery
Enterprises pivot to new business and delivery models
Key emerging trends in technology and outsourcing
Rise in large digital transformation deals
Hyperconvergence: Increased focus on digital technologies (pages 16-24)​
Key enterprise themes and trends in: Cloud, AI and Advanced Analytics, Intelligent Automation, Cybersecurity, and Internet of Things
Digital adoption curve
Digital Masters: Partners for the digital enterprise (pages 25-30)
Defining Digital Masters
Digital Masters adopt three-pronged agenda of: enterprise engagement, technology innovation, and digital talent development
Business forecast for Digital Masters (pages 31-36)
Forecasted business impact on Digital Masters
RadarView overview (pages 37-43)
Assessment dimensions
Research methodology and coverage
Interpretation of classification
Digital Masters 2021 RadarView
Digital Masters profiles (pages 44-81):
Detailed profiles for Accenture, Atos, Capgemini, Coforge, Cognizant, DXC, HCL, IBM, Infosys, LTI, Mindtree, Mphasis, NTT DATA, TCS, Tech Mahindra, UST, Wipro, and Zensar.
Key Authors in Avasant (pages 83)
---
Read the Research Byte based on this report.
---