With a rapid shift to remote work, virtualization, touchless customer engagement, and agile supply chains, organizations are leapfrogging towards digitalization. The quest for survival in uncertain times and the desire for greater business value is accelerating the adoption of digital technologies and solutions. By strengthening their digital foundation and offering bundled end-to-end transformation solutions, service providers are becoming a critical part of their customer's digital journey.
These emerging trends are covered in our Digital Masters 2021 RadarView™ report. The report is the culmination of a rigorous, year-long research initiative, which assessed over 45 providers across three dimensions: current capabilities in six technology areas (applied artificial intelligence [AI], intelligent automation, blockchain, cybersecurity, hybrid enterprise cloud, and the Internet of Things), the ability to hyper-converge multiple technologies for business benefits, and the future centricity of the provider's business and technology vision. The detailed assessment resulted in identification of 18 providers whose breadth and depth of capabilities allow them to fully support their clients' digital transformation requirements.
The report recognizes service providers in four categories:
Leaders: Accenture, HCL, IBM, and TCS
Innovators: Capgemini, Cognizant, Infosys, Tech Mahindra, and Wipro
Disruptors: Atos, DXC, LTI, NTT DATA, and Zensar
Challengers: Coforge, Mindtree, Mphasis, and UST
The following figure from the full report illustrates these categories: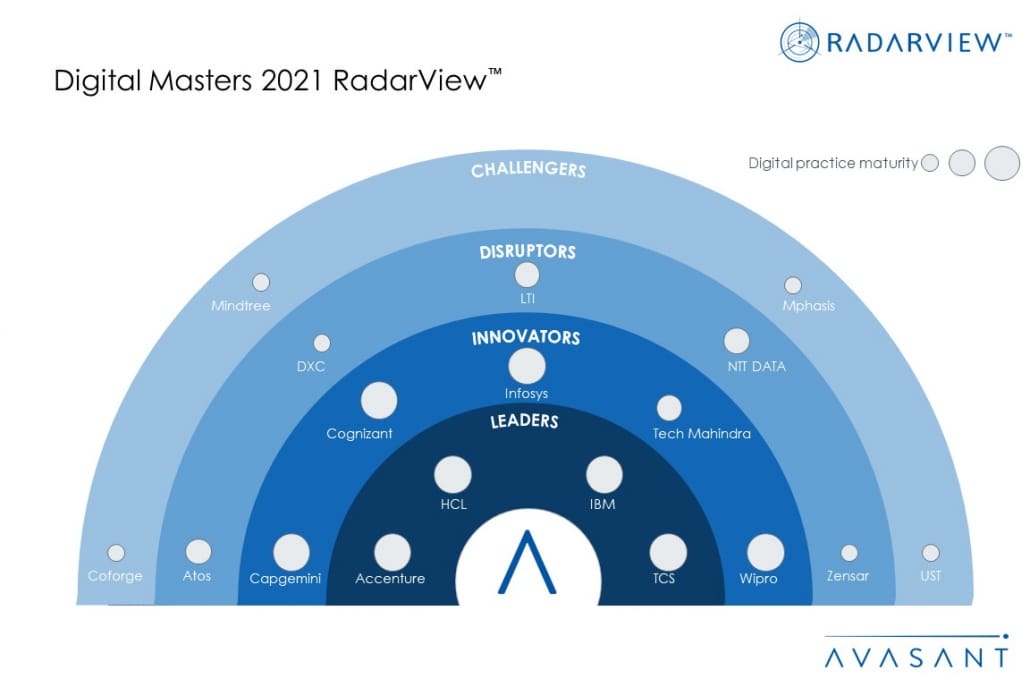 Anupam Govil, Partner with Avasant, congratulated the winners, noting, "As enterprises grapple with the pandemic and uncertain markets, those which are digitally mature showed higher resiliency, rebounding faster. As economies revive, business velocity and agility will be key, requiring rapid adoption of digital technologies and greater reliance on a partner ecosystem."
Some of the findings from the full report include the following:
The COVID-19 vaccine process has accelerated globally, with more than 20 million vaccines administered daily across the globe.
More than 60% of enterprises are exploring new business and delivery models to enhance customer experience.
The hyperconvergence projects are picking up with more than half of the projects focusing on improving operational efficiency, while more than 10% of them were around development of new revenue streams for enterprises.
With 13.6% of total IT budget going to service providers in 2020, it sets a five-year high for the second year in a row.
As companies focused on cost efficiencies and business resiliency, mega digital deals started trickling in from Q3 2020.
"The role of Digital Masters is evolving rapidly from an enabler to a transformation change agent. Digital Masters are revamping their strategies, matching the shifting priorities and evolving needs of enterprises," said Akshay Khanna, Partner with Avasant. "With enterprises requiring top tier talent to support their diverse digital initiatives, Digital Masters have led from the front to support enterprises and continue to double down on their talent development and engagement."
The full report also features detailed RadarView profiles of the 18 service providers, along with their solutions, offerings, and experience in assisting enterprises in digital transformation.
---
This Research Byte is a brief overview of the Digital Masters 2021 RadarView™ report (click for pricing).
---