In addition to consumer-oriented mobile applications, more than one-third of enterprises today are developing mobile applications for use by employees and other users of their business systems. The development of enterprise mobile applications is not quite mainstream, but activity is on an upward curve.
Our study, Mobile Business Application Adoption and Economic Experience, finds that 34% of organizations are investing in mobile applications and 26% have mobile business applications in place, as shown in Figure 1. The investment rate exceeds the current adoption rate, which is a strong indicator that adoption is on an upward trajectory.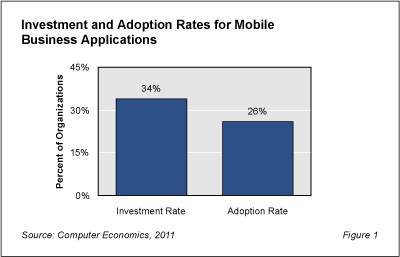 Enterprises today are poised to increase investment in applications that support an increasingly mobile workforce. This trend is being propelled by the realization that the use of enterprise mobile applications can bolster worker productivity by enabling remote access to the corporate network from nearly anywhere at anytime. Organizations are automating nearly every business function, ranging from custom support to production, sales, and management. The proliferation of smartphones and tablet computers in the consumer market is also spurring increased use of these devices in the workplace.
As a result, standardized platforms for mobile enterprise applications are emerging from various vendors such as Microsoft, Sybase, and Research In Motion. Though targeted at consumers, Apple's mobile platform also has a strong and growing presence in enterprise applications. Mobile applications pose significant challenges, however, not the least of which is security. Enterprises of all sizes are being pressured to develop internal policies that are flexible enough to embrace the growing number of mobile devices in use, yet protect the corporate IT network from intrusion. Customizing internal data for mobile applications is another key challenge. Moreover, integrating new platforms and applications with existing infrastructure is always a critical task.
The full study examines adoption and investment trends for mobile business applications, providing data about how many organizations have mobile apps in place, how many are considering such investment, how many are in the implementation stage, and how many are expanding implementations. To give additional insight, we look at the economic experience of those that have implemented mobile apps: we examine return-on-investment experience and balance the potential ROI against the risks, measured in terms of the percentage of organizations that exceed budgets for total cost of ownership (TCO).
---
This Research Byte is a brief overview of our report on this subject, Mobile Business Application Adoption and Economic Experience. The full report is available at no charge for Computer Economics clients, or it may be purchased by non-clients directly from our website (click for pricing).